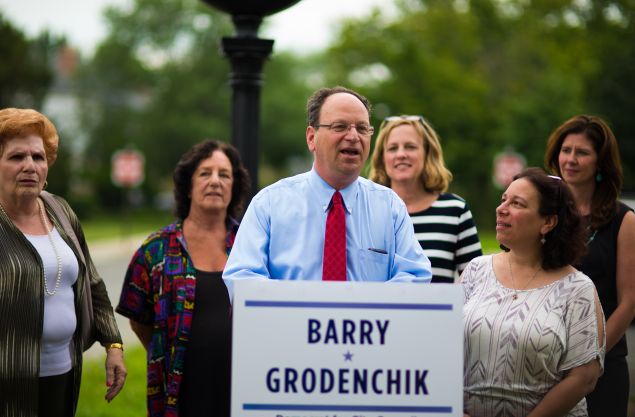 Barry Grodenchik, a former assemblyman, won an election for an open eastern Queens City Council seat tonight, according to unofficial returns from the Board of Elections.
Mr. Grodenchik, a Democrat, was leading Republican Joseph Concannon, a retired police captain, 55-38 percent with 99 percent of scanners reported.
The district, spanning the neighborhoods of Bayside, Fresh Meadows, Little Neck, Douglaston, Glen Oaks and Queens Village, is overwhelmingly Democratic and was unlikely to elect a Republican. But Mr. Concannon hoped to take advantage of the moderate tilt of the district and tie Mr. Grodenchik, who was endorsed by the Queens Democratic Party and a host of labor unions, to Mayor Bill de Blasio, a liberal Democrat unpopular in the area.
But Mr. Grodenchik is not a firebrand progressive and never worked in City Hall. Rather, he has an extensive history in Queens politics, serving in the Queens borough president's office and briefly as a lobbyist for the Parkside Group, a firm with close ties to the Queens Democrats. Mark Weprin, the councilman who represented the district before taking a post with the Cuomo administration, quickly endorsed Mr. Grodenchik, and he squeaked by in a September primary.
Mr. Grodenchik ran on a message of continuity, promising he'd keep waging the often fruitless fight for better transit options in the subway-starved slice of the city. With the staunch support of the United Federation of Teachers, he said he will oppose the expansion of charter schools and also try alleviate overcrowding in the area's popular public schools.
The impact of his win on the City Council and citywide politics will be minimal because Mr. Grodenchik is expected to be much like Mr. Weprin: genial, leaning to the left on certain issues but not joining the swelling ranks of the Council's Progressive Caucus. He has promised to continue participatory budgeting–an initiative championed by liberals and embraced by Mr. Weprin–which allows constituents to vote on how to spend a piece of the council member's discretionary funding.
Winning now means Mr. Grodenchik will finish out Mr. Weprin's term, set to end in 2017, and be a heavy favorite if he chooses to seek re-election. Mr. Grodenchik appears likely to stick around a lot longer than he did the last time he held elected office, when he was bounced from the Assembly after a single term in 2004.
At the time, Mr. Grodenchik was representing a growing Asian population in Flushing. Jimmy Meng, a local businessman and Chinese immigrant, defeated him in a bitter primary. His daughter, Grace Meng, would eventually be elected to the Assembly herself and win a congressional seat in 2012.
Ms. Meng was one of the few Queens elected officials who refused to endorse Mr. Grodenchik.