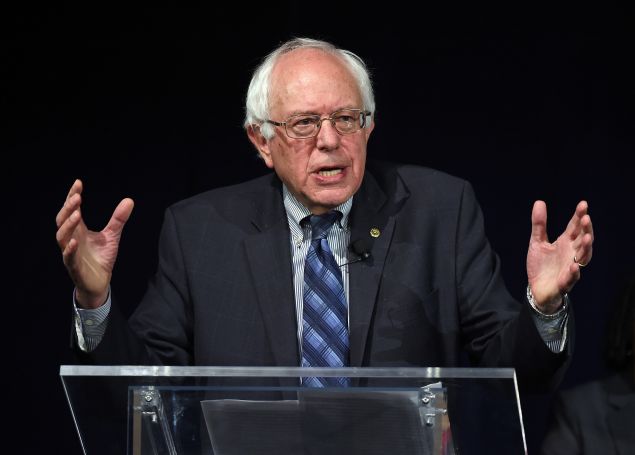 Sen. Bernie Sanders of Vermont is out with a new television ad for his presidential campaign.
The 30-second spot, entitled "Rigged Economy," will begin airing in Iowa and New Hampshire tomorrow, his campaign said. Like his first television ad, it features clips of Mr. Sanders' stadium rallies and attempts to introduce him to voters who are unfamiliar with the self-identified democratic socialist.
"People are sick and tired of establishment politics and they want real change," Mr. Sanders says in the ad.
A narrator follows: "Husband. Father. Grandfather. He's taking on Wall Street and a corrupt political system that keeps in place a rigged economy. Bernie's campaign is funded by over a million contributions— people like you who see the middle class disappearing and want a future to believe in."
The Vermont independent is Hillary Clinton's strongest challenger in the Democratic primary. His ads have made no direct mention of Ms. Clinton and the veteran pol has repeatedly promised not to run a negative campaign, though his criticism of the former secretary of state has intensified since last month, when Ms. Clinton performed well in the first televised debate of the Democratic primary. The line in the ad about "establishment politics" can be construed as a dig against Ms. Clinton, who has racked up the endorsements of hundreds of local and national lawmakers.
Mr. Sanders is hoping ads like these allow him to overtake Ms. Clinton in Iowa and New Hampshire, the first two states to vote in the primary. Without commanding performances in both states, home to grassroots liberals who appear receptive to Mr. Sanders' uncompromising progressive platform, Mr. Sanders' campaign is doomed. Ms. Clinton is still polling well in the third state to vote in the primary cycle, South Carolina, and holds massive leads among nonwhite voters.
Mr. Sanders, Ms. Clinton and the third candidate in the primary, former Maryland Gov. Martin O'Malley, will face off in a televised debate tomorrow.