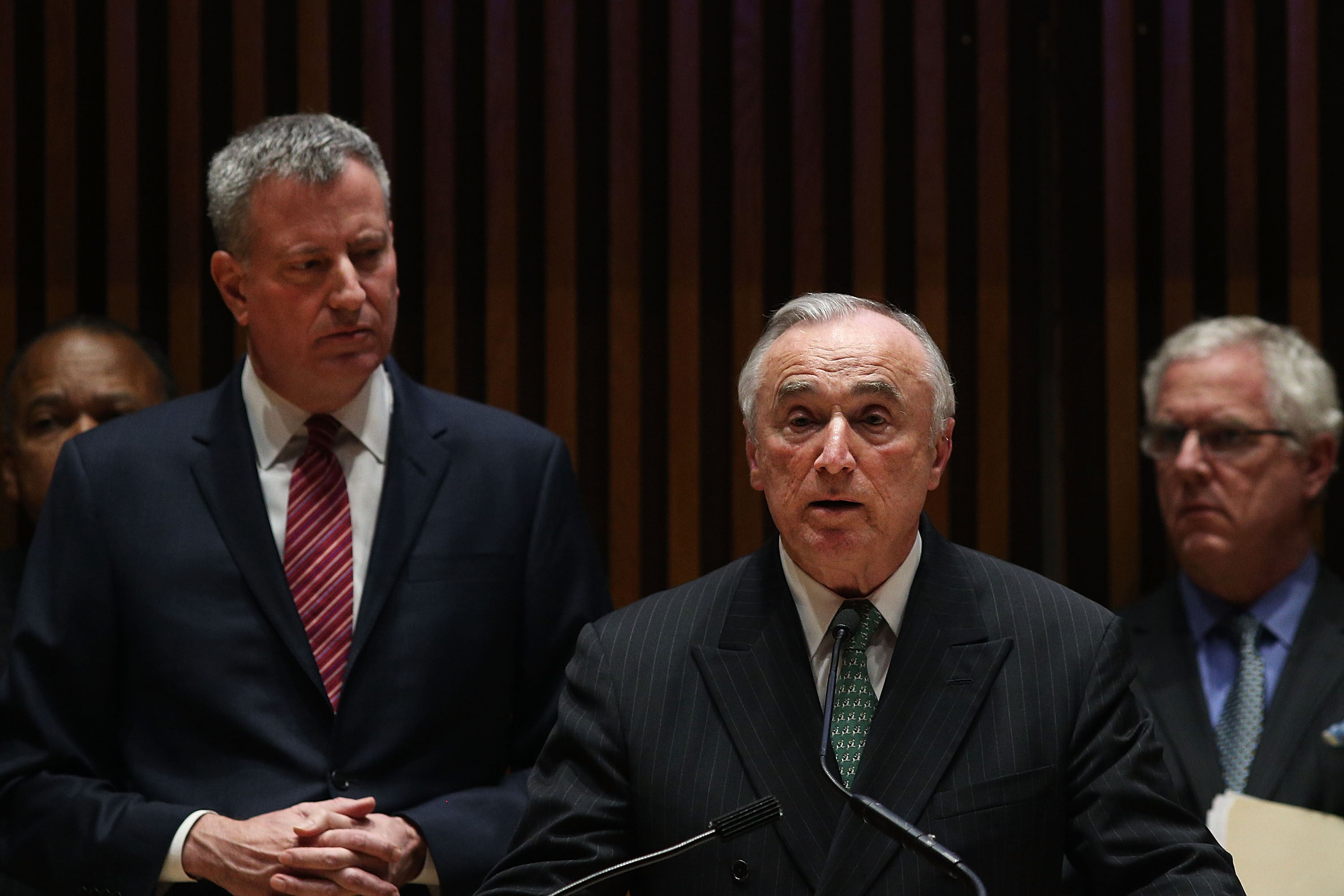 Mayor Bill de Blasio said today that he was "comfortable" with Police Commissioner Bill Bratton's remarks that homelessness had "exploded" under the administration, and that the mayor made a "mistake" in not recognizing it sooner.
"What I interpreted it to be is something I'm comfortable with, which is we needed to better explain the situation to the people because it was changing rapidly," Mr. de Blasio told the Observer at a press conference when asked about Mr. Bratton's remarks.
The police commissioner, among the first of Mr. de Blasio's appointees during his transition to become mayor, made the comments at a Manhattan Institute forum on quality of life issues in New York City. They were perceived by some in political circles as undermining Mr. de Blasio—and not for the first time.
"He certainly does word some things differently than I would, but I don't think that's a problem," Mr. de Blasio said. "He's speaking from the heart."
On the homelessness issue, Mr. de Blasio said while the number of people in shelters had stayed largely the same, the number of people needing shelter had not, and that he had not explained that properly in the past.
"It's certainly a mistake I won't make again," he said. "I'm going to spend a lot of time explaining to people the nature of the crisis."
Mr. Bratton's comments about the explosion in homelessness—and his use of language the mayor might have liked to avoid—are not exactly out of character for the outspoken commissioner. He has at times disagreed with the mayor publicly, in ways other commissioners have not dared—as he did over the proposed addition of 1,000 cops to the police force. (Mr. Bratton eventually walked away with nearly 1,300 new cops, and proclaimed "there's nothing I've asked for that I haven't gotten.") Other differences have been more nuanced. When Mr. de Blasio, who had been sympathetic to police reform demonstrators, sought to portray the shooter of police officers Rafael Ramos and Wenjian Liu as a troubled out-of-towner, Mr. Bratton said the crime was a "direct spinoff" of protests in the city's streets.
More recently, Mr. Bratton called the City Council "destructive," a comment with which Mr. de Blasio said he disagreed.
Asked whether Mr. Bratton's penchant for speaking bluntly—and sometimes disagreeing publicly—was an issue in his relationship with the police commissioner, Mr. de Blasio said they agree most of the time.
"He is an incredibly accomplished guy. He certainly speaks what's on his mind," Mr. de Blasio said. "We agree overwhelmingly—the amount of agreement we have on the work we're doing is extraordinary."
Mr. de Blasio said he had not discussed Mr. Bratton's comments about the explosion in homelessness with the commissioner.
After a campaign in which Mr. de Blasio's Republican opponent sought to portray him as soft on crime, the commissioner—famous for reducing crime in the early 1990s and his approach to "broken windows" policing—has offered the mayor credibility on issues of policing, while at the same time taking a gentler approach to community relations than his predecessor.
But just as this is not Mr. Bratton's first turn as a police commissioner in New York City, it's not his first turn as an outspoken one. Mr. Bratton resigned in the 1990s, something that's long been chalked up to personal conflicts with then-Mayor Rudolph Giuliani, Mr. Bratton's love of the limelight and habit of publicly taking the credit for the city's drop in crime, and the Giuliani administration's belief that the commissioner was, as the New York Times put it at the time, "insufficiently deferential to City Hall."