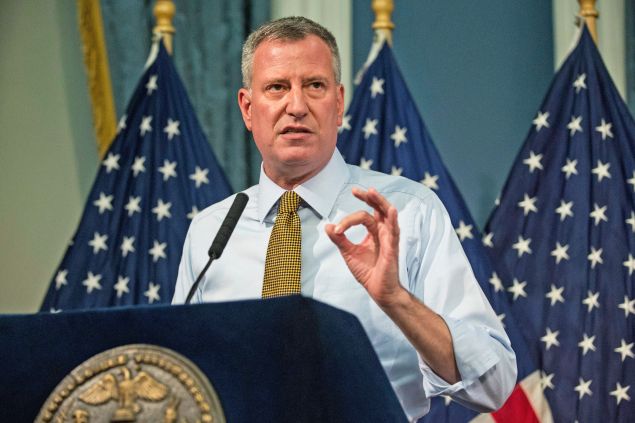 Confirming a strategy he had been executing for several months, Mayor Bill de Blasio said this afternoon he would cut down on the number of opportunities City Hall beat reporters would have to ask him questions–opting instead for more radio and TV interviews, as well as town halls.
Mr. de Blasio, at times testy in a jam-packed City Hall press conference that lasted more than an hour, faced several questions about his media approach following a critical letter from the New York Press Club and a confrontation with a CBS reporter.
"I know you know this. I have a job to do. Much more important than giving the answers to questions is actually doing the work," Mr. de Blasio said. "I'm paid to get the job done."
Mr. de Blasio said in his first year and a half as mayor, he focused on putting a number of "big initiatives" into play, like universal prekindergarten and municipal identification cards. In this new phase of his mayoralty, Mr. de Blasio said he would "put a lot more emphasis" into "going out into communities." Rather than take more questions, Mr. de Blasio said he would meet with clergy, elected officials, community leaders and residents, along with holding more town hall meetings. He said he would be doing more radio call-in shows.
(So far, the mayor has hosted a single, tightly choreographed town hall. His predecessors held many more. Mr. de Blasio has been far more willing to do call-in shows.)
Mr. de Blasio, who will often restrict the types of questions reporters can ask at media availabilities and insists now on allowing reporters to ask whatever questions they want of him roughly once a week, said he was comfortable departing from his predecessors on how he manages media access.
"The question is what's the best way to approach today's reality? It's a different reality," he said. "We don't approach government the way others approach it."
"We're going to change this paradigm too because we think there are better ways to communicate," he added. "There's going to be a lot of information flowing."
As if to demonstrate he was not stiff-arming reporters too much, he waved off his press secretary, Karen Hinton, as she tried to wrap up the press conference before every reporter in the room was able to ask a question. Ms. Hinton jousted with Marcia Kramer, a CBS reporter, on Wednesday after Ms. Kramer tried to ask Mr. de Blasio a question at a City Hall event where he had previously said he wouldn't be available for interviews.
Ms. Kramer and Ms. Hinton did not face off on camera today.