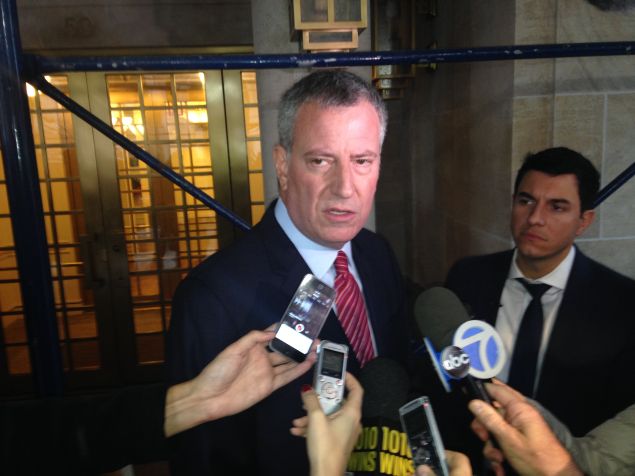 Mayor Bill de Blasio would not confirm today that there are no persons or groups linked to the Islamic State currently present in New York City.
Asked after attending Hillary Clinton's speech on terrorism how confident he is that no members of the violent Islamist group behind the Paris attacks in the five boroughs, the mayor declined to answer. Instead, he fell back on assurances that the NYPD is on top of the problem.
"We have a very, very substantial intelligence gathering apparatus, we work closely with our federal partners. I'm not going to go into details, because I get briefings on a regular basis, and it's appropriate to keep those private," he said. "I'm very confident that the situation is being handled very effectively, and I'm confident that a number of preventative measures are in place."
The mayor did, however, acknowledge that radicalized individuals who have passed beneath the notice of law enforcement could strike anywhere at any time. But he said the police department could deploy teams to as many as two dozen locations at any given moment.
"We know in the age of lone wolves, there are some things that even the best intelligence services may not be able to detect. And that's why we have a critical response command that's ready to immediately respond to any and all incidents," he said. "We plan for the ability to handle two dozens sites simultaneously. We don't predict it, and God forbid that day ever comes, but the point is the city of New York is ready, with our own capacity to handle multiple sites should that moment come."
The comments come a day after ISIS released a video showing footage of Times Square spliced with images of a suicide bomber. Mr. de Blasio again emphasized that the recording of Times Square was dated and that Police Commissioner Bill Bratton and his team were confident that no coordinated attack was in the works.
"It does not change the reality one bit. There is no credible and specific threat against New York City," he said. "This is an effort to intimidate us."
The mayor praised Ms. Clinton's proposals for combating ISIS, which include increasing intelligence sharing among local law enforcement, allied powers and the private sector.
"I believe she's offering some of the best solutions," said Mr. de Blasio, who belatedly backed the ex-secretary of state's White House bid last month. "She showed real leadership and she was one hundred percent presidential in the way she presented the vision."