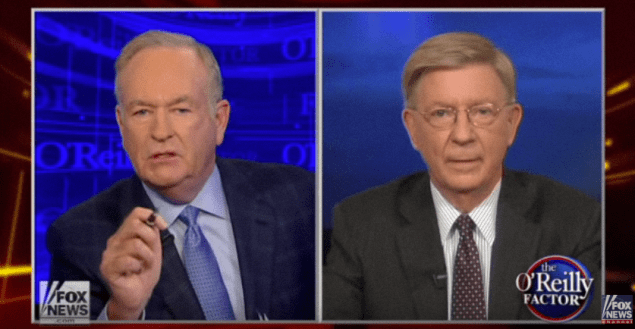 When Bill O'Reilly thinks his credibility—and as a result, probably, his manliness—has been threatened, he likes to use anachronistic epithets to defend himself. "Guttersnipe" is undoubtedly his favorite. He most recently lobbed one (according to Nexis) at Mother Jones reporter David Corn, who published a report earlier this year accusing the Fox News host of fabricating, Brian Williams-style, his past war coverage.
So it was with some surprise that we found no instances of Mr. O'Reilly's favorite insult, which he's been deploying to colorful effect for at least a decade, in his on-air altercation with Washington Post columnist George Will on Friday.
In his last column, Mr. Will, who is a noted conservative pundit, took aim at the veracity of certain claims in Mr. O'Reilly's latest, best-selling book, Killing Reagan. "This book is nonsensical history and execrable citizenship," Mr. Will wrote, "and should come with a warning: 'Caution — you are about to enter a no-facts zone.' " Mr. O'Reilly was understandably incensed by the piece, claiming Mr. Will—who is, interestingly enough, a Fox contributor—had libeled him when the two sparred on The O'Reilly Factor last week.
Things, indeed, got tense. But as far as personal attacks went, all Mr. O'Reilly could summon was a disappointing "hack" here and there, as well as a few aggressive pen jabs directed at the TV screen, which leads us to believe that the TV host has discrete arsenals of invective he reserves for Democrats and Republicans respectively. Mr. Will isn't a guttersnipe—or to use another of Mr. O'Reilly's preferred putdowns, "smear merchant"—because he isn't a liberal.
O.K., perhaps that's a stretch, but we expected a more imaginative insult from Mr. O'Reilly—who can give the impression that he's casting aspersions with the help of a Shakespearean insult kit—and he failed to deliver. "You're a hack," Mr. O'Reilly yelled at Mr. Will. "You're in with the cabal of Reagan loyalists who don't want the truth to be told."
Whether he's criticizing those on the left or the right, though, Mr. O'Reilly has a knack for inadvertently describing himself.