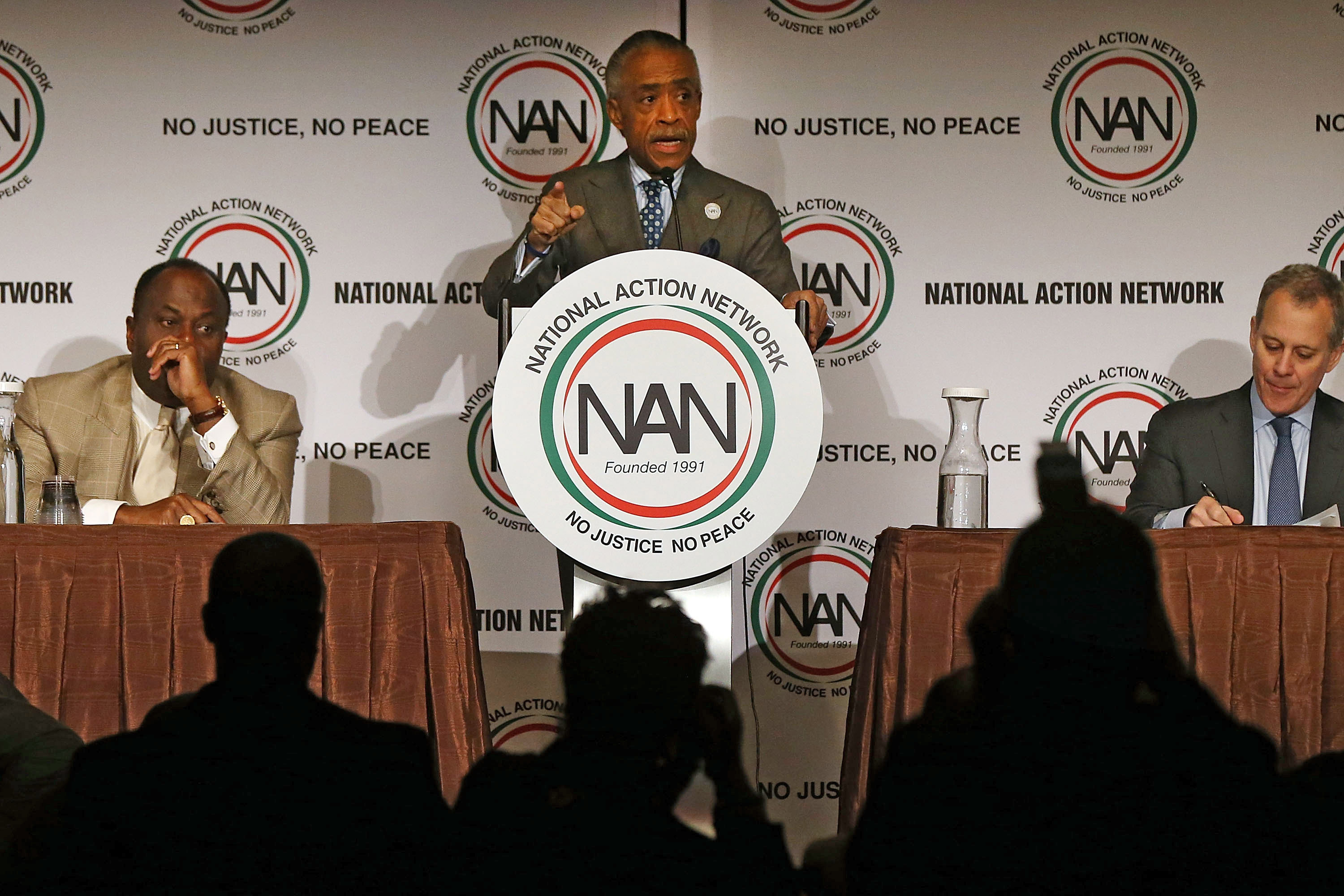 The black ministers who will meet privately with Republican presidential candidate Donald Trump today should "challenge" the GOP front-runner on his political positions, Rev. Al Sharpton said today.
"I think it would be an insult to our community, and an insult to the integrity of the cloth for them to just have a story that he met with black preachers and didn't really deal with the issues of what affects those in their congregation, from immigration all the way to violence, all the way to policing," Mr. Sharpton said today during a press conference at the headquarters of his National Action Network in Harlem. "And I'm not clear where Mr. Trump stands."
Last week, Mr. Trump's campaign promoted a public event set for this afternoon featuring 100 African-American pastors and leaders who would endorse the candidate following a private meeting. But several pastors slated to attend the meeting said they had no plans to endorse Mr. Trump, and the campaign said last night the meeting would remain private and there would be no endorsement press conference.
At an event focusing on gun violence and the proposed creation of a national gun violence awareness month in June, Mr. Sharpton said those ministers shouldn't let Mr. Trump have a mere "cameo" with them—but should address issues like gun control and immigration that matter in black churches.
"I hope that he's challenged by those ministers—who pastor people who are victims of violence—on his stand on gun control, on his stand on background checks, on his stand on how you deal with the question of uniting policing and community," Mr. Sharpton said. "They should not let him do a cameo appearance—they should do a full-length Q & A and should be questioned on it. And I think that Donald Trump, who clearly has been part of the New York landscape for a while, should be challenged about those issues if he is trying to seek to be the chief executive of this country."
A spokeswoman for Mr. Trump declined to comment on Mr. Sharpton's remarks. A tussle with Mr. Sharpton is unlikely to hurt Mr. Trump with his Republican base, with whom Mr. Sharpton—a controversial figure in his own right—is deeply unpopular.
Mr. Trump's meeting with the ministers was criticized this weekend in a letter from other black clergy, who wrote in Ebony that Mr. Trump "uses overtly divisive and racist language on the campaign trail," and pointed to the candidate's supporters punching and kicking a black protester and Mr. Trump's retweeting of inaccurate statistics about crime rates in the black community.
On MSNBC's Morning Joe today—a show Mr. Sharpton could not resist noting "comes on a day after I come on Politics Nation, eight o'clock eastern" on the same network—Mr. Trump said he believed many of the pastors were going to endorse him before being pressured by those within in the Black Lives Matter movement. Mr. Sharpton said that "a soundbite about a hashtag is just a distraction," and said the issue is Mr. Trump's stances on the issues.
"And I'm sure he'll call me a bunch of names tonight, because that's what he does," Mr. Sharpton said, alluding to Mr. Trump's penchant for ripping his critics and the media on Twitter. "But when you get though all of that, then where is the substance and what is he proposing to the members of those congregations?"
Disclosure: Donald Trump is the father-in-law of Jared Kushner, the publisher of Observer Media.