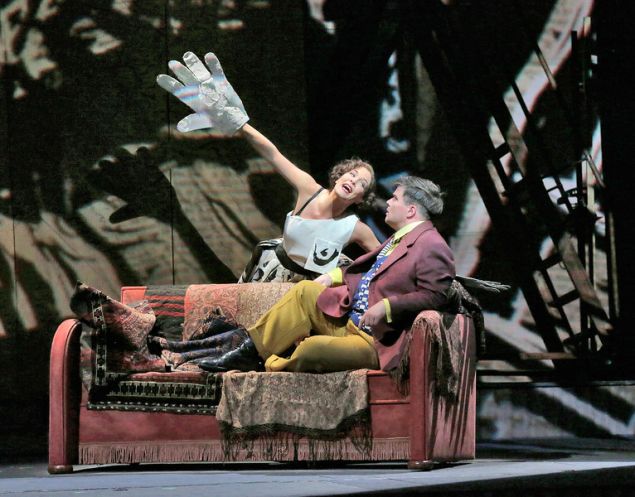 Blood flows like ink in the Metropolitan Opera's spellbinding new production of Alban Berg's Lulu.
That's only as it should be, because the 1937 tragedy is the operatic version of a slasher film, featuring four murders, a suicide and a cameo appearance by Jack the Ripper.
But Lulu is no mere shocker. The complex psychology of this tale of a femme fatale is expressed in Berg's unique musical language, which veers from nerve-racking atonality to rich Wagnerian angst.
For this new staging of the work, only the second in the Met's history, South African artist William Kentridge complemented the score with eye-popping video animations of newspapers, pages of books and ink blots.
He proved himself equally adept at directing the large cast, in particular soprano Marlis Petersen as Lulu, whose nonstop movement seemed to make her glisten like the proverbial shiny object. Her acting was so spectacular, in fact, that is slightly overshadowed her singing, true throughout the role's vast range, but a little underpowered.
On the other hand, baritone Johan Reuter as Dr. Schoen, Lulu's third husband, and mezzo Susan Graham, as the long-suffering lesbian Geschwitz, sang so radiantly they made Berg's spiky music sound downright romantic.
If debuting tenor Daniel Brenna underwhelmed as the callow Alwa, bass-baritone Martin Winkler's superb melding of singing and acting elevated the supporting character of the sleazy Acrobat to star status.
Conductor Lothar Koenigs, left holding the bag when Met music director James Levine dropped out of this project barely a month ago, dredged up some dark, heavy noises from the Met orchestra in the first act, but pulled it together later in the evening. His is not an interpretation for the ages, but it's solid and accurate, which for Lulu is quite an accomplishment.
What's most impressive of all, though, is that Lulu has found a worthy partner in the Met's provocative and visually stunning new staging. If there's such a thing as a gold standard for opera, this is it.
Check out our expanded review of Lulu here.