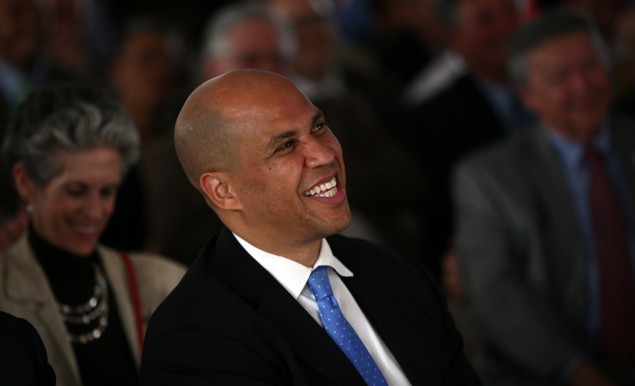 There will be a 50/50 split between federal and state officials to fund the new Gateway Tunnel Project connecting New York and New Jersey under the Hudson River, according to a Thursday announcement by New York and New Jersey leaders. The announcement established the Gateway Development Corporation—which includes NJ, NY, U.S. Department of Transportation, the Port Authority of NY/NJ and Amtrak as members—to help secure federal and grant loans for the project and design and complete the tunnel.
U.S. Senator Cory Booker was one of the senators—along with New York's Charles Schumer—who secured the funding with the USDOT. In August, Booker convened a meeting in his office with New Jersey Governor Chis Christie, USDOT Secretary Anthony Foxx and U.S. Senator Robert Menendez to get the ball rolling on the tunnel's funding plan. This meeting followed a proposal by Schumer to create the corporation that was officially announced today.
"I am pleased to announce that the hard work of many people is bearing fruit and that for New Jersey commuters there is finally light at the end of the tunnel," said Booker. "Since the meeting I convened in my Newark office on August 18, this group has put forward tremendous effort to find an equitable funding and governance structure for the Gateway development corporation. This agreement is a significant step forward for the Gateway project, which because of the current tunnel's deteriorating condition and growing demand is among our nation's most important infrastructure projects."
Today's announcement follows a September 15 letter from Governor Christie and New York Governor Andrew Cuomo pledging that the states would cover 50 percent of the tunnel's cost. Local funding will likely come from federal loan programs (states/the Port Authority/Amtrak will be responsible for debt service payments). Federal funding will likely come from New Starts Grant dollars, Amtrak Northeast Corridor profits, Amtrak capital funds, annual appropriations and other federal sources.
Senate President Steve Sweeney also weighed in on the funding announcement.
"The agreement by the federal government to provide 50 percent of the funding for the Gateway Rail Tunnel project, with New York and New Jersey splitting the local share, provides a fair and equitable funding solution for this project that is critical to the nation's and the region's economy, for Amtrak intercity rail passengers and trans-Hudson commuters," Sweeney said. "Senator Cory Booker, with whom we have worked closely, deserves great credit for brokering this agreement. Meeting the transportation needs of the citizens of our two states and the nation should not be a partisan issue."