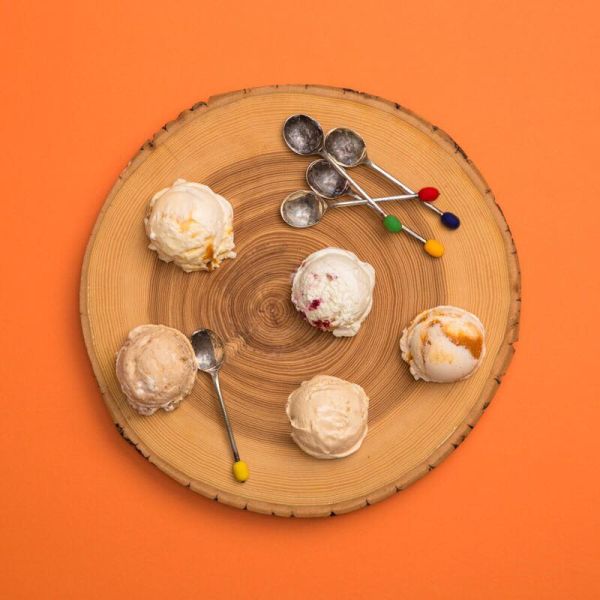 Los Angeles is a friendly, tolerant, inclusive city that warmly welcomes out-of-towners—especially those who come bearing sweets. You're particularly smiled upon when you open up shop with what many believe to be the country's best donuts, with fresh, wild flavors you change often, and with national media acclaim balanced by a commitment to being hyper-local and painstakingly making everything in-house.
So that's happened twice in just one implausibly sweet month for L.A.'s Westside.
On October 21, Portland's Blue Star Donuts opened an L.A. outpost on Venice's buzzy-as-ever Abbot Kinney Boulevard. The lines haven't subsided for the brioche-style dough that takes 18 hours to create. Favorites include the O.G. horchata donut, the perfect cream-filled Valhrona Chocolate Crunch (better than any Bostom Cream you've had) and the boozy Hard Apple Cider Fritter. Blue Star has also unveiled new L.A.-inspired treats like a Pina Colada cake donut, and a Greek Yogurt Honey Granola donut for moments you want to forget you're at a fried-dough purveyor that uses European-style butter and whole milk (along with the requisite sustainable flour and cage-free eggs).
Now comes Orange County's Sidecar Doughnuts, the Costa Mesa sensation that officially opens in Santa Monica on Tuesday after a week of giving samples at private events and public free-for-alls. Sidecar, which makes fresh donuts every hour, has a Butter & Salt cake donut that's quite possibly the best use of butter and also the best use of salt ever. Other beloved standbys include the Huckleberry, Maple Bacon and Madagascar Vanilla Twist. Sidecar is known for a collection of flavors that change every month. One buzzworthy November headliner is the Southern Gentleman Pecan Pie raised donut, topped with a pecan pie "filling" featuring Buffalo Trace bourbon. Located in the newly-developed 631 Wilshire complex and adjacent to a Mendocino Farms sandwich shop and a Juice Served Here, the Santa Monica Sidecar has no shortage of cool neighbors.
The rise of donuts in Los Angeles mirrors what's been happening with ice cream recently. Portland's Salt & Straw, after a fantastic L.A. debut in Larchmont Village, is working on what could be a December opening for its new Abbot Kinney scoop shop. Salt & Straw's Thanksgiving-inspired flavors include Sweet Potato with Maple Pecans, Buttered Mashed Potatoes and Gravy, Salted Caramel Thanksgiving Turkey, Spiced Goat Cheese and Pumpkin Pie, and the L.A. exclusive: Quince and Walnuts.
This is dessert as a delicious art project. This is perfect for L.A.
Not to be out-scooped in L.A., Columbus, Ohio's Jeni's Splendid Ice Creams opened a Los Feliz shop in March. Its new crop of seasonal flavors include Sweet Potato Pecan Praline, Churro and the phenomenal Salted Peanut Butter with Chocolate Flecks. It had previously released a collection of ice cream based on what colors might taste like. This is dessert as a delicious art project. This is perfect for L.A.
So is Santa Barbara's McConnell's Fine Ice Creams, which has a Downtown L.A. outpost at Grand Central Market and is getting ready to open a Studio City location. McConnell's makes decadently dense, stabilizer-free ice cream with the finest milk from its own dairy. Olive Oil with Salted Almonds is a savory-sweet masterpiece. Summer Fruit Cobbler proves there's nothing better than local peaches and berries. Whisky and Pecan Pralines is a reminder that seasonal flavors geared toward grown-ups make dessert fun for the whole family.
In L.A., it's sort of pointless to debate which donut or which ice cream is the best. There's now no other city in the country with so many new sweet spots, so everyone's just happily enjoying the unprecedented sugar rush. You can thank the city's overall food scene for making this happen.
Salt & Straw has long been creating unlikely ice cream flavor combos, sometimes with the help of L.A. chefs. Michael Voltaggio made a Loaded Baked Potato ice cream for Salt & Straw even before the brand arrived in L.A.
Salt & Straw creative director Tyler Malek remembers being on the phone with Mr. Voltaggio for more than an hour, geeking out on ideas, talking about the ice cream and candy they loved as children, realizing that Portland and L.A. were quite similar when it came to great chefs excitedly talking about food.
"It was the coolest conversation ever," Mr. Malek said, having since developed flavors with other L.A. star chefs like Roy Choi and Mary Sue Milliken. "It really broke down the barriers for me. I was thinking L.A. would be such a different market, a different community of food, and it was so not."
Now Mr. Malek is repaying the community by giving Angelenos all the time they need to choose the right flavor.
It's 10:30 p.m. on a random sweater-weather Thursday night in sleepy Larchmont Village, and what looks like a great party has spilled out onto the sidewalk. A dozen patient guests are standing behind stanchions, chatting with strangers, bouncing giddily with anticipation, and taking selfies as they wait to get into this buzzing hot spot. Well, cold spot, actually.
But despite the line at Salt & Straw, Malek is totally cool with guests leisurely trying sample spoons of whatever they want before placing an order.
"It's totally your time," he says. "No matter how many people are behind you, it's your time. If there's a line wrapping around the block, we'll spend an hour with you if that's what you want. That's what you deserve."