Last night, fashion, arts and finance luminaries gathered to celebrate Francois-Henri Pinault, as he received the International Leadership Award from the Anti-Defamation League, for leading the Kering Group in their efforts to end violence against women.
The ADL has only bestowed this distinguished award ten times in its 100 year history. Mr.Pinault's wife Salma Hayek was also in attendance at the event hosted by Ashley Judd and featuring remarks from Jane Fonda, Susan D. Plagemann (Chief Revenue Officer and Publisher of Vogue), Maurice Lévy (CEO of Publicis Groupe), Jonathan Newhouse (CEO and Chairman of Condé Nast International), Bernard-Henri Lévy (French author and media personality), and Jonathan Greenblatt (ADL CEO) and a short performance by chanteuse Mia Maestro .
Bradley Cooper and Irina Shayk shared Mr Pinault's table but overall, the evening was a somber affair. For the Parisians in the audience, just making the trip was difficult. No one wants to leave their homeland in times of strife and this was felt acutely by all. The table hopping and selfie-snapping that usually assaults such gatherings was noticeably absent.
Jonathan Newhouse spoke about his personal commitment to the Anti Defamation League, which began as an organization to support persecuted Jews but has since reached out to fight injustice and prejudice everywhere. Then Bernard-Henri Levy made an impassioned plea to the American audience; "You helped us twice before, in 1917 and 1944, please help us now."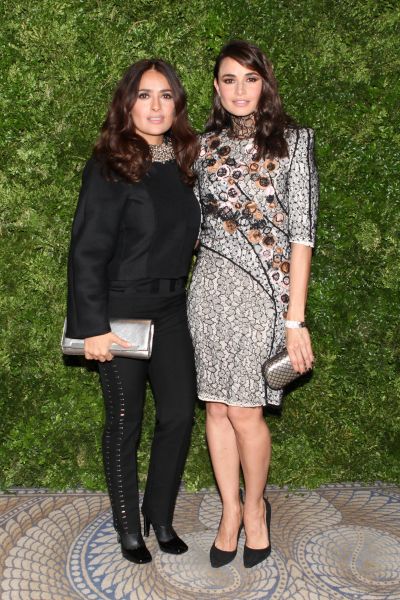 The focus of the evening though, remained Mr Pinault and his outstanding commitment towards ending violence against women through several in-house initiatives, including Gucci's Chime For Change concert series.  He thanked his wife Salma Hayek 'Mi amor' for her guiding inspiration overall and her determination to fight on this issue.  Speakers also recognized Mr Pinault's pioneering practices in the area of sustainability, which is now at the core of the company's business despite necessitating tough financial decisions at times.
Before receiving the award, Mr Pinault said: "I strongly believe in ADL's ideals and core values of fairness, equality and mutual respect. As a father, I am even more grateful for what the ADL is doing to ensure that our children grow up in a world without hatred. In 2009, I created the Kering Foundation which is dedicated to fighting violence against women. I believe that each one of us bears a share of responsibility to stand up for women who's dignity and integrity are abused. In line with our long-standing engagement in solidarity initiatives, my wish is for Kering to stand by the side of women across the world."