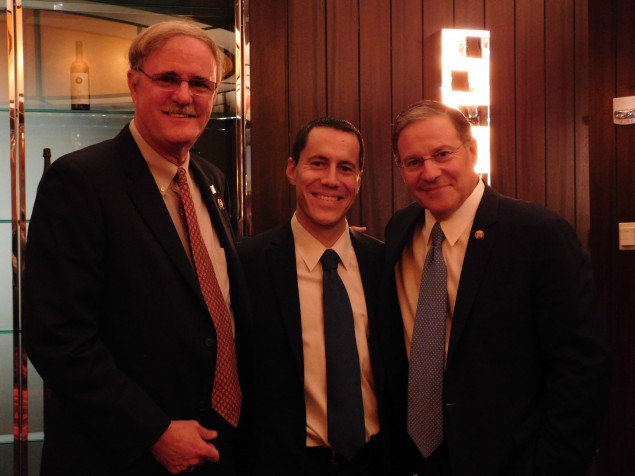 ATLANTIC CITY – Despite a turbulent Election Day that saw New Jersey's Republican Party lose four seats on the General Assembly, Assembly Minority Leader Jon Bramnick wants the state's Democrats to know that Republicans will not go down without a fight.
"Send the message back to my friends in other parties: We are coming to get you next year," said Bramnick during a League of Municipalities event at the Borgata. "Don't get happy. Don't get cocky. Don't get confident."
The Borgata event—which was hosted in the honor of statewide Republicans—was co-hosted by Bramnick, Assembly Republican Conference Leader Dave Rible and Assembly Republican Whip Scott Rumana. The event was well attended by Republican leadership from all over NJ including Assemblywoman Holly Schepisi, Assemblyman Declan O'Scanlon, Assemblyman Parker Space and Assemblyman Anthony Bucco Jr., among others. Attendees also included a number of Republican Mayors like Springfield's Denis McDaniel and Fair Lawn's John Cosgrove, and party county chairs.
"I think the Democrats have to be very careful about being too confident," Bramnick said. "I am proud of all the Republicans who are here tonight and I am convinced that when it comes to policy long-term, we are right on the issues."
Former LD38 candidate Mark DiPisa was also in attendance at the event despite the fact that his campaign combusted when it surfaced that his running mate Anthony Cappola had written a book containing language that was insulting to minority and religious groups. Like Bramnick, DiPisa said he thinks that the future of the Republican Party is bright despite losses in districts like his. DiPisa also said that he is "interested in continuing to help the party" but isn't yet sure what his future role will be.
In addition to being the first day of the League of Municipalities conference, Tuesday also marked another special day for Bramnick: his wife Patricia's birthday. To celebrate the special occasion, Bramnick brought out a cake dedicated to his wife and had her blow out the candles at the event.