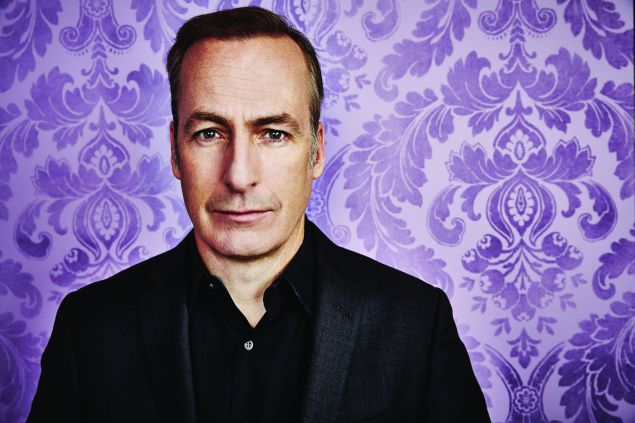 It's a strange thing, and more than a little ironic, that when With Bob and David premieres on Netflix on November 13, a single inevitable question will ring out on social media and message boards across the country: "What the hell is Saul from Breaking Bad doing in a sketch comedy series?"
"Sometimes I tweet about comedy, and I'll get some responses that are like 'but Better Call Saul!'" Bob Odenkirk recently told me by telephone from Los Angeles. He was enjoying a rare three-day break before departing for Albuquerque, N.M. to resume filming the aforementioned Saul's keenly awaited sophomore season. "I mean, what's your point? Yes, I play Saul. Does it bother you that much when I talk about comedy?"
Audiences familiar only with his work playing Saul Goodman, first on AMC's Breaking Bad, later on its spinoff, may be unaware that Mr. Odenkirk's comedic legacy is almost as lengthy as Monty Python before him.
If you, like I, find yourself speaking to Mr. Odenkirk on a cool autumn afternoon, please ask him about sketch comedy—the 53-year-old sketch comedian turned Emmy-nominated thespian can wax poetic on the art form with a scientist's mind, dissecting everything from his own short-lived HBO cult sketch combo Mr. Show with Bob and David to an obscure U.K. offering from the '70s, Dave Allen at Large. "Nobody knows that show," he laughs, and I believe him.
Audiences familiar only with his work playing Saul Goodman, first on AMC's Breaking Bad, later on its spinoff, may be unaware that Mr. Odenkirk's comedic legacy is almost as lengthy—and perhaps just as influential—as Monty Python before him.
An opinion that Mr. Odenkirk does not like to grasp.
"What is my legacy? I don't…" He continued, before trailing off mid-sentence. "I think you guys have to figure that out."
So let's try.
Saturday Night Live brought Mr. Odenkirk on as writer in 1987, when he was just 25 years old. Later interviews Mr. Odenkirk has given recount an SNL tenure spent struggling with immaturity, but that recollection overshadows the fact that, in his final year at Studio 8H, he created one of the most recognizable characters in the show's 40-year history—Chris Farley's "Matt Foley, Motivational Speaker." Following a departure from SNL in 1991, Mr. Odenkirk bounced from gig to gig before landing on The Ben Stiller Show, a dual acting-writing position that nabbed him his second Emmy in 1993 (he won his first in 1989 for SNL). The gold statue wasn't even in Mr. Odenkirk's hands before FOX cancelled the show 12 episodes into its first season.
A low-quality video, residing in the rarer parts of YouTube, shows a visibly deflated Ben Stiller writing staff appearing on a talk show the morning after the 1993 Emmy ceremony to discuss life post-cancellation. "I've started my own chimney sweep business," a baby-faced David Cross tells the beleaguered host as a young Mr. Odenkirk looks on, the frustration over FOX's cancellation written plainly underneath his thick-rimmed glasses.
Two years later, Mr. Odenkirk and Mr. Cross channeled that frustration into HBO's Mr. Show with Bob and David. It was 1995, Amy Schumer was 14 years old, and Dave Chappelle was still an up-and-coming standup making one-off appearances on ABC's Home Improvement. Even with SNL as a cultural touchstone, sketch comedy was light years from being as au courant as it is today, where Inside Amy Schumer is an award show darling and the loss of Chappelle's Show still ripples through the pop culture conversational landscape.
"Chappelle laid the groundwork for a standup comic with a singular voice, like Amy Schumer doing sketches that are very much about very specific points of views. But Mr. Show wasn't that," Mr. Odenkirk said. "We were a throwback to Monty Python. Our sketches were on wide ranging subject matter that dipped into absurdity."
[youtube https://www.youtube.com/watch?v=TyrM7GxyzGg]
What Mr. Show lacked in ratings, it made up for in a devoted cult following that traded VHS-taped episodes from dorm room to dorm room, influence (BuzzFeed Video, Funny or Die and anyone who has ever "gone viral" owes Mr. Show's staff a royalty check) and an enviable cast—Mr. Show's four-season run saw early-career appearances from Jack Black, Jon Stewart, Patton Oswalt, Brian Posehn and even recent Observer cover girl Sarah Silverman.
With Bob and David is a welcomed four-episode reunion of sorts with Mr. Show co-creator Mr. Cross, a return to what he calls his "first and greatest love." I believe he was referring to sketch, but he just as easily could have meant Mr. Cross.
"David and I, we knew we were doing something pretty pure," Mr. Odenkirk said. "It's because we had more of an ax to grind than most comedies. We were a little meaner about society. That might have repelled some people. Of course, it attracted some people, but it repelled people more."
The years since haven't so much mellowed Mr. Odenkirk's comedic mind as they have sharpened it. Not to say he isn't a lifelong student of the game; when I mention the last time I did a phone interview this lengthy it was with Monty Python original Terry Gilliam, he elicits an audible "wow" more genuine than anything that has ever left Saul Goodman's mouth.
But where once his madcap, Python-influenced style was written all over Mr. Show's material, Mr. Odenkirk now discusses sketch comedy almost like a scholar. And trust me, he knows it. In the middle of a lengthy, downright philosophical exegesis on sketch style that included the phrase "continuum of comic perspectives," Mr. Odenkirk stopped himself.
"Jesus, do I sound like a professor. I have to apologize, I'm really afraid of continuing to talk about this stuff," he says, sounding genuine. "I'm just going to sound like an asshole trying to get a teaching position at Emerson College or something."
The likelihood that, at this point in his career, students would line up outside the classroom for Continuum of Comic Perspectives as taught by Professor Odenkirk goes unremarked upon.
"In Hollywood, you do often get pigeonholed. Whatever you do, that's what you do, and they won't let you stray."
When Mr. Odenkirk debuted as fast-talking, silver-tongued lawyer Saul Goodman in Breaking Bad's second season, it was really only the Mr. Show faithful that recognized that sketch comedy dude who was always screaming in that weird late night HBO series. For Mr. Odenkirk, the 11 years since Mr. Show's untimely demise were marked by pilot scripts unsold or undeveloped, three feature films directed (two absolutely eviscerated by critics) and a transition into a mentor-like role for standout absurdist comedians, basically launching the careers of Adult Swim's current kings of weird Tim Heidecker and Eric Wareheim (Tim and Eric Awesome Show, Great Job!)
By the time he donned the flashy yet ill-fitting suits of Saul Goodman, Mr. Odenkirk, by then a 21-year veteran of the entertainment industry, was a relative unknown to America's mainstream audience.
"I'm so lucky that I was never that popular," he says with a laugh. "In Hollywood, you do often get pigeonholed. Whatever you do, that's what you do, and they won't let you stray. Breaking Bad, and, yes, Better Call Saul, too, they're more successful than any comedy I've ever done. They're not anywhere in the same ball park. But because [Mr. Show] had that cult audience, and nothing else I've ever done was that successful, audience members didn't have to reconsider who I am."
But that was 2009, before Breaking Bad and Better Call Saul rocketed Mr. Odenkirk into the limelight. Now, in a twist worthy of a Vince Gilligan script, an entire generation of viewers unaware of Mr. Show will struggle to accept a 2015 Dramatic Lead Actor Emmy nominee giving, of all things, sketch comedy a shot.
"I think the biggest issue I have is, some of those people will be insulted when we start joking about religion, or comment about race, or violence," Mr. Odenkirk says. "They'll say 'Why is this dramatic actor commentating on this? He has no right. He should shut up.'"
With Bob and David reunites the majority of the central writing and performing cast of Mr. Show, and does utilize the hard-left-turn mentality they did in the past. Episode 1 ends with a bit titled "Better Roots," a re-imagining of the 1977 slavery miniseries Roots that Mr. Odenkirk calls "the most testy thing in all four episodes." Episode 3's "Know Your Rights" is a multi-layered, unexpected riff on police-on-citizen violence featuring Key and Peele's Keegan-Michael Key.
"The whole idea of 'fair and balanced,' to borrow a phrase that is hilarious to me, is challenging," he says.
The next subject due for a reinterpretation? The sitcom. Mr. Odenkirk and Mr. Cross are currently developing a With Bob and David sketch titled "Salesmen" into a full TV pilot, in the hopes of creating "the saddest sitcom ever."
"It probably won't sell," he laughed. After a moment, he reconsiders: "But if it does, you and I can talk again. And you'll be telling me how ahead of the curve I was."