Elon Musk's Hawthorne, California-based SpaceX has been given the order by NASA to taxi Astronauts to the International Space Station aboard the company's new Dragon V2 crew vehicle as early as 2017.
Founded in 2002 with a vision to dramatically reduce the costs of space exploration and to enable the human colonization of Mars, SpaceX will now help return human spaceflight to American soil almost 5 years after the Space Shuttle's retirement.
This commercial crew program was developed to ensure safe and cost-effective transportation to low-Earth orbit while promoting economic growth in the American aerospace industry. NASA Astronauts are currently ferried to the International Space Station by the Russian Federal Space Agency for a cost of $70 million per passenger.
"The authority to proceed with Dragon's first operational crew mission is a significant milestone in the Commercial Crew Program and a great source of pride for the entire SpaceX team," said president and chief operating officer for SpaceX, Gwynne Shotwell. "When Crew Dragon takes NASA Astronauts to the space station in 2017, they will be riding in one of the safest, most reliable spacecraft ever flown. We're honored to be developing this capability for NASA and our country."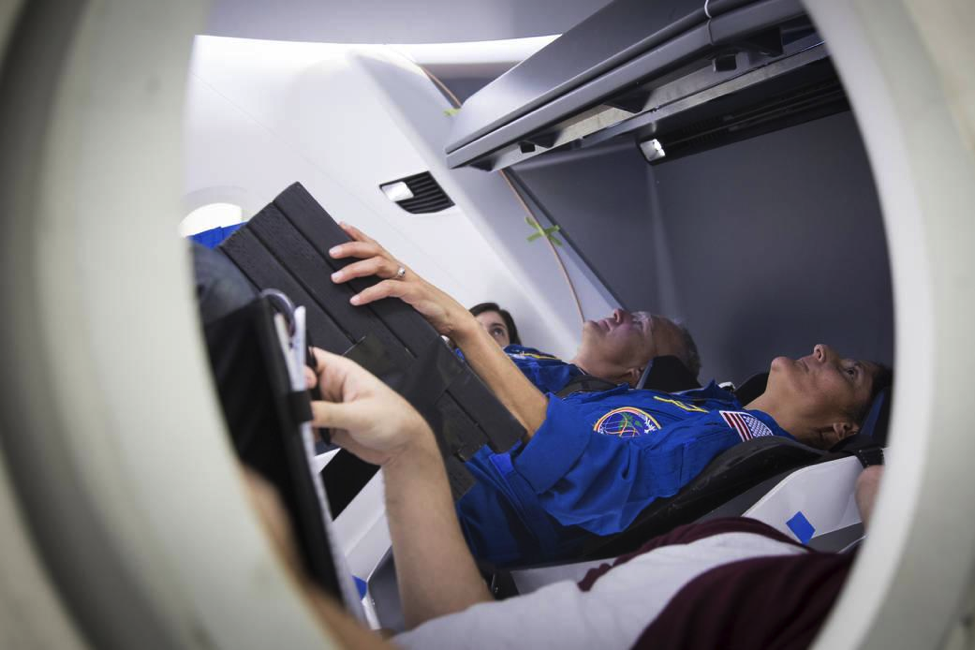 SpaceX is the second company to be formally approved for commercial crew transportation capability along with a pending mission order. Boeing was given an order in May while the company's CST-100 Starliner capsule is still being developed. NASA's commercial contracts dole out $4.2 billion for Boeing and $2.6 billion for SpaceX but the federal space agency said that "determination of which company will fly its mission to the station first will be made at a later time."
"It is important to have at least two healthy and robust capabilities from US companies to deliver crew and critical scientific experiments from American soil to the space station throughout its lifespan." explains Kathy Lueders, manager of NASA's Commercial Crew Program. The International Space Station is expected to remain in operation for another decade.
In 2012, SpaceX used a Dragon spacecraft launched by a Falcon 9 rocket to become the first private company in history to deliver cargo to the ISS. Its successor, The Dragon V2 or 'Crew Dragon' has been designed to be fully autonomous along with the capability to be piloted by Astronauts and SpaceX mission control personnel in Hawthorne, California.
[protected-iframe id="d682bad7a35c8a4b0bd482bf912a2c71-35584880-75321627″ info="https://www.youtube.com/embed/xjSb_b4TtxI" width="560″ height="315″ frameborder="0″ allowfullscreen=""]
Last July, NASA announced the names of their first 4 commercial crew members who will train with SpaceX and Boeing while assisting in the final development phase of their respective manned vehicles. Astronauts Eric Boe, Robert Behnken, Doug Hurley and Sunita Williams will pioneer America's return to human spaceflight and are currently preparing for the first crewed test since the operation of the Space Shuttle. Their resumes include service as military test pilots and missions to the International Space Station.
"We are excited to have such an experienced group of astronauts working with the Commercial Crew Program, Boeing and SpaceX and ultimately flying on the company's' flight test missions," said Program Manager Kathy Lueders.
Both SpaceX and Boeing are in the final stages of facility upgrades at Kennedy Space Center on Florida's Space Coast in preparation for commercial crew launches. Boeing recently cut the ribbon for its CTS-100 Starliner assembly and processing facility while SpaceX is upgrading Launch Pad 39A to service the Falcon 9 rocket and Crew Dragon Vehicle.
NASA is working with the private aerospace industry for low-Earth orbit transportation so the agency can focus on deep space exploration and reaching its lofty goal of landing humans on Mars in the 2030s. "Our commercial crew initiative makes these parallel endeavors possible. By working with American companies to get our Astronauts to the ISS, NASA is able to focus on game-changing technologies, the Orion spacecraft and the Space Launch System rocket that are geared toward getting Astronauts to deep space." said NASA Administrator Charles Bolden.
[protected-iframe id="75db4876aeecf0bb2cc225ff52a0cab6-35584880-75321627″ info="https://www.youtube.com/embed/a1EB5BQpm7w" width="560″ height="315″ frameborder="0″ allowfullscreen=""]
Robin Seemangal focuses on NASA and advocacy for space exploration. He was born and raised in Brooklyn, where he currently resides. Find him on Instagram for more space-related content: @not_gatsby.