---

BROOKLYN★★★★
(4/4 stars)

Written by: Nick Hornby
Directed by: John Crowley
Starring: Saoirse Ronan, Emory Cohen, Domhnall Gleeson, Emily Bett Rickards, Jim Broadbent
Running time: 111 min.

---
A sensitive, dewy-eyed yet mature performance by Saoirse Ronan is the appealing centerpiece of Brooklyn, a beautifully calibrated film by Ireland's John Crowley that is, on the surface, about a young immigrant adjusting to a strange and challenging new land. But it's such a wise and thoughtful film about coming of age, learning to accept responsibility and falling in love that it triumphs on several levels at the same time. Already one of this year's darlings on the festival circuit, Brooklyn now arrives on commercial marquees in time for the holiday season, when good films open at last. Let the applause begin.
I've been an admirer of Ms. Ronan's wistful brand of movie magic ever since she was Oscar-nominated as the precocious 13-year-old who destroyed her older sister's life in Atonement. I followed her with enthusiasm through How I Live Now, The Grand Budapest Hotel and the disappointing thriller The Lovely Bones. She even captivated me as the most human teenage vampire in movie history in Neil Jordan's chilling Byzantium. A teenager no more, she has now blossomed into such an enchanting young woman in Brooklyn that you can't take your eyes off her. Next, she will appear as Nina in a new film version of Chekhov's The Seagull, and on Broadway in a revival of Arthur Miller's The Crucible. Talk about a career in full cruise control.
The only thing wrong with Saoirse Ronan is her name, which nobody can pronounce. Born in the Bronx in 1994 to Irish parents who raised her in Ireland, she's got a name to reckon with. It is nothing like the spelling, so forget about phonetics. You pronounce it "Ser-sha." Repeat 10 times, and don't forget it. You will certainly remember her acting. At 21, she invades your senses and stays there.
Soon Ellis is eating pasta without making a mess, discovering Ebbets Field, exploring Coney Island in her first bathing suit.
In Brooklyn, an adaptation of the celebrated novel by Colm Toibin, she plays soft-spoken Ellis Lacey, who makes a long and arduous journey to America seeking opportunities unavailable to girls in postwar Ireland when her family arranges a trip under the guidance of a friendly Irish priest (Jim Broadbent) in Brooklyn. Studying bookkeeping at Brooklyn College while working in a department store, Ellis (pronounced "Aylish") lives in a boarding house run by a strict and harsh immigrant landlady (the great Julie Walters) and struggles to find her way, homesick and miserable.
Things change when she meets Tony, a shy, handsome Italian-American boy who becomes quickly besotted (a wonderful, warm and deeply touching performance by Emory Cohen). Tony's passion for life and a future with no boundaries is contagious; soon Ellis is eating pasta without making a mess, discovering Ebbets Field and the Brooklyn Dodgers, exploring Coney Island in her first bathing suit, sharing Tony's plans to build a new house and talking about marriage.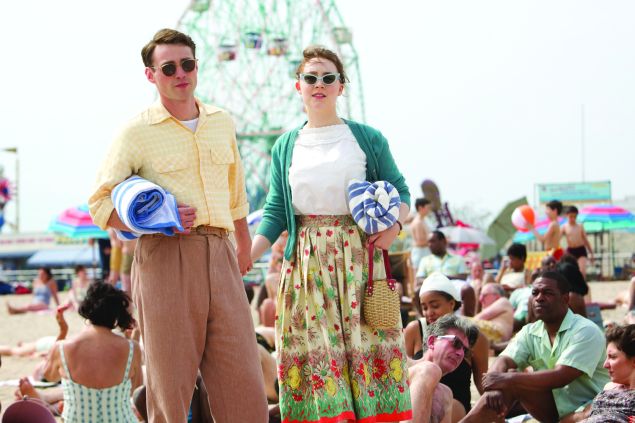 When a family tragedy leads her back to Ireland to bury her older sister Rose, she uses what she learned in Brooklyn to pay for her expenses by taking a job in an accounting firm. Facing the mounting pressure of caring for an ailing mother and finding new romance with a dashing swain from an upper-class family (Domhnall Gleeson), she finds her priorities changing and gradually loses interest in Tony's love letters. The film is about two different worlds with different possibilities for happiness and how Ellis learns to choose between them. The themes are change, transition and coming of age with intelligence and courage.
From such a deceptively simple outline, writer Nick Hornby (who also wrote An Education) has fashioned an internally detailed script that refreshingly eschews action and melodrama in favor of nuance and emotional subtlety. The result is a film that is clear, confident and unpretentious, a work full of cherished moments, filled out by sensational performances. The actors are all perfect, but Emory Cohen is positively luminous as Tony. Director John Crowley shows Brooklyn in the 1950s as a bustling period, a melting pot that seems, to an outsider, the embodiment of the crude American dream. (One Christmas sequence, shot in Montreal with French-Canadian extras, seems more authentically Irish than anything I've seen from Ireland since The Quiet Man.)  
Brooklyn is an elegant testament to the dream of first experience, relatable to everyone, regardless of where you're from—elevated to no small degree by the blue emerald eyes and creamy complexion of its star, who is not only going places but in so many ways, has already arrived.