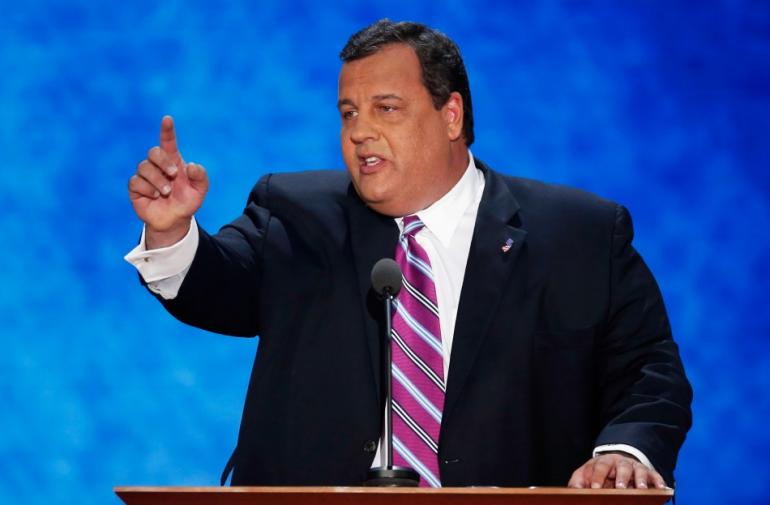 As Fox attempts free up some stage space—and speaking time—tonight will mark New Jersey Governor Chris Christie's first appearance in the earlier "undercard" debate for 2016 Republican presidential contenders. Last week, Fox announced that he and Former Arkansas Governor Mike Huckabee were polling too low to warrant spots on the debate-stage during prime time. They trimmed the fat, so to speak, and reduced the number on the main stage from ten to eight. The undercard will still feature four candidates but former New York Governor George Pataki and Sen. Lindsay Graham were deemed unworthy of participation due to low poll numbers and were bumped completely from tonight's lineup.
Since August, Christie has been hovering around ninth in the polls. That ranking had him sharing the stage with Republican frontrunners and non-politicians Donald Trump and Ben Carson. Previously, Christie also shared the main stage with the likes of Senator Marco Rubio, Senator Ted Cruz, Senator Rand Paul, Ohio Governor John Kasich and former Florida Governor Jeb Bush. Former HP CEO Carly Fiorina effectively used the undercard debate in August as a platform to boost her poll numbers and make her way onto the main stage debate where she still stands.
Tonight, Christie and Huckabee will face Louisiana Governor Bobby Jindal and Sen. Rick Santorum, both of whom have failed to make a blip on the radar for many Republicans.
So can Christie capture some of Fiorina's magic as he attempts to launch himself back onto the main stage? Here is who the Governor is facing, how their records compare, and what he has to do to shine and, potentially, make his way back onto the main stage for the next debate.
Mike Huckabee. Like Christie, Huckabee will be looking to stand out among the kid's table contenders and prove that the smaller debate is not right for him. Since Christie and Huckabee both have gubernatorial experience, viewers can expect the debate to focus on their track records as governor. Prior to Christie's Presidential run—which some have seen as pandering to Republican interests on issues like Black Lives Matter and voter expansion—Christie was viewed as a more center-right Republican. Huckabee, however, is a true-blue conservative whose stances on issues like abortion and guns resonate with Evangelical voters. Because of Carson's support with Evangelicals, however, that base seems to have abandoned Huckabee this time around, leaving him with much less support than he received when he ran for President in 2008. Huckabee and Christie are currently neck and neck so tonight could be a big night for either one. They will both likely shine in a competition absent of so many candidates and can impress viewers with the extra screen time.
Bobby Jindal. Jindal is another candidate with gubernatorial experience. Though he was a Congressman in 2005 when Hurricane Katrina decimated his home state of Louisiana, Jindal received praise for his handling of hurricanes in the state in a post-Katrina environment. This connection is somewhat similar to Christie's dealings with Hurricane Sandy in 2012, something that sent his approval ratings skyrocketing and had him hugging President Barack Obama—much to the dismay of conservatives. Another similarity between the two governors has been criticism regarding deficits in their states. On the issues, like abortion and same-sex marriage, Jindal is far more conservative than Christie. Jindal has failed to make it to the main stage for any of the debates to date and it is possible he will be the next to be cut from the kid's table and join Pataki and Graham as they watch the debate from the comfort of their living rooms.
Rick Santorum. Santorum is another candidate at the kid's able that is more conservative than Governor Christie. The two do share some similarities, however. Both hail from the North East U.S. (Santorum is from Pennsylvania) and both were elected in areas with significant Democratic presence, demonstrating possible cross-party appeal. One real advantage Christie has over Santorum is the senator's apparently dwindling funds and overall inability to grab even a fraction as much cash as Christie so far this race. Santorum is another candidate whose campaign has failed to pick up speed so if Christie can best him tonight it is possible he will be the shining star of the kids' table. Like Jindal, Santorum's inability to gain traction might make him the next hopeful booted from the debate stage despite still making an effort to get the party's presidential nomination.
Unlike many of the competitors he will face tonight, Christie has one real advantage: national recognition. People know who he is for better or for worse. Now, he just needs to prove that Fox made a mistake when they demoted him if he has any hopes of clinging to his presidential aspirations looking forward.
The undercard debate will air on Fox Business at 7 p.m. The main debate will be at 9 p.m.