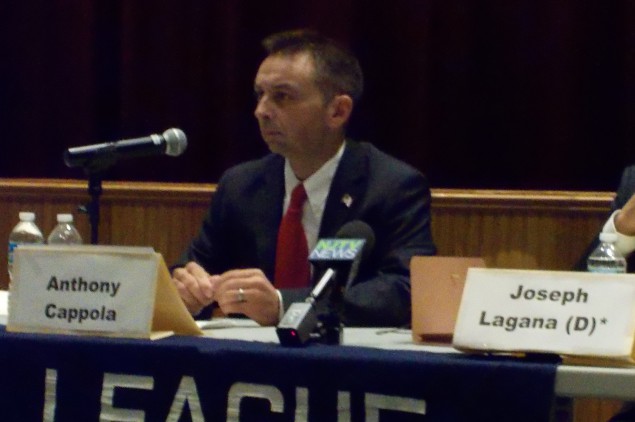 Despite Governor Chris Christie repeatedly blasting the Black Lives Matter movement and, by association, President Barack Obama, LD38 Republican candidate Anthony Cappola wants New Jersey residents to know that not all Republicans agree with the Governor's assessment that the movement is encouraging the "murder of police officers."
"I don't think the movement is misguided," Cappola told PolitickerNJ. "Let's be honest. Who is sitting in these jails? It is young, black men. I support the ethos and the will to have to do something about this because it is insanity what is going on. Who is suffering the most here? It is young, black men and their lives do matter."
Cappola's statements are particularly notable because of the tumultuous nature of his political run thus far. The Republican entered into the LD38 race along with his running mate Mark DiPisa. In September, Politico reported that Cappola had written and self-published a book twelve years ago containing hateful language about a number of groups including African Americans. Despite Cappola claiming that the book was "satire," the state's Republican organizations urged him to drop out. He complied but, due to prohibitive costs, could not be removed from the ballot. Despite party pushback and a running mate that refuses to acknowledge him, Cappola decided to still pursue the Assembly seat and try to clear his name in the process.
"I am a white guy, no secret," Cappola said. "It is easy when you haven't lived that life, when you haven't been prejudiced against, when you don't understand, to pass judgment on these things. Black lives matter, that is how I feel."
While he said that he couldn't speak to the governor's statements on Face the Nation last month, he thinks that ideas like the one the Governor is perpetuating about the movement are misguided.
"I come from a family of police officers," Cappola said. "Black Lives Matter does not encourage killing cops, as I see it. I can't speak to what the governor is saying, but I can speak for myself and I don't think this encourages cop killing."
At the LD38 debate in Paramus last month—which DiPisa boycotted on the grounds that his attendance would "validate" Cappola's views as expressed in his book—Cappola mentioned how prison reform would be a main goal of his if he were to be elected.
"There are too many of our black neighbors and friends and brothers and sisters being locked up," Cappola said. "I really want to be a shining light for incarceration reform. We have young men sitting in jail because they are caught with a little tiny bit of pot three times. Now they are looking at five to ten in jail."
Cappola continued: "This is disproportionate who is in jail. That is a core component of the Black Lives Matter movement. We are locking up way to many young, black men for stupid stuff. It is just insanity."
Today, President Barack Obama is in Newark to focus on prisoner re-entry. Christie is in Camden, demonstrating that his support for the President has waned.
The LD38 election was originally slated as one of the few competitive assembly races in the state. Now, with Cappola struggling, incumbent Assemblymen Joe Lagana and Tim Eustace are favored to win the district.