The night Kurt Cobain died was the closing of my second high school play. I never seemed to manage to have a good time at parties, but since I was on the cast and there was to be a "cast party," this one, I hoped, could be different. Instead, I got there only to watch the real theater kids drinking Zimas and relating to each other over the night's tragedy. I was out of place again.
It took place in my friend Emily's garage, which had a beat up drum set in a far corner that no one had even looked at all evening.
That party came to mind again after a day spent walking around Brooklyn, listening to Carrie Brownstein read her memoir, Hunger Makes Me a Modern Girl (Penguin Audio, $35.00), which includes sound samples and a supplementary live interview with the author. I listened to it while walking around Brooklyn, and, then, appropriately, ended that day in a basement where another Observer writer played drums in a three-man punk band.
But at that garage party from yesterday, I went over to the drums. I'd never even sat behind a drum kit. I picked up the sticks and tentatively tapped, to see what it felt like. As soon as I made a sound, my friend Emily turned to tell me that I sucked and Jesse—the kid who'd been getting all the girls' attention by embodying the newly late Cobain—kicked me off the stool to hold the girls' attention a new way.
My colleague's rhythms a few weeks ago, however, were better received.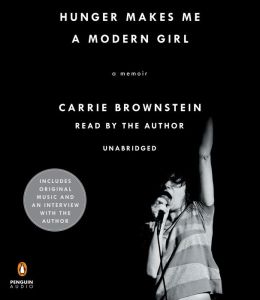 Not that I think I might have been some duo's Janet Weiss had I been left alone, but that remembered alienation makes it easier to connect to the largest theme of Ms. Brownstein's book, in which music creates the family she never really had. I'm glad that I can illuminate that, because I don't think I can explain why her band's music has meant so much to me. 
"Sleater-Kinney was nothing you can do half-assed or half-heartedly," she writes in the book's epilogue. You can't listen to it, that way, either.
There's something to Ms. Brownstein reading her story aloud, and not just because of the audio tricks. There's clues in her voice, in the weight she puts on words, and I was looking for answers. I came to this book with two questions in mind: why does Sleater-Kinney sound like it does? And why did I have this perception that Ms. Brownstein keeps the world at arm's length?
'If you wished for more, you had to keep it a secret.'
Alienation
My first experience of Ms. Brownstein in first person was when she showed up on Marc Maron's WTF Podcast. I'd probably been a fan of her work for almost a decade at that point, and my fascination with Sleater-Kinney had always centered on her. Call it a crush.
It crumbled during that podcast.
I didn't like the way I could feel her pushing everything Mr. Maron said to her away. I get it; he's a bit much, but it also seemed like she had some sort of bubble around her.
The book made it seem she'd made a peace with those kinds of conversations since, though, when she writes about how much categorization once frustrated her. Was her band punk? Was it indie rock? Was it riot grrrl? Eventually she came to let go of fighting the naming, because doing so is a kind of self-erasure.
To oversimplify the story, Ms. Brownstein started out in what looked like an ideal suburban family. She had a lawyer father, a sister, a mom and a nice neighborhood. Yet, even as a child her father was showing signs that he would one day come out as gay, while her mom's anorexia surfaced then became acute. She would come out the other side of that disease, only to use her restored strength to leave the Brownstein family when the rockstar-to-be was 14.
Ms. Brownstein wouldn't even sleep over at her mom's place until an emergency forced her to during the recording of Sleater-Kinney's third album, Dig Me Out, at 23.
After her mother left, her high school home life turned into one where she could run away for days at a time, without comment from her father, who might have suspected that she wasn't raising much hell, anyway. She was mostly camping out in other people's houses, trying to soak up what home felt like.
"I was hungry for family," she said.
There's a poignant moment from her adulthood, after her father had finally moved into his own city apartment. She and her sister came over for Christmas to put up the tree and ornaments she'd always wished she had, only to tell the reader  it was a box in the basement she found she'd wanted, one filled with objects that years had gathered, embodiments of memories that could be strung up and hung out in their season.  
That longing would find expression in letters where she would pour out her soul to strangers. To actors in daytime television. To bands that didn't let her join. Yet, throughout her story, it sounds like there was always lots of people that wanted to be her friend.
It wasn't enough. From high school, she writes, "I was desperate for a role among my friends."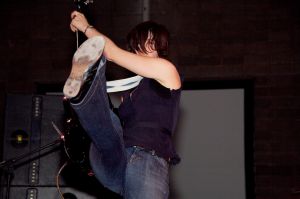 That intersection
She would finally find some kind of family with the sisterhood of Sleater-Kinney, the aunts and uncles of its support staff and all the cousins in like-minded bands.
Several bands before she found Sleater-Kinney, she got a chance to try out for one of her all time favorite acts, 7 Year Bitch. She didn't make the cut, but Elizabeth Davis, who auditioned her, would see her perform and tell her she was great years later, without realizing they had met.
"I was relieved that music had done exactly what I'd always wanted it to do," she reads, "which was turn me into someone else."
Olympia, Washington, had shown her the way to her musical destiny. She left it shortly after helping to organize its first Ladyfest, after listening to her collaborators shit on the fact that much of the attention for what they were doing seemed to focus on the fact that Sleater-Kinney would play it.
In that moment, she finds herself apologizing for her success, even as she lent its credibility to an event meant, ostensibly, to help other women succeed.
One sound
It seems as though, in writing the book, Ms. Brownstein comes to terms with the fact that she wanted her music to mean something, to reach people and to sell albums. Yet, as she tells the story of switching labels in the chapter "Selling Out," she writes of their hesitation about how their community would perceive moving to a bigger label. She writes, "If you wished for more, you had to keep it a secret."
Ms. Brownstein never really articulates what her ambitions were, but she gives hints. For example, saying, "I wanted our shows not just to be galvanic. I wanted to destroy the room."
'Sleater-Kinney was nothing you can do half-assed or half-heartedly.'
It does seem to be about carving out a unique musical space. To be powerful without being pretty. To enrapture listeners without coddling them. In this way, it helps to experience her exegesis as an audiobook, which is able to throw in sample riffs along the way
Listening to her break it down helped me to parse their sound in new ways. If you're not familiar, Sleater-Kinney is two guitars and drums. No bass. No keyboard. No laptop beats. 
"My entire style of playing was built around someone else playing with me," she says, which is maybe her most helpful insight. She describes their songs as a conversation, but usually its participants are talking over each other.
She says, "As a listener, you have to decide what to follow." And, later, "Everything inside the songs was on the verge of breaking apart." Later still, she calls it "sonic misanthropy."
There is nothing easy about Sleater-Kinney's music. It sounds weird, but not precious weird, like a They Might Be Giants song. It's intense, without being all testosterone, like Soundgarden, or overlaid with blues, like the Stones. If any band I know shares a similar northwest weirdness it might be Modest Mouse, but that's a reach.
Both Ms. Brownstein and Corin Tucker sing on the tracks, and their vocals always appear to be mixed at about the same level, though Ms. Tucker's unearthly voice has a way of carving its own space. That isn't how the band presents her.
Its words
A songs and its lyrics are synonomous, but I never experienced Sleater-Kinney as text. They have a few songs, such as "The Ballad of a Ladyman" (All Hands On The Bad One) and "Prisstina" (One Beat) that spell themselves out, but their songs aren't generally impenetrable. For example, she opened up "Jumpers" (The Woods) for me, as if I'd never heard it before. It's a song about suicides in San Francisco, which is obvious with even a casual attempt to follow along.
It's weird. When I listen to their music, the words are familiar. I know where they land before they do. I know what they are, as objects, as notes in the sound that I can 'play' with my own voice, but it's sonic, not didactic.
The smart set seemed to finally get their charms with the band's seventh album The Woods. It had been four years since Time had called them the best band in America, but all the sudden every hip critic was saying 2005's entry was obviously the best album. Full stop.
I might be completely alone in this, but for me it was always their sixth, One Beat. Each of their albums feels for me like battling through the classic arcade game Gauntlet's hordes of ghosts and trolls, grabbing treasure and drumsticks and dropping down tunnels, but nothing hurts you and nothing slows you down and you're just as strong at the end as when you started. It's just that in One Beat, that's the one where it feels like you're doing it best.
Which could just be because it was the first new album from the band right after it clicked for me. As Ms. Brownstein herself writes, music that changes your life does so at the moment in time you find it. 
Another audiobook broke down what was going on in the mind of someone who did something unique on stage. Steve Martin's reading of his memoir, Born Standing Up. His only covers his life up to the moment he walked out of stand up comedy, never to return. Similarly, Hunger Makes Me a Modern Girl deals with Ms. Brownstein's life as a musician, even though word has it she's done some TV since.
Having played twice now Ms. Brownstein's account, I can hear her body of music better. If that's something other listeners are interested in, this would be a story worth listening to.