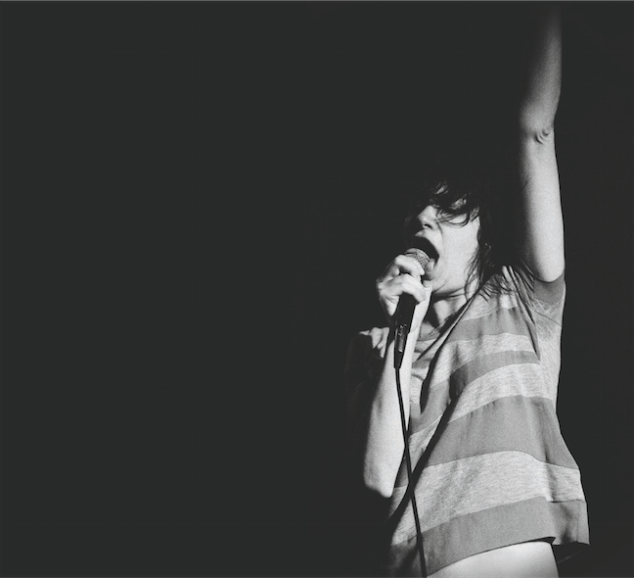 There's that girl on stage thrashing at her guitar, wearing a big come-on grin, booted foot rising up and kicking out the jams; kicking against the pricks. Then, there is the girl dogged by self-doubt and daunting anxiety, periodically suffused in depression and emotionally isolated. It's hard to imagine Sleater-Kinney co-singer-guitarist and Portlandia creator and actor Carrie Brownstein is both. Her often dark, poignant autobiography, Hunger Makes Me A Modern Girl: A Memoir (Riverhead Books), reveals the musician, actor and writer as one complicated package.
When Sleater-Kinney gains devout fans and critics, the chasm between the internal, personal self and the public presence is something she understands too well: "There is a gulf of misunderstanding between musicians and their fans, and often so much desperation that the musician can't heal. You feel helpless and you feel guilty. With Sleater-Kinney fans I tried to be generous, but I grew uneasy. I knew how bottomless their need could be," Brownstein writes. She was that hungering fan, once.
'There is a gulf of misunderstanding between musicians and their fans, and often so much desperation that the musician can't heal.'
Growing up in suburban Redmond, Wash., fandom—of Madonna, General Hospital and old Bette Davis movies—brings a shade of normal to her skewed childhood. She recalls a flat family Christmas with everyone just going through the motions: "I realized it wasn't Christmas I wanted. What I wanted was a family." The first unraveling comes with her mom's hospitalization for anorexia in an EDU with "halls of hungry ghosts." After returning home, "Within a year she left for good." There is such sadness in that short sentence. The final piece of the misfit puzzle is extracted when her father eventually comes out and Brownstein is glad, "He didn't waste another second pretending." Now, she had, "Someone to know."
Brownstein's story falls in with the narrative of the Pacific Northwest at the end of the last century: a tale of growing up in cities so new and removed from old world ideals, history was lacking. Then along came Seattle's dank music scene of The Fastbacks, Hammerbox, 7 Year Bitch, and Engine Kid—not to mention the mega-bands: Soundgarden, Mudhoney, Nirvana, Pearl Jam. "Regionalism and the creative scenes therein—played an important role in the identification and contextualization of a sound or aesthetic," Brownstein theorizes. "Music felt married to a place, and the notion of 'somewhere' predated the Internet's seeming invention of 'everywhere' (which often ends up feeling like 'nowhere')."
[youtube https://www.youtube.com/watch?v=FbmZi_VS4ZM&w=420&h=315]
But it was in Olympia, donning her mom-style thrift-store uniform—irony writ with polyester and pleather—where she found her fit in the post-Riot Grrl world of Calvin Johnson, Bratmobile, Heavens to Betsy, a duo fronted by Sleater-Kinney's Corin Tucker, and, of course, Bikini Kill. "I feel very lucky that Bikini Kill came first. By the time I was playing in Sleater-Kinney, a lot of those battles—for space, for respect, for recognition within the context of punk and indie music—had already been fought." Still, Brownstein's battles raged within.
This book is also one side of the Sleater-Kinney story: Each album is a chapter with the creative process couched with the personal struggles. Each a struggle to be a musician, a performer, an artist, her own person. Each mishap and slap-down sucks glam and glory from her tale. Words like "pretend" describe her early band-life. She found her opposite and also kindred spirit in Tucker: "She could write lyrics to Dig Me Out and those three words could tell you everything you needed to know about the feeling of smallness, of being held back." The band finds bedrock of calm when former Quasi drummer Janet Weiss joins and the band's "break-up," we now know, was time off: In January, Sleater-Kinney released No Cities To Love, their first record in a decade.
This turbulent story has moments that make you laugh out loud, and those that make you sob. Like any drama, just when you think there couldn't be another psyche-battering event, here it comes—without giving anything away, it's a big one, one that Brownstein can't agonize over and doesn't (can't) analyze in print. Then, there she is in Tucker's house with Fred Armisen, watching the beginnings of Portlandia, Brownstein and Armisen's award-winning IFC parody of Pacific Northwest otherness. She is sitting on Tucker's couch; she is with family. Her memoir's title nods to a song, "Modern Girl," on Sleater-Kinney's 2005 album The Woods; Brownstein's gnawing hunger is all her and she totally owns it.