The only drink on offer last night at Milk Studios was Scott Campbell's own Saved Wine, and with good reason. The evening marked the end of Mr. Campbell's weekend-long pop-up at the the studio's adjacent gallery space entitled Whole Glory. The concept, which asks guests to blindly stick their hand and forearms into a hole cut-out without knowing what their resulting tattoo might be, required at least a little bit of liquid courage.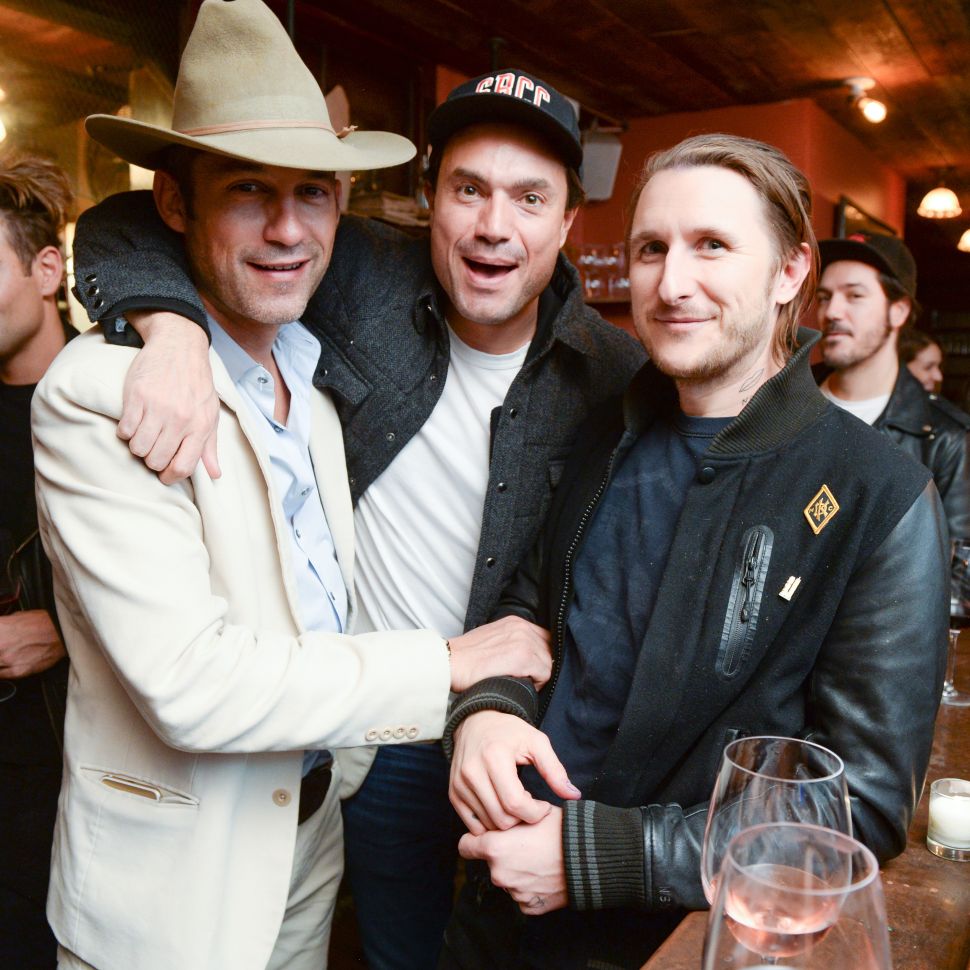 Hanser Pimentel was one such patron, who boldly entered Whole Glory without any prior communication with Mr. Campbell, and emerged with one of the tattoo artist's signature delicate designs. "I totally trusted him, so I wasn't nervous or anything about this, but there were a ton of people on my side of the wall, and I'm not used to that kind of attention," Mr. Pimentel, a photographer and location scout, said showing us his forearm covered in an eye tattoo complete with wispy lashes, "I didn't even come early, because I thought I had no chance. I figured people had been in line for hours, but it ended up being a lottery so I just put my name in and got picked."
Mr. Campbell is known for inking celebrities from his Saved Tattoo studio in Brooklyn, including Orlando Bloom, Josh Harnett, Helena Christensen, Penelope Cruz, and the late Heath Ledger with his delicate designs which often command a hefty price for their exclusivity. However, Whole Glory served up Mr. Campbell's artistry for free.
"I've been talking to Scott for about 6 months about this project," Milk Studios' Mazdack Rassi said as the final patron emerged to show off his design to a room full of cheers and flashbulbs. "It started very organically. We let word on the street really just get people more excited, and every day it built up. What I was really surprised about were how many first-time tattooers there were. I thought it would be mostly individuals who were used to getting tattoos, and were more apart of that community, but it was a lot of first-timers. I understand that now though, because if you want to get your first, then Scott would be the one, so I think we're going to continue and do it again in a different way." Mr. Rassi himself does not have any tattoos, though he has contemplated it. "Three years ago I said to Scott, 'If I ever did get one, I want to come to you," Mr. Rassi remembered. "When you have kids, it's like the natural thing to get their names tatted on you!"
"I think every tattooer has, at some point, wondered what it would be like to tattoo if you removed the other person from the experience," Mr. Campbell himself said on the arm of actress wife Lake Bell after completing his final tattoo. "It's not as easy as other mediums to be free and inspired in your work, because you are constantly aware of the fact that your canvas has an opinion. So, I made a tattoo glory hole. There is still the contact and intimacy that is inherent in the ritual of tattooing someone, but here it is anonymous and without any communication." The famed tattoo artist was then off to The Smile for a celebratory dinner with Ms. Bell, and two of his longtime celebrity fans, Justin Theroux and Jennifer Aniston.