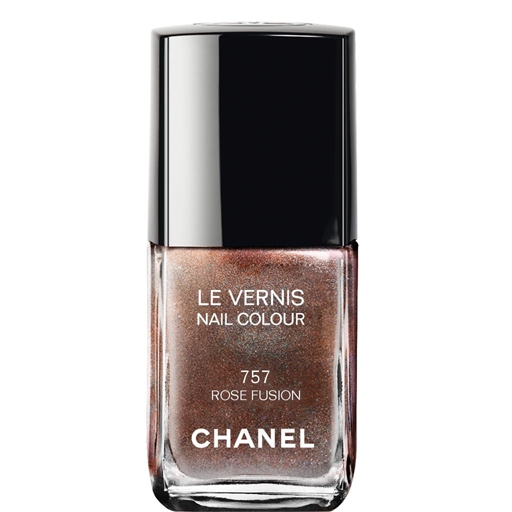 Before long, countless invitations for holiday drinks and festive soirées will be extended to unsuspecting friends across America. Already, photos of Friendsgiving meals are clogging Instagram feeds and dominating water cooler talk. This means the future will hold plenty of boozy toasts and feasts studded with Brussels sprouts and stuffing. But it also means that a closet of dressy outfits must be assembled, stat. And while sequined dresses are just great, we think a set of ten sparkly nails are just as sweet.
I came across this shimmering Rose Fusion color from Chanel at a nail salon recently and couldn't stop thinking about it. Kind of like a molten rose gold embedded with flecks of silver, it had just the right amount of sheen to be showy, but not over-the-top.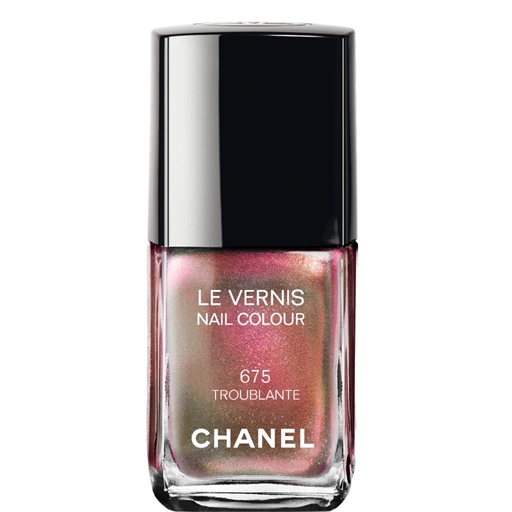 Another exuberant Chanel hue that I came across was Troublant. This bottle is much more colorful than Rose Fusion, with a burgundy base and a golden green shimmer. It sounds weird, but packs a punch when worn correctly. This particular polish even has the power to amp up the drama on a little black dress, should that be necessary.
These hues bring to mind a bottle of Peridot, also from Chanel, which I bought in one of Paris' looming department stores four years ago. The golden and green hue, which reminds me of a scarab, always attracts comments on my sparkling nails. And not only does the thin formula layer well, it also dries in an instant. Though I used the color sparingly, the bottle has finally been finished, forever. Which leads us to the only downfall of these polishes; they're limited edition. So should you find yourself enamored with one of these colors, I'd recommend buying a few bottles at once.
After all, it's more economical than buying another quilted Chanel bag.