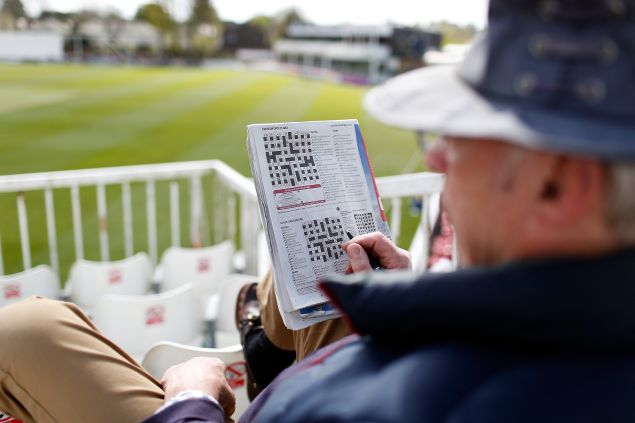 It may seem counterintuitive to say so, but those who do crossword puzzles on a regular basis are thrill seekers at heart. They spend so much time staring at empty word grids, rattling their brains for puns and trivial details, because they relish the dopamine rush that results from filling in the last remaining letter: an alphabetical universe put to rest.
After a while, though, that satisfaction may start to feel quotidian, anticlimactic. A cruciverbalist might begin to wonder, like a junkie craving his next fix, if there are any more potent puzzles out there that he can get his hands on.
Over the past few years, a new kind of puzzle has been gaining popularity among hardcore crossword people—one that promises to deliver, over and over again, the elusive kind of pleasure devoted cruciverbalists crave. Called the meta puzzle, it functions like a hit of crack compared to the line of cocaine that is a regular crossword.
"It's a completely different experience," said Matt Gaffney, a crossword constructor who publishes a weekly meta puzzle online. "When you solve a meta puzzle, in the 10 or 15 seconds that you realize you've just figured out the key to this thing, you get this adrenaline rush, no joke."
Mr. Gaffney said that rush is known as the "aha moment" in the crossword world, and a growing number of solvers are starting to chase it.
Rather than having just a theme, meta puzzles ask a question of solvers, the answer to which is hinted at in the puzzle itself. This adds another layer—or two, or three—of complexity that makes the end result much more satisfying.
"One of the things I like about metas is that they allow for a wider variety of solving processes," Jeffrey Harris (a.k.a. "Jangler") wrote in an email. He is revered in the crossword community as one of the country's greatest meta puzzle solvers. "Going into a crossword, you know broadly what to expect—you've got some clues to answer that (often) fit into the spaces provided. When you're solving a meta, you don't really know what you're looking for until you find it, and that does make the 'aha' moment much more satisfying."
Iterations of the meta puzzle have been published in the past. Games magazine put out contest puzzles in the 1980s, as did Dell Magazines. Henry Hook, the great crossword constructor who died last month, made a kind of proto-meta in his "Hooked on Puzzles" series. But Mr. Gaffney is generally credited with popularizing the meta as a legitimate form of entertainment in the puzzle world. Since he began making metas in 2008, a number of constructors have followed.
The Wall Street Journal recently began publishing a weekly meta on Fridays. (It is the first time a major newspaper has published a regular meta puzzle.) Evan Birnholz, the Washington Post's new crossword constructor, hinted in a recent interview that he might start publishing metas. Caleb Madison, BuzzFeed's new puzzles editor, said in an email that he's planning to publish contest puzzles in the future. Peter Gordon, who puts out the weekly Fireball crossword, publishes about 10 meta puzzles a year.
Mr. Gordon recently published a particularly impressive meta with the theme "Thinking Caps." The question at the bottom of the puzzle asked: "What thing associated with the ringing of a bell is hinted at by this puzzle?"
The answer, it turned out, required some tortuous mental gymnastics. After the solver realized that four answers contained the last names of baseball hall of famers, he might be inclined to wonder what teams they'd been on. (As it turned out: Los Angeles, St. Louis, Atlanta and Philadelphia.) Then he'd consider their "caps," and the letters written on them, and what those letters spelled when combined in a certain way. The answer? "LAST LAP"
The hedge fund manager Peter Muller also publishes a monthly puzzle on his site, Muller Monthly Music Meta. "A good meta puzzle is one that takes you down a number of dead ends," said Mr. Muller. "But the end, the solution, has to be really satisfying." 
He said he recently devised a new kind of puzzle he likes to call the "mega meta." If solvers are discerning enough, then they will pick out a theme running through the 12 puzzles Mr. Muller publishes every year. Last year's, for instance, hinted at certain notes in a musical scale. The 12 notes, when collected, formed a riff: in this case, the beginning of the Eric Clapton song "Layla."
Every constructor involved with meta puzzles emphasized the ethic of fairness that goes into creating them—a kind of contract between constructor and solver. Solvers are going to spend a lot of time working on each puzzle (sometimes days), and they expect the puzzle to challenge but not tease. They're chasing that adrenaline rush, the sense of closure only a meta can offer.
"[I]t is nice to fill in the last square of a crossword, but that square isn't really different from the c. 200 others," Mr. Harris, the prodigious solver, said in an email. "A meta answer, however, is truly singular and final."