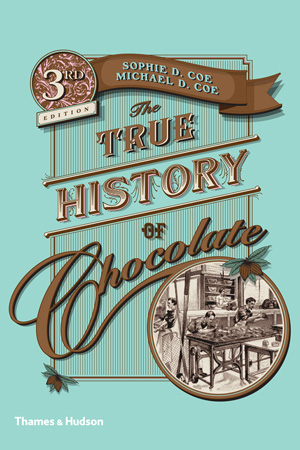 Reading The True History of Chocolate is one sure way to ignite a passion for chocolate– not just as a favorite, irresistible treat, but as a broad and fascinating subject that spans multiple scientific fields. From the ancient history of cacao cultivation, preparation and its religious significance to the Olmec, Maya and Aztec cultures; to the technological innovations by 18th and 19th century Europeans that allowed the physical and chemical transformation of the bitter, coarse cacao into the smooth, silky chocolate we love today; the artisanal techniques and creativity of chocolatiers and bean-to-bar makers; and the complex and disturbing socio-economic and environmental issues that have been plaguing the chocolate supply chain for centuries and even today.
This book is the most scientifically sound, no-frills account of the knowledge we have accumulated throughout history about cacao and chocolate. It is the inspiration behind our mission here at Voilà Chocolat not only to delight our customers' senses, but also to educate and engage them in a way that leads to a completely new appreciation for chocolate.
This post is from Observer Short List—an email of three favorite things from people you want to know. Sign up to receive OSL here.