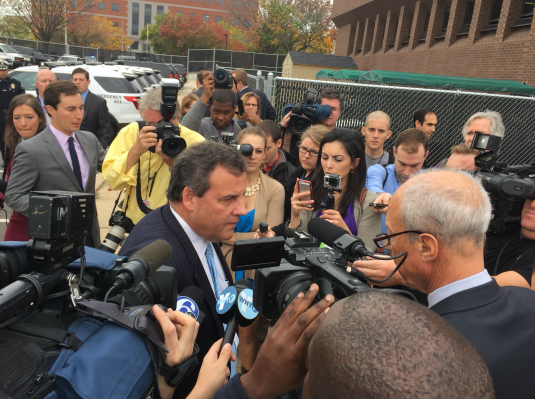 CAMDEN – Governor Chris Christie doubled down on his opposition to the Black Lives Matter movement following an appearance with Camden Mayor Dana Redd Monday, calling the wide and loosely affiliated network of activists and social media users "dangerous."
The comments followed a round table with Redd and Camden County police, who took over for the city police department in 2013.
"We're going to disagree sometimes," said Christie when asked for his reaction to black leaders' disapproval for his remarks claiming that the group calls for the murder of police officers.
Richard T. Smith, president of the NAACP, said last Tuesday that Christie's remarks were an "irresponsible and off-base" sign of a flagging campaign. Reginald T. Jackson, bishop of the African Methodist Episcopal Church, denounced Christie for the comments in an op-ed for the Star Ledger.
"I just disagree with them on this," said Christie. "I believe that Black Lives Matter is a destructive movement that's anti-law-enforcement.
"It doesn't diminish at all my respect for those men and I'm pretty confident it doesn't diminish their respect for me."
Christie appealed to FBI Director James Comey's comments last week, in which he suggested that the movement was having an adverse effect on officers' willingness to make arrests for fear of being recorded while doing so.
"James Comey is not a guy that speaks lightly. He believes that there is a problem with law enforcement in this country right now."
When questioned about the numbers behind Camden's purported drop in crime and the fact that the change could be due to a reversal in hiring since 2010's department-wide layoffs, Christie brushed it aside.
"I'm glad that you find yourself to be a law enforcement expert," he said. "This is when the change occurred in the city. And it's down 53% since we changed police forces."
Asked about his middling poll numbers, Christie said he was unconcerned.
"You're talking to supporters that are getting discouraged? I'm not," he said. "This is a race where 80% of the people polled haven't made up their mind yet. So that's a pretty good number."
On tomorrow's Assembly election and New Jersey's dearth of competitive districts, Christie said that he believed the current districting presents an unfair playing field and recalled the late, influential Rutgers University Professor Alan Rosenthal.
"I don't want to speak ill of the dearly departed, but, you know, I had a conversation with Professor Rosenthal at the time of the redistricting that happened, I said to him 'Alan, I could win 60% of the vote in 2013 and we won't change one seat.' And he said to me 'Governor, if you win 60% of the vote, you'll win the legislature and,' he said, 'I'll buy you dinner if you don't.' Unfortunately, tragically, Alan passed away well before I got the opportunity to collect on that dinner."
Christie said that while last week's CNBC debate brought in some fundraising dollars, an editorial from the board at the New York Times gave the campaign more reason for optimism.
"We raised more money off that than we did during the debate."