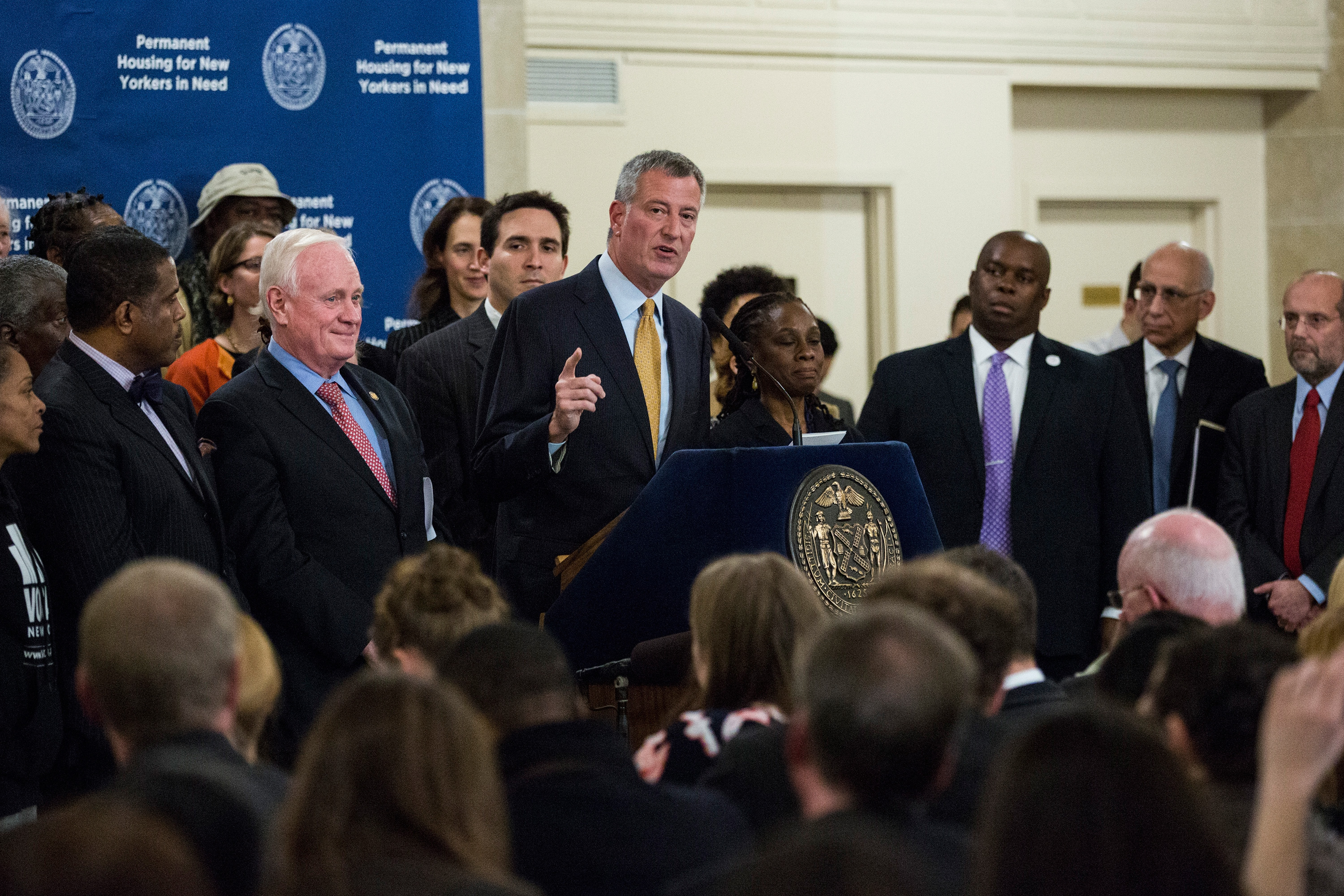 After squabbling with Gov. Andrew Cuomo over funding for supportive housing, Mayor Bill de Blasio today announced plans to move ahead on his own, launching a $2.6 billion program that will build 15,000 units of housing for the homeless.
"The City of New York is acting. We're acting decisively. We are not waiting on Albany," Mr. de Blasio said today at a press conference in the lobby of a supportive housing building.
Mr. de Blasio's press conference today took on the tone of a campaign rally, with advocates for the homeless, mentally ill, substance abusers and veterans cheering him on as he discussed the need for housing that could help those vulnerable individuals get back on their feet. If there was an opponent to run against, it seemed it might be Mr. Cuomo, Mr. de Blasio's most prominent political enemy despite their shared party.
The governor and the mayor have been fighting for months over the funding for the NY/NY program, which has seen the city and the state work together to provide supportive housing for the homeless. Mr. de Blasio went to Albany to ask for 12,000 units to be built over 10 years, but the state responded with an offer of 3,900 units over seven years, something the city deemed insufficient. But perhaps the bigger disconnect was over how much of the tab for operating costs each government should pick up—the city wanted to contribute just 20 percent to the state's 80 percent, as it has in the past, while the state was calling for a 50/50 split.
Mr. de Blasio will now pick up the full cost of his own 15-year program to build 15,000 units, but he and others standing alongside him repeatedly called on the state to do more. That comes after Mr. Cuomo said the same of the city earlier this year. "I think the city should spend more," he said.
"The city just did more," Mr. de Blasio said today, when the Observer asked about those past comments from Mr. Cuomo. "We are taking responsibility for everything that can be asked of us. We want the state, now, to get into this and provide support for New York City and, by the way, for the whole state. As I said, this is a statewide consensus; it's time for the state to step up."
A spokeswoman for the governor, Dani Lever, said more assistance would be coming from the state given the scale of the city's problem.
"Everyone understands the City has had a very real homeless problem and we're glad the city is starting to act on it," Ms. Lever said in a statement. "Given the severity of the situation the State will be providing management assistance to the City and additional resources."
Mr. de Blasio was joined by Republican State Senator Martin Golden, who praised Mr. de Blasio and called for the creation of more supportive housing, and the mayor argued that showed there was bipartisan support in the Legislature—implying that the holdup was with the governor.
"The Legislature has been extraordinary, they have been providing a lot of leadership here. It's time for action, so I don't want to speak for anyone else, in terms of how they make their decisions," Mr. de Blasio said. "I think we're seeing a lot of leadership from the Legislature, we knew it was time for New York City to act and my hope is this will lead to a better outcome for everybody."
Mr. de Blasio argued that the supportive housing model had been successful at helping people recover from issues like substance abuse and also at keeping them off the streets—and also out of jails and hospitals.
"Everyone who ends up in a city hospital because they didn't have the right support, everyone who ends up in a prison, everyone who ends up on the streets, there are massive human costs, first and foremost, but there's real economic costs as well," Mr. de Blasio said.
The plan calls for about 7,500 newly constructed apartment buildings and 7,500 "scattered site units." It will cost $2.6 billion in capital funds over 15 years, of which $1 billion will be a city cost. Of that, all but $380 million has already been budgeted through the mayor's affordable housing plan, which includes funding for supportive housing. The remaining $1.6 billion in capital funds will be offset by low-income tax credits and other private sources, which the mayor's budget director said today will largely be costs paid by developers. The city will also pay operating costs of $96 million through fiscal year 2019, starting with $8.8 million the first year and ramping up from there.
The housing will be open to homeless families and adults where a family member has a serious mental illness, substance abuse disorder, is disabled, or has HIV/AID; young adults under 25 who are transitioning out of foster care; homeless single disabled veterans or families with a disabled veteran; domestic violence survivors; street homeless individuals in safe havens and stabilization beds; and individuals receiving nursing care.
Mr. de Blasio was introduced by Freddie Cox, 72, a resident of the supportive housing building in Times Square where the mayor spoke. He said he'd been addicted to alcohol before getting help—and a home.
"I'm truly glad to hear about the mayor's plans because I see homeless people on the streets—they are getting younger and younger and something needs to be done here," Mr. Cox said. "I see him as the first mayor who's really tried to do something about it and I'm thankful to him and I'm grateful to him."
This story has been updated to include a statement from the governor's office.