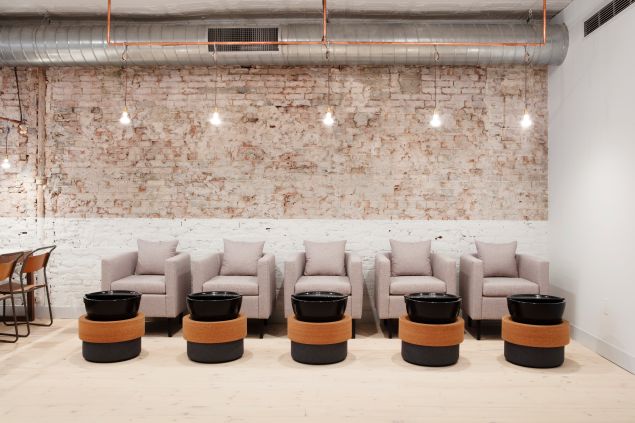 For most female power players of New York, taking a reprieve for a relaxing mani pedi is not just a luxury; it is a necessity. It keeps women looking polished and professional in the boardroom and the perfect shade pink or red polish has the power to brighten any day. Which is why we think it's rather brilliant that luxe salon Tenoverten has opened their fourth New York location on Fulton Street in the Financial District.
Not only has it landed in the midst of countless office buildings for some of New York's top financial firms (and not far from the new offices of Condé Nast and Time Inc.), but they have a serious dedication to the professional client. For example, Tenoverten opens each morning at 8 a.m., allowing clients to stop by before heading to the office for a day of grueling meetings.
Housed in a former stamp factory, this second-floor space features bare brick walls and a patterned tin ceiling. Custom-made manicure tables and pedicure stations (including a stacking bowl and stool contraption that co-founders Nadine Abramcyk and Adair Ilyinsky came up with) line the spacious front room. Those stations also populate a spacious back room. The salon also boasts two private rooms, where sugaring and waxing treatments are offered.
But for professionals, perhaps the most exciting feature about this space is that they offer room to host meetings. Well, meetings where manicures can also take place. Ms. Ilyinsky explained to the Observer: "We have a large private room where corporate groups can come in for team building events or to host clients. We do many corporate events at our other salons, but this space is completely private and all of the furniture is moveable. The conference tables double as manicure stations and the cushioned bench can be used for seating during a meeting and then transform into a pedicure banquette when the fun begins."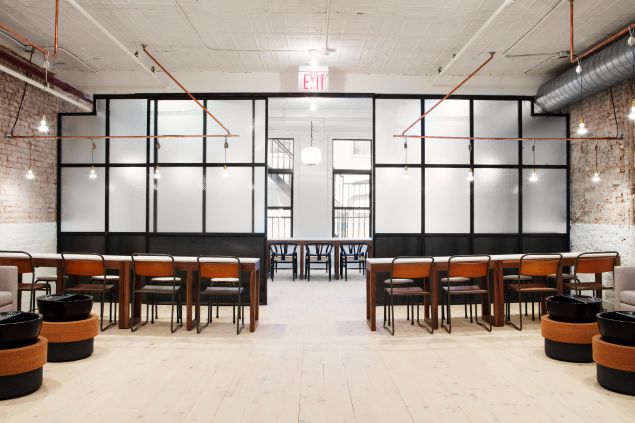 Further, this salon only offers services that are mindful of the health of both their technicians and their customers. So if you're looking to get a set of acrylic nails or even a gel manicure, you will have to head elsewhere. Rather, select one of the Tenoverten branded polishes, which are 5-free (meaning they are devoid of formaldehyde, DBP, toluene, formaldehyde resin and camphor). Not only do they have serious lasting power, but the hues are highly pigmented and glossy. For starters, check out the recently introduced Fulton shade, a light wisp of nude. Or, try their inky black, called Bond.
Another shade to consider is Austin, a denim blue hue, which was cleverly introduced to accompany Tenoverten's first salon that will be located outside of New York. Located in South Congress Hotel, the Texas location will be opening later this fall.