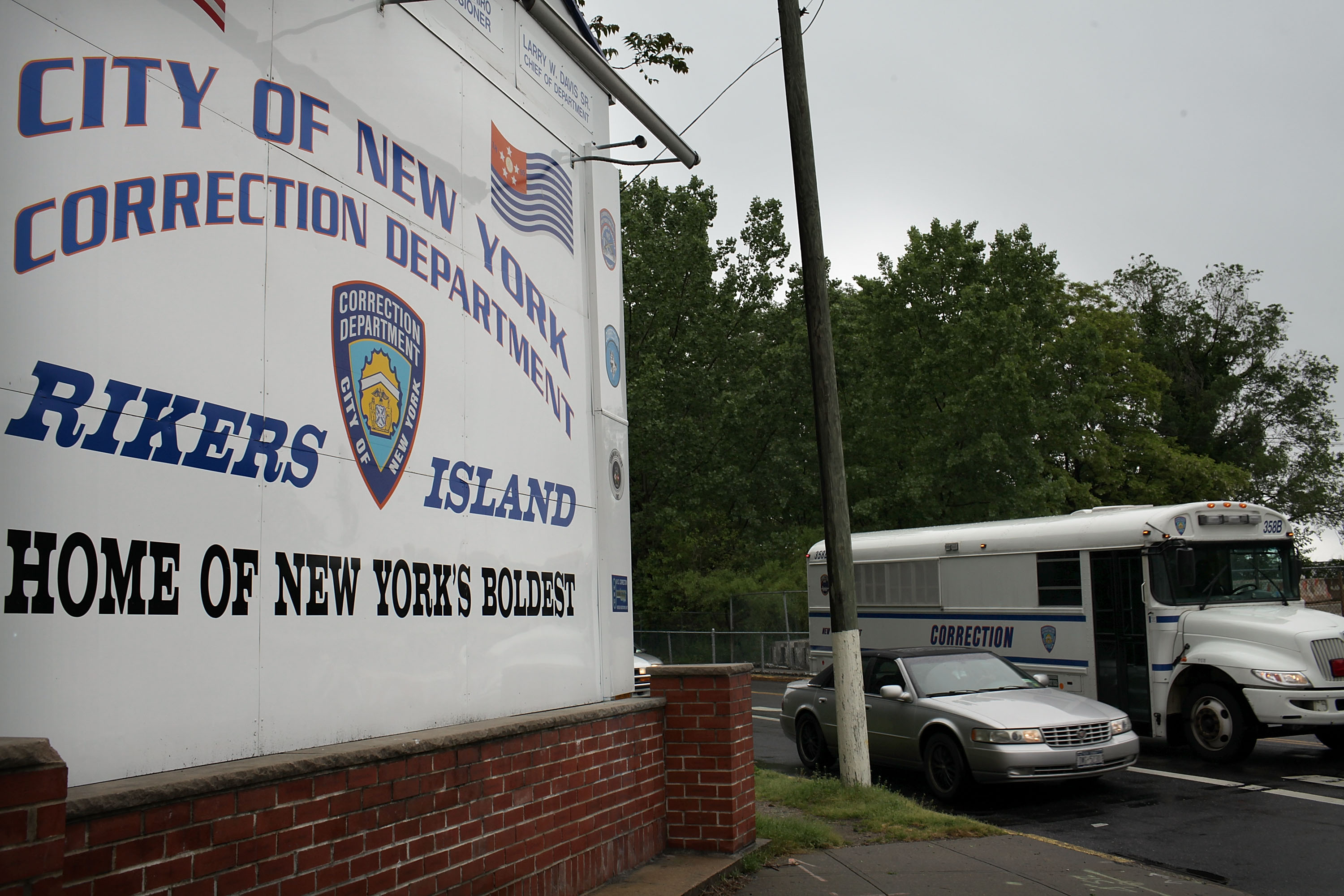 Council members who once planned to call for a special prosecutor for Rikers Island are instead backing a plan from Bronx District Attorney-elect Darcel Clark for her office to increase its oversight of crimes allegedly committed in the city's jails.
The Bronx DA's office has been derided for a backlog of cases—leading to situations like Kalief Browder's three-year stay in Rikers Island awaiting trial for a nonviolent charge that was eventually dismissed—and for, correction officer unions say, failing to aggressively prosecute crimes that are committed on Rikers Island, which is under the Bronx DA's jurisdiction. Those unions—who in the past have backed legislation to put Rikers under the Queens DA's authority—have been particularly vocal of late and have gotten the backing of many elected officials after two inmates slashed a correction officer's face.
Today Council members Elizabeth Crowley, Vanessa Gibson and Rory Lancman—who chair the committees on criminal justice, public safety and courts, respectively—released a statement praising a plan Ms. Clark rolled out yesterday to address some of those concerns. Ms. Crowley and Mr. Lancman had last month announced a press conference to call for a special prosecutor at Rikers Island before scuttling it the day it was to be held.
Ms. Clark, a judge and a Democrat who will take office as DA in January, vowed to create a Rikers Island task force within her office, assign an assistant district attorney and other staff to Rikers Island to cut back on delays caused by transferring inmates, working collaboratively with the Department of Correction, Investigation, and the NYPD to "actively investigate and prosecute crime" at Rikers, work jointly with other DA's prosecuting the offenses that landed inmates at Rikers before they committed an offense there, asking for more city money to deal with Rikers Island and "demanding" that the state place a judge on Rikers Island to expedite arraignments and other proceedings there.
Ms. Clark has also called for bail reform for non-violent offenders and eliminating the Bronx DA's case backlog, with the goal of having people serve no more time at Rikers Island while awaiting trial than necessary.
Asked whether Ms. Darcel's plans might fill the role he'd envisioned for a special prosecutor, Mr. Lancman said, "The short answer is: potentially."
"The situation at Rikers is untenable, and there needs to be dramatic change now. The most dramatic change that we could think of would be the appointment of a special prosecutor, but we want to give Judge Clark the opportunity to turn things around in that office," Mr. Lancman said in a telephone interview. "We met with her. She's come up with a plan. We think it's a substantial plan that can make a real difference."
Current Bronx District Attorney Robert Johnson has long been criticized for his handling of cases that originate on Rikers Island—typically, when an inmate commits a crime against another inmate or an officer, or brings in contraband like drugs or weapons. Correction unions have complained that those cases were rarely tried and when they were, inmates often received short sentences or ones to be served concurrently with sentences for the crimes that landed them in Rikers—providing no true deterrent. At one point, Bronx prosecutors were told not to pursue many cases originating on Rikers Island due to the office's backlog of cases, NY1 reported.
"If you look at the other corrections facilities, whether it be in Manhattan or Brooklyn, you had a much higher rate of prosecution for crimes committed by inmates," Ms. Crowley told the Observer by phone, "and that was not happening on Rikers Island."
Ms. Clark's plan comes as many elected officials find themselves in the position of balancing reforms at Rikers Island—where U.S. Attorney Preet Bharara had alleged a "culture of violence" by correction officers against juvenile inmates and joined a federal lawsuit against the city, Nunez v. the City of New York—with keeping order in the city's jails, where inmate-on-inmate and inmate-on-officer violence has climbed. Among those standing beside bombastic Correction Officers Benevolent Association union leader Norman Seabrook—who has slammed the department for ending its use of solitary confinement for inmates under 18 and planning to end it for those under 21—were politicians like Mr. Lancman and Congressman Hakeem Jeffries, who have led calls for progressive criminal justice reform.
Mr. Lancman said any criminal justice reform is a tricky thing to navigate.
"We are balancing the different interests that are present, and those interests are real and improtant. The safety and security of corrections officers is our highest priority, that's why me and Liz and Vanessa were at that correction officers' press conference last week," Mr. Lancman said. "But at the same time the rights of inmates at Rikers Island, who overwhelmingly have not yet been proven to be guilty of the crimes they're charged with, have to be respected as well."
In full disclosure, Jillian Jorgensen's father is a retired deputy warden with the New York City Department of Correction, who served at Rikers Island. He is among department leadership named in the recent Nunez lawsuit.