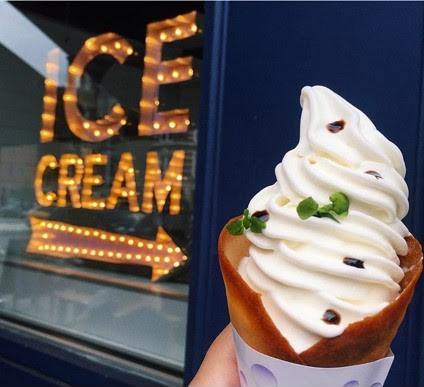 Wunderkind pastry chef Dominique Ansel is bringing his talents to South Beach. Mr. Ansel, best known for inventing the Cronut (an unholy marriage between a croissant and a doughnut that took the world by storm in 2013), has whipped up some softer, colder creations that will be served up at a pop-up ice cream counter at The Setai in Miami for $7 each during Art Basel Miami Beach. Yes, $7 ice cream cones are about to drop.
From Wednesday, December 2, through Thursday, December 3, guests staying at The Setai will be treated to a free cone (how nice for them) while the rest of Miami's fiending masses will just have to wait in line between noon and midnight—or until the ice cream Nazis declare "No more ice cream for you!" and cut us all off.
The two Frankenstein flavors on offer will be "Caramel Stout Soft Serve," a concoction of chocolate "caviar" and sea salt brownie, and "Burrata Soft Serve," which promises balsamic caramel, confit strawberry and microbasil. (Microbasil is a real thing—just think of it as "fun size basil.") Each flavor comes served in a homemade tuile cone.
And in case you were wondering about the quality of Mr. Ansel's ingredients, all cones will be made with fresh milk "as opposed to mix or a powder," organizers promise us. Maybe now someone will finally alert the baristas of Starbucks who seem to think it's acceptable to charge $5 for that Caramel Brûlée Latte made from flavored powder that we're wise to their game.