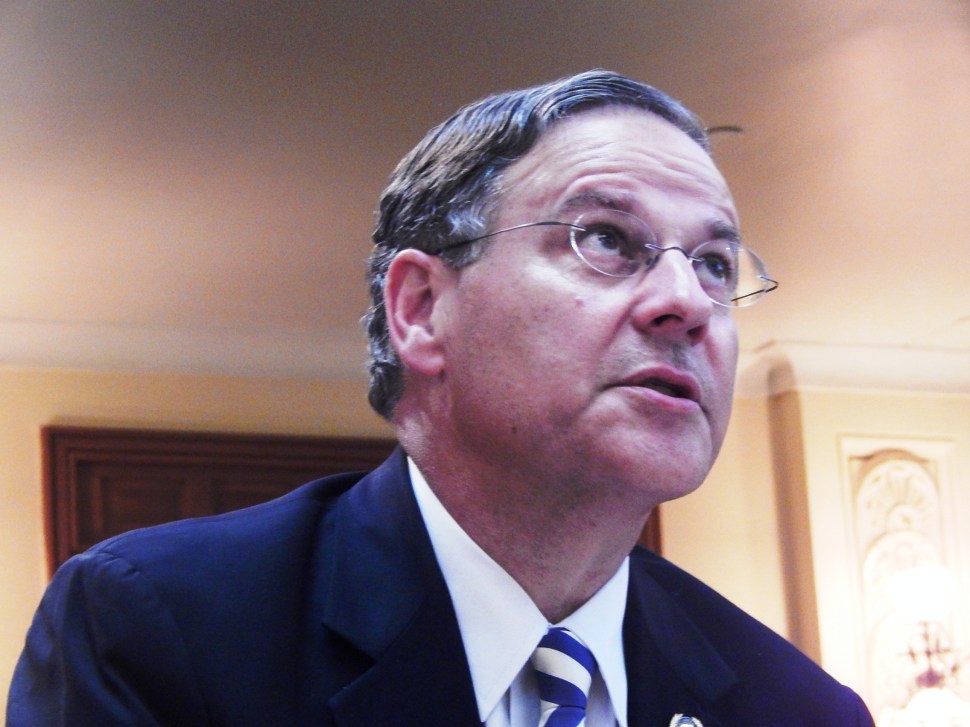 As Gov. Chris Christie donned the wings of higher political aspiration and attempted to soar into the national ether of New Hampshire and Iowa, Assembly Minority Leader Jon Bramnick (R-21) shouldered New Jersey – of all places – and undertook the unglamorous Sancho Panza-like task for the GOP of trying to deal with the reality of crumbling Christie poll numbers, crumbling state infrastructure and crumbling public enthusiasms.
Through it all Bramnick appears to be having immense good fun, even against the odds as his party gets outspent by Democrats seeking to build on their majority in the Legislature with well-funded victories in LD1, LD2 and possibly LD11. The buoyant minority leader has over years of hard work (and casual authenticity) accomplished the difficult challenge of both being loyal to the out-sized Christie while simultaneously leaving no doubt about his own individual style and outlook; using humor, unfailing good manners and a good-natured zest for politics in a world dominated by egos, dock-front tough guy routines and sharp elbows.
"It's hard to tell," he said, the grin creeping into his voice when PolitickerNJ asked him about what will happen tonight.
"You never know at this stage," he added.
He commanded a statewide bus tour these past two days, making the rounds of those battleground districts where Republicans want victories to prevent Democrats from muscling up their 48-32 Assembly majority.
"I think the argument continues past this election, a discussion I'm hoping journalists join me on, which is that making this state more affordable and lowering taxes means some serious reforms," Bramnick said. "If you see five, six, seven, eight million dollars coming in from entities that resist reforms – more money from both parties combined from independent expenditure entities – you know that Democrats have no intention of making serious structural changes."
According to a state Election Law Enforcement Commission (ELEC) analysis, Democrats this cycle outspent the GOP $8.9 million to $3.1 million and that doesn't reflect the independent expenditure cash influx, which has contributed to 40% of the money of this campaign cycle, and favors the Democratic Party cause.
Bramnick has argued throughout the cycle that this is the issue: Democrats in power don't want tax reform. But the combination of big dollar messaging and clown car shenanigans in terms of the way the media covers politics, the minority leader argues, making more out of banana peel moments by GOP candidates than affordability, puts Republicans against it with time ticking down toward 8 p.m.
"You've got to do something," Bramnick said. "That's why I like Chris Christie. He talks about the issues. He goes out there and talks about being ready to do the real tough stuff.
Both in the state yesterday jousting over criminal justice reform, Christie and President Barack Obama grabbed media attention away from Bramnick's touring bus.
"It didn't throw us off," he said. "What's more exciting to journalists, Obama and Chris Christie or Bramnick's tax plan? I get that. The stuff I'm talking about is not all that exciting."
In the closing chunk of time of this cycle, New Jersey Education Association money keeps laying on a barrage against Bramnick's candidates – "negative commercials unrelated to education," he maintains, "for two months. I want that to be exposed. They never mentioned education or blocking reforms."
Does he want to see the state legislature undertake reforms to limit the influence of PAC money?
"My preference is to make sure the media talks about the most important issues the taxpayers face," Bramnick said. That will always overcome money. The media needs to ask Democrats how are you going to make life more affordable. That's the job of the media. The media have credibility and power."
Despite Democrats' and their PAC blistering GOP incumbents in LD11, "I do think District 11 candidates are going to win," Bramnick said. "As I travel the state and meet Republican candidates, I have to tell you, if every voter had the opportunity to meet them, they would be really impressed. Mary Pat Angelini and Caroline Casagrande are both really impressive."
PolitickerNJ asked Bramnick if Christie's absence hasn't made political life harder for him.
Bramnick said no.
"That's something the Democrats use to avoid dealing with the policy issues," he said. "Chris Christie made clear that it's a lot easier to criticize than deal with the policy issues. Democrats are relying on things like the override when, at the end of the day, the average person is moving out of the state.
"When are the Democrats," Bramnick added, "going to take on the tough issues?"