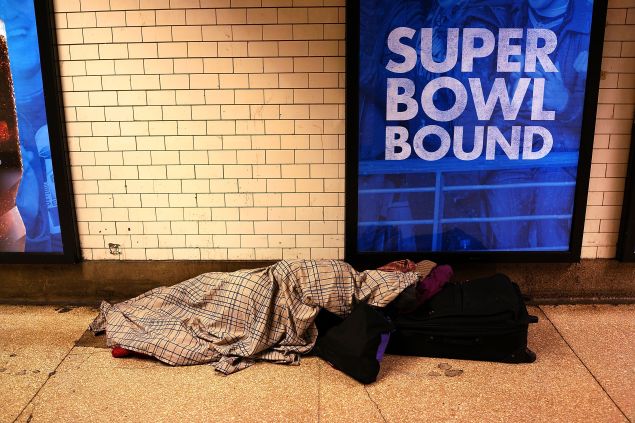 After a bitter pre-Thanksgiving spat over the city's mushrooming street population ended with Gov Andrew Cuomo questioning Mayor Bill de Blasio's "management" and "intelligence," Mr. de Blasio slammed his rival Democrat today for what he called "political posturing" on the issue.
Speaking to the press following an unrelated event in Manhattan, Mr. de Blasio emphasized the city's multi-million dollar investments in mental health and substance abuse treatment, social services outreach, 15,000 units of housing for troubled homeless and efforts to place people living in shelters in permanent apartments. The mayor ripped the governor's digs at his competence as part of a larger pattern of vindictive behavior.
"You know, that's political posturing, it's just as simple as that. The City of New York is doing the work, it's time for the state to step up," Mr. de Blasio told reporters. "We're going to go after each person, get them to housing, one-by-one, get them to mental health services, get them to substance abuse support. The City of New York is doing this work, it's time for the state to step up."
The governor's office has indicated that it intends to step up next year—but as a reaction to what it lambasted as the mayor's failure to handle the issue.
"It's clear that the mayor can't manage the homeless crisis and the state does intend to step in with both management expertise and resources," Cuomo spokeswoman Dani Lever told reporters last Friday, adding that the governor would outline a new strategy in his State of the State address in January 2016.
Ms. Lever referred the Observer to that statement when asked to weigh in today. Her comment followed remarks Mr. Cuomo made on Tuesday, when he argued—contrary to Mr. de Blasio—that funding was not the issue.
"Throwing money at the problem is not always the answer," Mr. Cuomo said. "It's understanding the problem and being smart enough to know how to manage the problem."
Nonetheless, the governor's press office gave the Observer updated numbers showing it had supplied the city with $906 million in rental subsidies and targeted homelessness services this year. Last week, it claimed that it had spent $825 million, and today attributed the discrepancy to oversight on the part of the press office.
Mr. de Blasio and Mr. Cuomo squabbled for months about the possible creation of a fourth incarnation of the New York/New York initiative, a joint city-state program that provided housing and social services to thousands of homeless individuals. After the governor insisted that a new version of the program involve a smaller state contribution and a larger city expenditure, Mr. de Blasio announced he would be building 15,000 of the specialized apartments with no assistance from Albany.