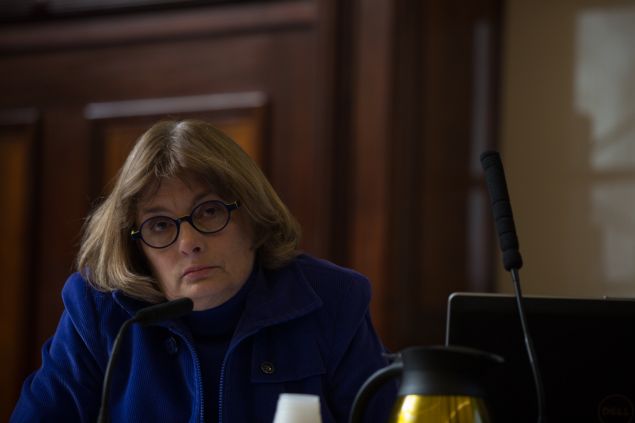 A top de Blasio housing wonk warned critics of the mayor's ambitious affordable housing plan that the dream of stopping new construction altogether is hopeless and that only building apartments for the poorest New Yorkers is economically unfeasible.
"We have to shape development rather than just react to it. And too much of the discourse is about stopping development," said Vicki Been, the commissioner of the Department of Housing Preservation and Development. "You don't stop development in a city like New York. So our approach is, let's work to shape it, to serve the interests of the neighborhoods across the city."
With Mayor Bill de Blasio's vision to build and preserve 200,000 units of affordable housing encountering increasing criticism from some corners that it is insufficient, and might even accelerate gentrification in the outer boroughs, Ms. Been took the podium at New York Law School this morning to explain and defend the plan. Ms. Been argued that the city could use a toolkit of zoning, tax abatements and public financing to encourage the private market to accommodate more low-income people—but said efforts to stop the city's shifting real estate landscape are futile.
Much of the plan calls for sweeping rezonings in low-income areas like East New York in Brooklyn to allow for more, taller construction. In response to a question about how the city would ensure the long impoverished Brooklyn enclave "remains a black neighborhood" and not "a dumping ground for white folks that can't afford to live in Manhattan," Ms. Been answered that she could not.
"We are not, and we could not, legally, try to keep any neighborhood any particular race. That is not consistent with the law, and that is not consistent with our beliefs," she said, emphasizing that the aim of the plan is to allow for a plurality of income levels in all parts of the city. "We are trying to ensure economic diversity, and with economic diversity usually comes racial and ethnic diversity in all of our communities."
The remark contrasted with one Mr. de Blasio made at a town hall in Washington Heights last month, in which he said his goal was to "keep neighborhoods the way they are." Ms. Been said the city was aiming to include as many local residents in the new housing, whether through the administration's controversial "community preference" in applications or through workshops to help people improve their credit scores so they may qualify for an apartment.
"We're working really hard to make sure that the people in the neighborhoods, and the lowest-income people, do get into the housing that we're building," she said.
Twenty percent of the new below-market units will be geared toward what Ms. Been called "the poorest people": individuals making as little as $15,000 a year. But she insisted that trying to increase that proportion would undermine the entire plan.
"Why don't we go even deeper? It's just simply economics. It's just simply a trade-off. The cost of going deeper is so high that we would either need hundreds of millions more for housing, or we would need to reduce the 200,000 unit count," she said. "And we believe just getting a lot more housing out onto the market will serve everyone's interests best."
Part of the current plan hinges on the much-maligned 421a tax abatement for developers. Albany passed a number of the reforms Mr. de Blasio sought this year to require recipients of the tax credit to build more affordable units, but with a major caveat: the real estate industry must cut a deal with building trades unions to include new prevailing wage standards in the exemption before January, or 421a will expire entirely.
Ms. Been attacked Albany for creating what she called "uncertainty" in the market and "poor government." But she said the administration would devise new strategies should the exemption lapse entirely.
"Life will go on. There was life before 421a, there will be life if 421a fails. We have many tools, we are very good at being creative and coming up with new tools," she said.