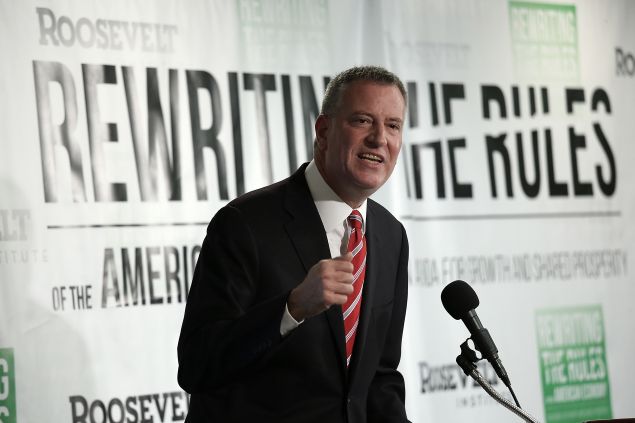 Following increasing criticism over his use of a shadowy nonprofit, the Campaign for One New York, to promote his progressive agenda, Mayor Bill de Blasio wished today for Citizens United to be struck down–but implied he was fine with continuing to reap the rewards of the Supreme Court decision.
"I think it's really important to look at the laws that govern us and I would like to see a very, very different world but we're not in that world yet," Mr. de Blasio told reporters at City Hall. "I believe there should be a constitutional amendment to reverse the Citizens United decision by the Supreme Court."
The Citizens United decision, which freed corporations, unions and nonprofits to spend freely on elections as long as they don't coordinate with campaigns, is a frequent target of liberal critics, even as many of them begin to take advantage of the loose restrictions on campaign spending. Mr. de Blasio's Campaign for One New York is a 501 c(4) nonprofit that does not have to conform to the strict limitations on donations and spending imposed by the New York City Campaign Finance Board. Mr. de Blasio voluntarily discloses the five and six-figure donations made to the group several times a year.
Like President Obama, another Democrat who reviled super PAC's before setting one up himself, Mr. de Blasio invoked his moneyed enemies as a reason to fight fire with fire.
"Private sector individuals and firms can spend freely, the Koch brothers very famously now say they're going to put a billion dollars now into this cycle," he said. "I respect that the media is supposed to hold us all countable and ask us all tough questions but I would ask for context—there are lots and lots of politicians spending vast amounts of money without any examination, without any disclosure."
"Anything associated with me is going to be fully disclosed, anything even that's not directed by me but it's supported by me is going to be disclosed," he added.
The mayor also argued that "in a dynamic where millions and million of dollars, multiple times, have been spent to attack things that I'm trying to do, it makes sense that there going to be other people who push back and say this agenda is important and I think that's legal and understandable in the environment we're in."
Mr. de Blasio was also asked whether the mega donations his nonprofit took in were a way to buy access or favor with City Hall. The mayor, predictably, said that wasn't the case.
"What I say to people and what others have said is: this is what I'm trying to do and this is what we're asking for support of," Mr. de Blasio. "I don't think people tend to give money to something they disagree with."