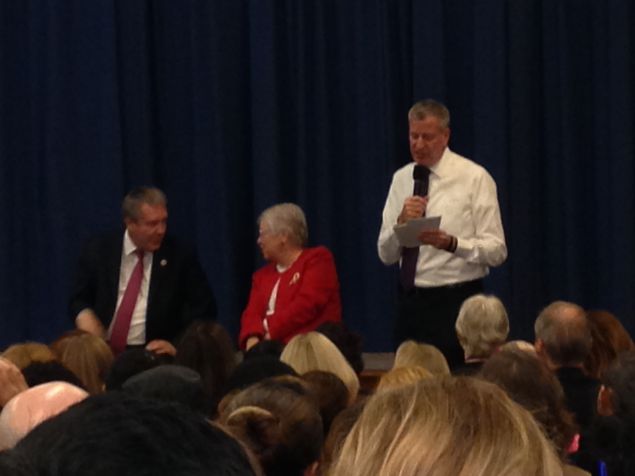 A few hundred people packed into the humid auditorium of PS 69 in the Jackson Heights section of Queens for the second town hall of the de Blasio mayoralty—this one focusing on education, and providing the low-polling mayor with an opportunity to trumpet his policies.
Like with his first town hall in Councilman Ydanis Rodriguez's upper Manhattan district last month, Mr. de Blasio again chose to hold the event on the turf of an ally from the Council's Progressive Caucus: this time, in the district of Queens Councilman Daniel Dromm, chairman of the Committee on Education. The attendees sat through a full half hour of their councilman and the mayor making speeches commending one another before the question and answer session began.
"Mr. Mayor, you really inherited what I would call a bit of a mess ," said Mr. Dromm, a former teacher, attacking former Mayor Michael Bloomberg and praising current Schools Chancellor Carmen Fariña. "You have restored the dignity of the profession of teaching."
Critics of the mayor accused him last time of "handpicking" attendees for the event, and attendees of the second gathering were required to register with Mr. Dromm's office, allegedly due to space constraints.
A large number of the people present either introduced themselves as representing an activist group—Desis Rising Up and Moving, Make the Road New York, Life Camp Inc, Class Size Matters—or as public school employees. Most of the remainder were members of the local Community Education Council.
Many attendees sounded rehearsed, reading questions off cards or sheets of paper. They challenged the liberal mayor, but mostly they challenged him to lean even more to the left: to expand spending on arts programs and class size reduction, to partner with and help fund their organizations, to recognize more varied religious traditions and holidays, to disassociate school safety aides from the NYPD, and to reduce penalties that disproportionately impact black and Latino students.
"We're making progress," was Mr. de Blasio's refrain for most of the evening, as was "the previous system"—an apparent allusion to Mr. Bloomberg's strategy of shuttering failing schools and relying heavily on reading and math test scores. He also touted his flagship prekindergarten initiative, increased after school programs and his "Equity and Excellence" plan for universal computer coding, advanced placement classes and second grade literacy.
"It's a different paradigm. For many years, the system was not geared to catching things early, and unfortunately in too many cases was geared toward ignoring them," he said. "The previous system was expensive, contentious, etcetera. We want to do better than that and we believe we are on the road to doing better than that."
The mayor went out of his way to praise teachers and lambaste the way his predecessor used them as a political foil and target of blame for underperforming schools.
"As a public school parent, I was very troubled that teachers were not being respected," said Mr. de Blasio, a close ally of teachers' unions, blaming a lack of support and up-to-date training for attrition in the field. "If you look at all the things we weren't doing for education and then you look at the tone taken toward teachers, is it surprise a that a lot of very good, very committed talented people decided they were no longer going to be teachers."
It was one of several lines that received strong applause.
Schools Chancellor Carmen Fariña fielded a number of the inquiries, and she had less of a soft touch with the attendees. When a man who professed his opposition to mayoral control of schools bemoaned the replacement of the old Community School Boards with the largely powerless Community Education Councils, Ms. Fariña flatly shot him down.
"We're not going to go back to the good old days. Because they weren't so good. So the idea of CEC's choosing their own principals, not going to happen. At least not under us," she said, noting that the Community School Boards had often been nests of nepotism.
By around 8:30 the audience was visibly thinning, though at least half of the people sat it out until the event ended an hour later. Others lingered on afterward to speak with the array of aides and commissioners accompanying the mayor.
The town halls mark a change of approach for the mayor, who insisted for the first 22 months of his administration that he got enough interaction with the public when he visited his old neighborhood of Park Slope, Brooklyn to go to the gym. His predecessors held town halls much more frequently.