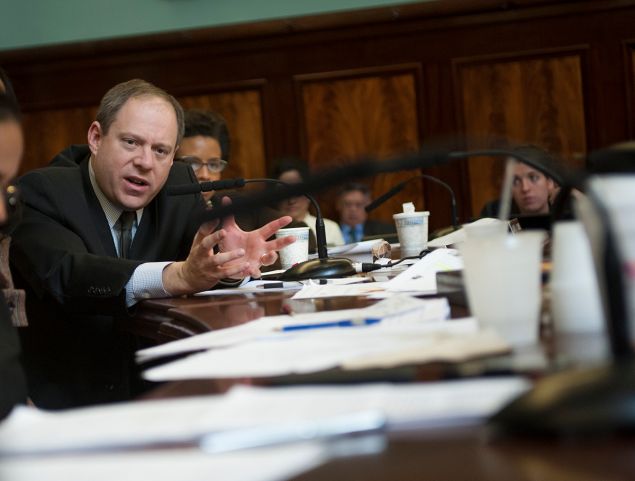 Mayor Bill de Blasio rebuffed attacks from a Queens city councilman that a new nonprofit set up to raise funds for Flushing Meadows-Corona Park "plays politics" by only granting a councilwoman aligned with his liberal agenda an appointee on the conservancy's board—and leaves Mr. Lancman and his constituents without a voice.
Shortly before Mr. de Blasio joined Queens Councilwoman Julissa Ferreras-Copeland—a member of the Council's Progressive Caucus and chairwoman of its powerful Committee on Finance—to announce the creation of the park's new funder and caretaker, Councilman Rory Lancman, a fellow Democrat, sent out a press release entitled "Mayor de Blasio Plays Politics With 'Flushing Meadows-Corona Park Alliance' and Disenfranchises Hundreds of Thousands of Park Users." Mr. Lancman, whose district covers the southern end of the park, argued only granting Ms. Ferreras-Copeland a representative on the Alliance board was part of a pattern for the mayor—pointing out that both of the mayor's only town halls while in office have been in the districts of Progressive Caucus members.
"The mayor can't just have town hall meetings in disticts with council members that are his core allies. He can't dole out appointments to oversee spending of money in public parks just to his allies," Mr. Lancman told the Observer in a phone interview, claiming the administration refused to meet with him for months to discuss the Alliance's creation. "I think there are a lot of communities in this city who look at mayor and ask themselves: Is he really representing us? People here feel he's not representing them. This decision just reinforces that."
When asked about the apparent imbalance today, Mr. de Blasio made the disputable assertion that Ms. Ferreras-Copeland's district "covers the vast majority of this park," and said that the Alliance board would engage with all stakeholders. He also said that, since he has held just two town halls, it was too early to claim he was only holding them in the districts of political allies.
"I would urge the council member to wait a little while before he passes judgement," Mr. de Blasio told the Observer.
Ms. Ferreras-Copeland, for her part, appeared to take offense at Mr. Lancman's comments. She argued residents on all sides would have input through a "community advisory board."
"For that statement to be made without us having the first CAB meeting, I think it a bit inappropriate or poorly-timed," she said. "We are eager to see everyone represented and all the voices heard from this entire park but I'm very excited that so many people are interested."
New Yorkers for Parks, a parks advocacy group, said that it is usual for alliances and conservancies for parks, and similar nonprofits, to have a single representative from the Council—either the council member themselves or an appointee. The organization argued it would be strange for there to be two council members represented.
"That would be so unusual. Usually they have one council member and one borough president person," said Tupper Thomas, New Yorkers for Parks' executive director. "Since she has [the] largest part of the park, it makes sense she would be the council member."
Brooklyn Councilman Brad Lander is the sole council member on the Prospect Park Alliance board. His district, however covers all but a few small portions of Prospect Park.