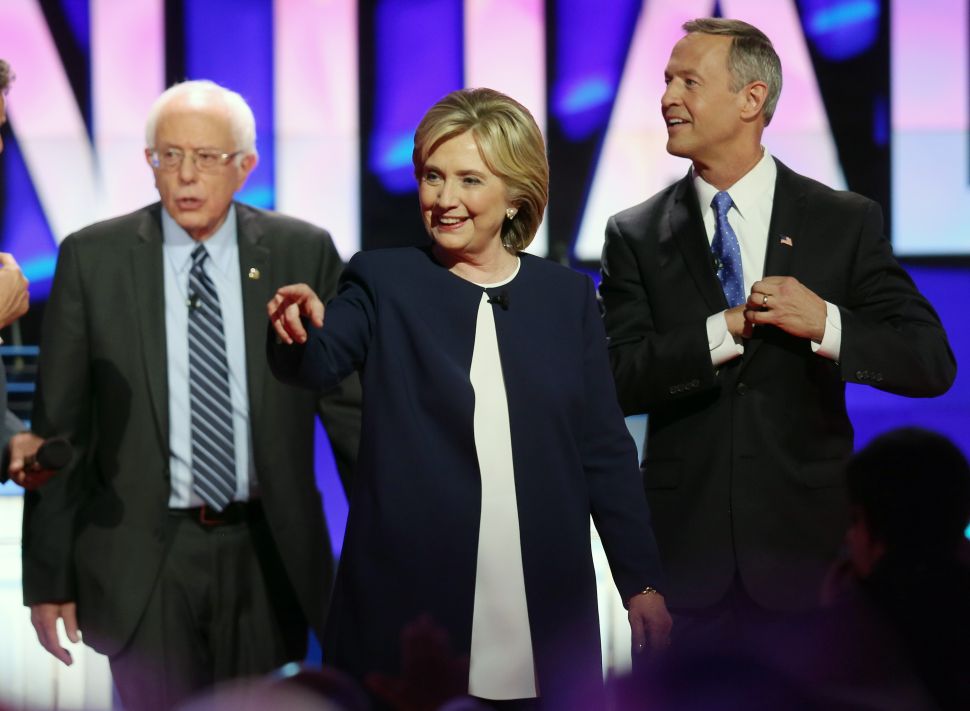 The second Democratic Party candidate debate will take place Saturday night, at 9 p.m. ET, with two hours scheduled for the broadcast of the three way match up between Hillary Clinton, Bernie Sanders and Martin O'Malley. In a trend that CNN started with the second Republican debate, CBS News is making the debate viewable live online.
Go here to watch the debate online Saturday night.
CBS News has teamed up with its local affiliate and the Des Moines Register for the match up, which will take place at Drake University. Two journalists from the network, one from its local affiliate and one from the paper will field questions, according to a release.
As a publicly broadcast channel that's also available in all basic cable packages, CBS does not need to go to the same lengths as Fox Business did for the prior Republican debate to increase access to televisions; however, CBS News is broadcasting the debate through its radio network as well. Voters in a position to listen but not to watch the debate should be able to hear the broadcast on 600 affiliate stations, on Radio.com or on one of the CBS News mobile apps.
Twitter is also in the sponsor mix. "CBS News is so pleased to partner with Twitter on our Democratic debate," said CBS News President David Rhodes, in prepared remarks. "Our people have worked with Twitter's unique curator tools to measure changing responses to what viewers will see on the screen."
While smaller than some other social networks, with 320 million active monthly users, according to the company, major live events really do seem to be one place where Twitter stands out.
Follow all the active presidential campaigns on this Twitter list.
The official hashtag for the event is #DemDebate (Kudos to CBS News for not jamming their name in there and wasting precious hilarious joke space).
Nick Pacilio, from Twitter's communications team, told the Observer in a phone call that this is the company's first time partnering on a presidential debate. "The advantage Twitter has in terms of being real time and being this public platform that is really accessible to everyone is a cool proposition," he said.
He explained that Twitter will be making two tools available to the network: the ability to curate questions from the live Twitter conversation and real time analytics of the way the public responds to the conversation.
For example, Mr. Pacilio said that Sen. Sanders' comment about Mrs. Clinton's emails generated the largest response of any single moment in any of the debates so far, with 51,525 tweets per minute.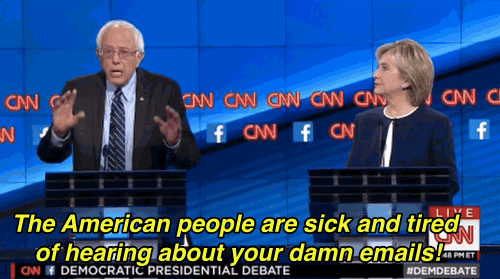 Through this partnership, CBS News will have the option of making information of that nature immediately available to moderators and viewers.
Mr. Pacilio offered us a broader, additional insight, from the perspective of the campaigns themselves. He said, "The interesting thing to us is that because presidential cycles are so far between and our technology is so new—Twitter is nine years old—between 2012 and now, we've had a lot of advancement, but in politics all that is brand new right now." He said the company is still selling campaigns on the tools that television networks, sports teams and brands have long since bought into.
There will be a Republican debate tonight. The next Democratic debate will take place on Saturday, December 19, courtesy of ABC News.
The Democratic National Committee did not respond to a request for comment for this story.