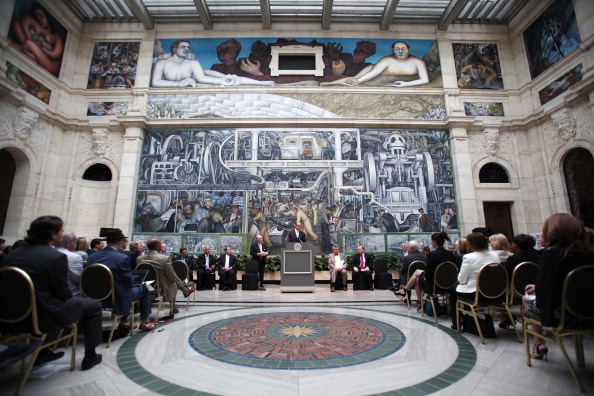 The Detroit Institute of Arts and its collection are safe for now thanks to the approval of the "Grand Bargain" that has pulled the city of Detroit out of bankruptcy. But the DIA has a tricky challenge ahead: it must build a $400 million endowment in the next seven years.
Masked thieves broke into the Castelvecchio museum in Verona and stole 17 paintings, including works by Mantegna, Rubens and Tintoretto. The estimated value of the stolen work is between $10.7 and $16 million.
The Milwaukee Art Museum will have a grand reopening on Tuesday, November 24 with the addition of a fourth building: a new exhibition wing designed by Milwaukee architect Jim Shields.
Photographer Catherine Opie has been commissioned to create a mural-sized work for the new federal court house in downtown Los Angeles, which will be her largest public artwork to date. The work will depict Yosemite Falls through six separate panels, each one hung on a different floor of the courthouse but all of them visible from the atrium.
Larry Gagosian is showing the artwork of Beatles star Paul McCartney's first wife Linda and daughter Mary.
Scotland Yard's Crime Museum, a.k.a. the "Black Museum," opened to the public for the first time in its 140-year history. The museum was created in the 1870s to help teach new police recruits and showcases a variety of grisly historical objects, including a medicine case that belonged to Jack the Ripper suspect Dr. Neil Cream and a gun owned by Ruth Ellis, the last woman to be executed in the U.K.