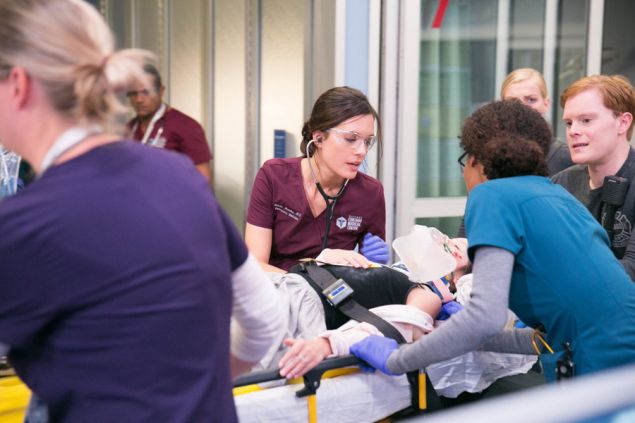 Born out of an already successful franchise, new medical drama Chicago Med follows its predecessors Chicago Fire and Chicago PD into the world of first responders in the windy city.
The trilogy is uber-producer Dick Wolf's latest foray into creating a programming empire. His last attempt went pretty well – Law & Order ran for 20 seasons, spin-off Criminal Intent ran for ten and Law & Order: SVU is currently in its 17th season, and showing no signs of slowing down.
"This is different than when we did that," explained Wolf at a recent press event. "People don't remember that Law & Order had been on for nine years before we launched SVU and then Criminal Intent. So this is happening a lot faster."
To achieve his desired result for Chicago Med, Wolf engaged showrunners Andrew Schneider and Diane Frolov. "Dick said that he wanted to do a show that was smart and dealt that with medical issues and ethical issues with strong characters and that's something that we love to do, so we were onboard right away," explained Frolov.
Schneider adds, "When you're in a hospital situation the stakes are already very high. There's this confluence of emotional stories already inherent that have political, financial, and moral ramifications. The delivery of medicine itself is a very complex thing so we knew there was a lot to mine from this setting."
To prep for the series, Collin Donnell who plays Dr. Connor Rhodes says the team of fictional physicians and medical workers engaged in strenuous training. "We went to medical boot camp and spent our time working in simulation labs that real residents and medical students use. We're committed to this because we want to make this look as real and feel as possible."
Also starring in the series is veteran actor Oliver Platt in the role of Dr. Daniel Charles, Chief of Psychiatry. He says he was drawn to the role because, "I think a lot of actors are already sort of amateur psychologists in a way. It's our job to figure out from human motivation why someone wants something and why they can't get it and to show that to an audience. That's what we do so I've always been interested in psychiatry, because it's a very mysterious.
He leaned in a little closer to add, "It's aslo interesting to me that the etymology of the word psychology actually means 'the medical treatment of the soul.' There are no blood tests for any of this, there's a lot of guesswork. We have a tiny idea about how the mind works and I like playing a character that really gets into that."
He seems to reflect a moment about what he's just said, and adds, "And Dick Wolf asked me to do this and I wanted to work with him, so it's a real win-win for me."
Actor S. Epatha Merkerson is happy to be taking another turn on a Dick Wolf drama as she checks in to play hospital administrator Sharon Goodwin on Med.  Merkerson previously played Lieutenant Anita Van Buren on the original Law & Order for almost the entire run of the series. "For me, this is like being home again. I enjoy working with Dick because of what he brings to a series. He employs people who really know how to craft and guide a show." She added that, "What's really fun for me in doing this show is that I'm sort of an elder here and I love working with the younger cast members and watching them stretch and grow and really give it their all to make this a great show." Then she smiled and clasped her hands together and said in a drawn out fashion, "And they're all so goooood!"
Addressing the fact that there are other medical shows currently on the air, Executive Producer Matt Olmstead, who's been with the 'Chicago' franchise since the beginning, says that Med will differ from those in a few ways, "First, we have the shared DNA with the other two shows, Fire and PD, so we have a sense of family and connection there that's unique to these shows. As far as the tone of Med is concerned, well, there are medical shows that feel too grim – like you can almost smell the urine and those other weird hospital smells – and then there are those that are too slick that feel like their taking place at an ad agency. We all said right from the start that we want people to feel like this is place they want to be without being too unrealistic. So we really worked to find the common ground were this feels very real, not intimidating, but too not polished either."
To this Wolf added, "One of the things that makes this different is that we're featuring one story a week that focuses on cutting edge medicine. Most medical shows are pretty traditional in that they cover things that may happen to a lot of people but some of the stuff that we're doing is very different and extremely unique. The aim for us is that every week you're going to find out at least one thing that you didn't know."
Schneider added to this with, "When you talk about medical care in the United States, there a lot of tough question to consider – when does it go too far? How do you finance medical care right now? We're going to tackle those real issues." Frolov added, "Within that medical framework you'll see how the characters deal with a lot of tough choices and decisions. Truthfully, that was my first draw to working on the show, telling these stories through characters that I'm sure viewers will care about."
Clarifying that point a bit, Schneider assures that Med will follow the traditional 'Wolf style' of television with self-contained shows, but with a slight twist. "We've structured this to include those single episode stories so you can drop in for an episode and you'll understand who everyone is and what's going on, but our hope is that once you sample that first episode you'll want to stick around. So, we also have some stories that will arc over a few episodes and that will intertwine with both Fire and PD."
To maintain the consistency with all three shows, Wolf has an informal mandate for his producers and writers. "The thing is, the hardest entity to maintain on any show is quality. That may sound like a simple statement, but in reality it's not an easy thing to do. There are a lot of shows that don't make it because they sort of lose that, so that's job number one – maintain quality. I've found that the rest will fall into place if you reach for the highest standard in your storytelling."
Given that the other two shows in the franchise are hits , does being the third entre into this world add any pressure to the Med showrunners job? Frolov says, "We really don't think about what we're doing in terms of that. Right now all we're doing is focusing on trying to make the show the best it can be and maintaining that quality that Dick talks about." Schneider added, "Our goal is to make a great product that people want to see every week….and to make Dick Wolf happy. If we're doing those two things then we're doing it right."
Now that he has three shows up and running, when asked if he can commit to which one is his favorite, Wolf laughed a little and said, "It's like having kids; they're all different and great in their own way. Med is getting the most attention right now simply because it's the baby. We want to start it out right so that it's on the right track to grow into something really special."
Chicago Med airs Tuesdays at 9/8c on NBC.