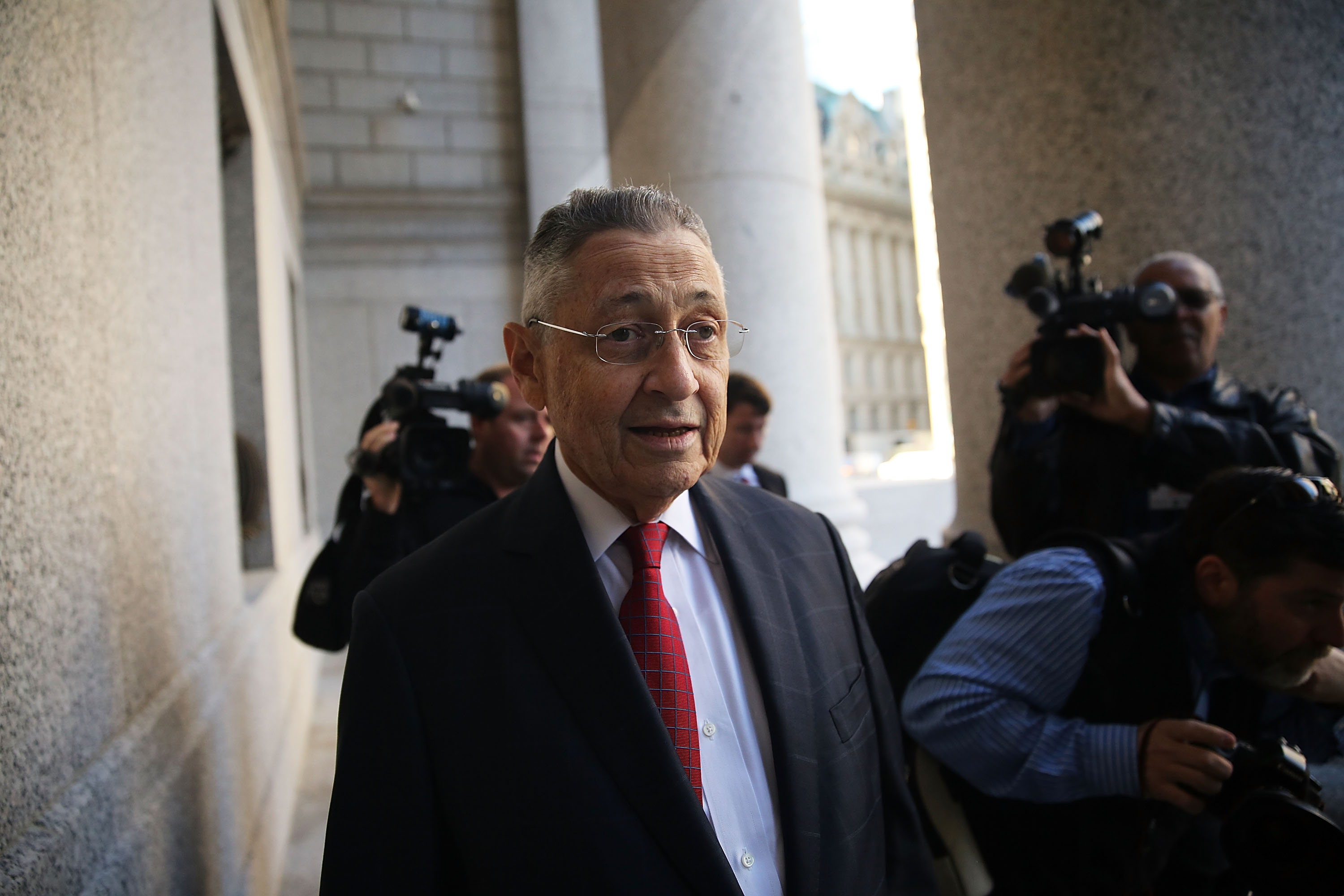 A prominent doctor who cared for mesothelioma victims sent Sheldon Silver lucrative patient referrals for lawsuits with the hope of getting state grants for his research into a cure for the deadly disease, he testified today in during the corruption trial of the former Assembly speaker.
"I wanted to maintain a relationship with him, such that he would be incentivized to be an advocate for mesothelioma research," Dr. Robert Taub, a Columbia University tenured professor with a storied medical background, testified today when asked why he delivered Mr. Silver referrals.
In exchange, prosecutors allege, Dr. Taub's research center, the Columbia Mesothelioma Center, received two $250,000 state grants—that did not seem to peer-reviewed by healthcare officials, Dr. Taub testified, and required him to do very little reporting on where the money had gone.
Dr. Taub, who has entered into a non-prosecution with the government, is the star witness for the U.S. Attorney's Office when it comes to a scheme in which Mr. Silver is accused of trading the state research grants and other favors for the names of mesothelioma patients who wanted to sue corporations that exposed them to asbestos—referrals for which Mr. Silver was paid handsomely by law firm Wietz & Luxenberg. (Mr. Silver is also accused of running a separate kickback scheme involving the real estate industry.)
But on cross-examination, the defense sought to emphasize the doctor's good intentions and devotion to his patients, and undermine the government's efforts to prove his relationship with Mr. Silver rose to the level of a bribery scheme—noting Dr. Taub has sued Columbia for trying to fire him "without cause."
"You did not have an explicit agreement to exchange patient numbers for grants, did you?" defense attorney Steven Molo asked Dr. Taub.
"I did not," Dr. Taub said.
Dr. Taub has been working specifically on mesothelioma issues since the mid-1990s and runs the Columbia Mesothelioma Center, where he's created new forms of treatment, treats patients and conducts research for a cure into the disease.
"I believe I'm put on this earth to help these people," Dr. Taub said under questioning from the government. "That's how I feel about it."
Suing over the illness can reap multi-million dollar awards, which Dr. Taub said can help pay for costly treatments and to "cope" with the illness, which is fatal. The suits also bring in millions for law firms, which take a third, and thousands for attorneys who refer patients to law firms—like Mr. Silver did—who get a third of that third. Dr. Taub said he believed law firms should donate some of that money to research for a cure, and knew the firm that Mr. Silver worked at was "singularly absent" from donating.
So when he noticed Mr. Silver listed as of counsel on Weitz & Luxenberg letterhead, he reached out through a mutual friend, Daniel Chill, a lawyer who had worked in the Assembly before, to see if Mr. Silver could convince the firm to donate.
"He did not feel he could do it," Dr. Taub said.
But between a week and two weeks later, Mr. Silver reached out through Mr. Chill to say he wanted Dr. Taub to provide him referrals of mesothelioma patients—something Dr. Taub did over the next several years, referring between 25 and 50 patients to Weitz & Luxenberg.
"I hoped to develop a relationship with him that would help fund mesothelioma research and help my patients as well," Dr. Taub said. "I think he conveyed that he was pleased with the referrals he was getting."
Not long after, again through Mr. Chill, Mr. Silver told Dr. Taub to apply via letter for a grant through a state fund for healthcare initiatives that was controlled by the speaker. Dr. Taub did—and received a grant for $250,000, though he said he never spoke to anyone at the Health Department, which issued the grant, about his research. He later applied for another $250,000 grant and received it. And Mr. Silver told Dr. Taub to keep the money quiet, asking him not to mention referrals to Mr. Chill, Dr. Taub testified.
But in 2007, Dr. Taub applied for a third grant and did not receive it. "He said, 'I can't do this anymore,'" Dr. Taub testified.  "I was disappointed."
Dr. Taub sent patients to Mr. Silver anyway, because he "wanted to maintain that relationship." And Mr. Silver helped Dr. Taub with other things: he helped his daughter get an unpaid internship, helped allocate Assembly money for a charity his wife helped found, the Shalom Task Force, and helped his son get a job at a Jewish nonprofit. He also issued a proclamation to Dr. Taub at an American Cancer Society dinner, though defense attorneys later noted the Assembly gives out such proclamations to everyone from regional tennis stars to middle schools bands.
Eventually, though, Dr. Taub started sending fewer referrals to Mr. Silver, prompting the speaker to pay him a visit. Dr. Taub said today that a different law firm, the Simmons Firm, had pledged him more than $3 million in research funds through a foundation it set up for mesothelioma research, and he had begun referring patients there because of their donations to research. He inferred as much to Mr. Silver, he said.
"I don't know if I said because of that, but that was certainly the inference that he should draw," Dr. Taub said.
In 2014, the doctor was contacted by government investigators, he testified today. When they knocked on his door at 6 a.m. and asked about his referrals to Mr. Silver, he said he lied about it at first.
"I was terrified and panicked and irrationally wanted to divorce myself from any investigation," he said.
At one point before he was contacted by investigators, Dr. Taub reached out to the speaker for help with setting up a race to raise money for mesothelioma research downtown, and Mr. Silver seemed amenable. In e-mails to another mesothelioma advocate, Dr. Taub repeatedly implied the help would mean Dr. Taub would owe Mr. Silver more referrals.
"It will probably cost us," Dr. Taub wrote in one such email. "He is very good at getting people to owe him, but if he says he will deliver, he does."
But on cross-examination, Mr. Silver's lawyers worked to portray the men as friends ("We had a friendly relationship," Dr. Taub said). Dr. Taub was one of many people—including two other doctors also being celebrated at the same American Cancer Society dinner—to be given proclamations by Mr. Silver, Mr. Molo, the defense attorney, pointed out. While the prosecution has emphasized Mr. Silver's attempts to keep his conduct secret, Mr. Molo noted the two posed together, and Dr. Taub told him he had not tried to hide his relationship with the speaker.
And Mr. Molo noted that Dr. Taub, unlike lawyers, never made any money when a patient of his was referred to a firm—and signing on with an attorney was always the patient's choice. Dr. Taub testified that many people in the state were affected by mesothelioma, so wasn't it the right, Dr. Taub asked, for New York State to spend money on searching for a cure?
"Absolutely the right thing," Dr. Taub said.
Cross-examination will continue tomorrow, and the trial is expected to last six weeks.