Even though I am a doctor, I still am overwhelmed myself from all the "weight loss" talk. It can be a lot for people to understand the vegan lifestyle, eating paleo, clean eating and on and on and on. I think number one way you can stay healthy is beginning to actually eat to live, versus living to eat.
Overthinking how and what you eat is most likely going to make you feel stressed out. The key is to eat when you're actually hungry and focus on treating yourself when you actually do want something that doesn't necessarily have any nutritional value, such as birthday cake.
It's often the small choices throughout our day that over time make the biggest different on our health.
I am 100 percent about prevention and what we eat and how active we are does play a role, but driving yourself crazy every single moment of every single day is only going to create an unhealthy diet cycle. Yo-yo dieting can have far worse psychological effects on your mind and body than eating that cupcake once in a while.
Here are some simple food philosophies I live by.
80/20 RULE: EAT TO LIVE
Have you heard of the 80/20 rule? Originally called the Pareto Principle, this theory can be applied to many different areas of your life…and it might just be the secret to losing weight and actually keeping it off. Here's what you need to know.
This notion began in the early 1900s, when it was also called the law of the vital few. Sociologist Vilfredo Pareto discovered that 80 percent of the land in Italy was owned by 20 percent of the people. This rule has been applied to business and has many other interesting interpretations.
However, one of the best things you can apply this rule to is your eating habits. There are many ways to apply this. Some experts say that if you focus 80 percent of your efforts on healthy eating and 20 percent on exercise and physical activity, you will lose weight.
Another newer interpretation is focused solely on eating. Think about it this way, focus 80 percent of the time on eating healthy, moderation and making great choices, then 20 percent of the time, allow yourself to indulge in the foods and drinks you enjoy.
When we talk about prevention, the key is being able to maintain a lifestyle that applies to bigger health goals and longevity. There is no quick fix when it comes to losing weight.
Try not to get caught up in your circumstances (out to dinner with friends or office happy hour), but focus more on the choices you make. Do you just have one glass of wine or five? Do you get an appetizer and entree, or just a simple, clean dinner and have that glass of wine?
It's often the small choices throughout our day that over time make the biggest different on our health. A healthy lifestyle is truly achieved by the sum total of all your choices. Daily decisions and habits are what make you lose weight or create a healthy lifestyle.
The good news is, each day is another fresh day to get started. The rule to start with is moderation. Yes, you can indulge in a piece of cake if you want, but you shouldn't have it every day.
Strive to have most or 80 percent of your choices be healthy. Concentrate on eating clean (a.k.a. shop the perimeter in the grocery store) most of the time. You will notice a difference in how you look and feel. We often put unrealistic expectations on ourselves until the next company picnic or work friend's birthday party. Don't create a scenario where you aren't living, but be mindful of each choice you make.
Consider this rule for your physical activity, as well. If you travel or have visitors, it's easy to get knocked out of your routine. Don't let "life" get in the way of your routine. Remind yourself how good you feel after that run or swim. Make an effort, even if it's just for 20 minutes that day.
The 80/20 rule is a lifestyle rule, not a fad. It's not a diet, but a way of life. Each day, work toward having more of your choices be for your health. Those who have made this lifestyle change often have sustainable weight loss. Rigid diets are not always better.
Change What You Eat from Day to Day
Some experts say it's important to change up what you eat. I happen to agree with this concept just because it confuses your metabolism, keeping it burning all day long but even further, it's actually enjoyable to eat different foods.
It's perfectly okay to have go-to healthy snacks, but you don't want to stick with the same foods all the time because a well-balanced diet should include sufficient amounts of the dozens of nutrients your body needs. It is quite impossible to consume all of them without eating a wide variety of fruits, vegetables, lean protein, healthy fats and carbs.
Some people find it easier to have the same grocery list week in and week out; that way they won't feel tempted to buy off the cuff (most likely unhealthy) foods. The honest truth is it's difficult to buy, stock and prepare lots of different types of food each day. There's a benefit to having go-to healthy foods you like and can get into the habit of eating.
One such benefit is it can minimize the number of food decisions made in a day. We tend to overthink food nutrition as it is. Sometimes being able to automate some of the food decisions throughout the day, get in a routine can help you eat healthier and make better choices.
The most important thing you can do is avoid habits that may make you nutrient-deficient: do not eat the same thing three times a day.
Avoid Eating Emotionally 
We eat because we need to survive. Food gives our bodies the fuel that it needs to maintain energy. While energy is the primary reason we humans eat, many people have adapted to eating for other reasons, as well. Another reason people eat is to make themselves feel better emotionally. When a person eats to feed their emotions, this is called emotional eating.
Emotional eating is not good because it can lead to overeating. When people eat to make themselves feel better emotionally rather than to satisfy their physical hunger, they can have a difficult time controlling how much and how often they eat.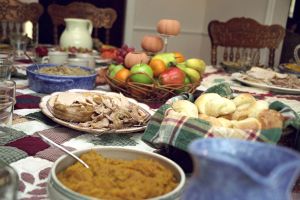 When people eat to feed their emotions as with emotional eating, they often select comfort foods. Comfort foods make you feel good, either because they taste good, or because they bring back memories of a time when they had it previously and tasted good. Comfort foods are usually high in sugar and fat and have tons of calories.
Emotional eaters have a hard time telling the difference between physical hunger and emotional hunger. When a person is truly hungry, they will feel it in their stomach and also feel less energized. When people are hungry based on emotions, they simply eat to satisfy a feeling, rather than true hunger.
There are three common triggers that cause people to emotionally eat: stress, boredom or eating habits. When we feel stressed out, our bodies have an increased level of cortisol. This is the same thing that makes us crave comfort foods. When people feel bored, they often eat because they simply don't know what else to do. Eating habits are another trigger. Eating becomes a pattern that you become comfortable with. People often don't think about whether they are actually hungry or not.
Dr. David B. Samadi is the chairman of urology and chief of robotic surgery at Lenox Hill Hospital and professor of urology at Hofstra North Shore-LIJ School of Medicine. He is a medical correspondent for the Fox News Channel.