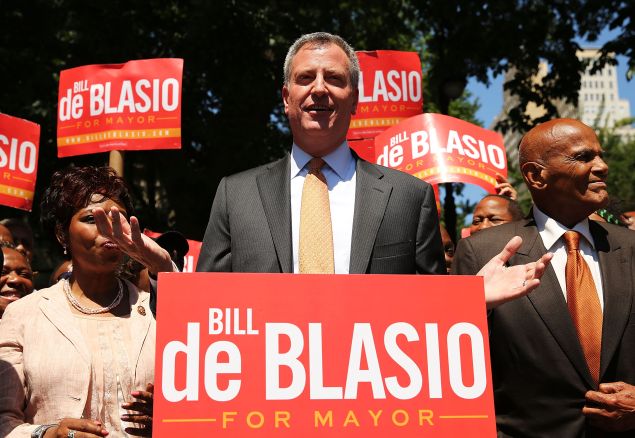 Bill Perkins, one of the lonely Democrats who gambled on the lanky Park Slope liberal running for mayor two years ago, really doesn't want to criticize Bill de Blasio.
"I don't want to be too specific because I don't want to be bashing him and I know sometimes reporters get the most bashing quote in," Mr. Perkins, a Harlem state senator, said in a recent interview. "But I think there's room for improvement."
"The team needs to reach out more," he added. "I believe that Bill is the best choice still but I think I'd like to hear more as opposed to reading more."
Nearly two years into his mayoralty, Mr. de Blasio, a Democrat who swept into office on a platform of progressive change, has presided over a city that, by all the statistics that matter, is doing just fine. Crime is at historic lows. Jobs are being added. Young people desperately want to live here.
But as Mr. de Blasio suffers criticism on a host of fronts—the city's ballooning homeless population, his recent handling of a Legionnaire's disease outbreak, every single dig from Gov. Andrew Cuomo—there have been relatively few Democrats who he can consistently count on to preach the gospel of de Blasio. There has rarely been a time since his inauguration when Mr. de Blasio, a sleepy-eyed former political operative, has not felt some form of agita induced by conservatives and liberals alike.
On the right, he is the cartoon of the bumbling liberal leading New York back to its anarchic 1970s. On the far left, he is simply a sell-out, a puppet of the real estate developers and corporations, a Bloombergian wolf in sheep's clothing. None of the editorial boards of the city's daily newspapers endorsed him in 2013, and it shows; horse-race coverage of the city's crime and murder rate has convinced many that the streets belong to criminals now, that cops handcuffed by City Hall can't do their jobs, that it's only a matter of time until New York devolves into an unrecognizable cesspool.
"I think that there should be a very serious pushback on the perception that crime has worsened and that we are a city under siege and that we need stop-and-frisk back," said Rev. Al Sharpton, arguably Mr. de Blasio's most prominent and controversial supporter.
Mr. de Blasio's high-handed disdain for the press has not helped matters. But what observers of City Hall have found, and Mr. de Blasio would be reluctant to admit, is that even openly loyal Democratic friends—attack dogs ready to call out any denunciations, fair or not, on the mayor—aren't always speaking up. Early endorsers like Mr. Perkins are increasingly disenchanted with a man some see as aloof, and other Democrats are reluctant to wrap their arms around a mayor who has watched his poll numbers consistently decline since the day he took office.
"They're finding it increasingly difficult to get Democrats to be out there on record defending him," said a progressive Democrat. "Bill is still very much trying to go it alone and expecting everyone to follow."
Mr. de Blasio is no more isolated than his predecessor, Michael Bloomberg, a Republican-turned-independent governing a Democratic city. Mr. Bloomberg had a permanent opposition in a Democratic City Council and a vociferous critic in Gifford Miller, the speaker for his first term. (Mr. Miller's successor, Christine Quinn, was more accommodating, though she would pick occasional policy fights.)
Mr. Bloomberg, a billionaire, didn't have surrogates, but he did have his cash. Money bought support, especially in the city's nonprofit world. There were no moneyed interests (Uber, charter schools) trying to chip away at Mr. Bloomberg's approval ratings because they, and people like them, were all on the same side.
Politicians are plenty poll-conscious, of course. If a leading elected official is popular, pols will bask in his or her glow. If not, they'll flee. Jerry Skurnik, a Democratic consultant and longtime political observer, recalled that Democrats flocked to Ed Koch early in his tenure, comparing him to Fiorello La Guardia. When scandals and controversies piled up, they quieted down.
At the minimum, Mr. de Blasio could use a little more good spin. Various polls have him registering a higher disapproval rating than at any point during his time in office. A recent Wall Street Journal/NBC poll showed 55 percent of registered voters think New York is headed in the wrong direction, the highest number in more than 10 years.
"There are not many people willing to stand shoulder to shoulder with the mayor on individual issues because it could hurt their individual brand," said Christina Greer, a professor of political science at Fordham University.
When Congressman Hakeem Jeffries, a Democrat close to Mr. Cuomo and potential primary challenger for Mr. de Blasio, repeatedly tweaks the mayor for traveling outside New York City, not doing enough to reform the police department, or not acting transparently, there has not always been a comparable counterweight. The silence is not necessarily deafening, but notable enough. After another Jeffries broadside last month, at least one well-connected Democratic aide wondered to the Observer: Where are the mayor's validators, especially in the overwhelmingly black neighborhoods which buoyed him in 2013 and sit firmly in Mr. Jeffries' Brooklyn district?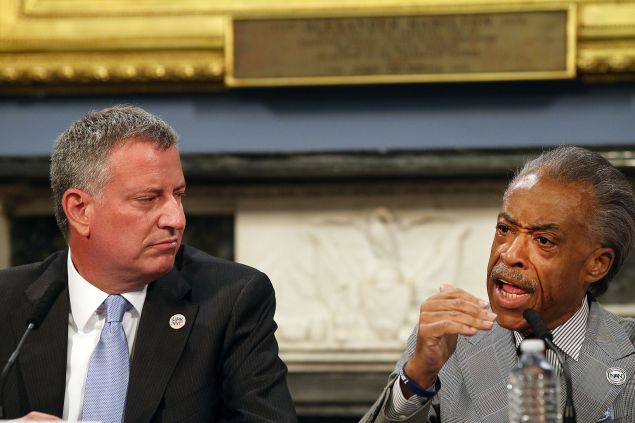 Mr. Sharpton lamented that the stories of Mr. de Blasio's successes—the implementation of universal pre-K, paid sick days, municipal ID cards, and his ability to manage mass protests in the wake of the Eric Garner grand jury decision last year—aren't being told enough by other Democrats. He said he wished more effort had gone into promoting a moment of solidarity between Garner's family and Staten Island police on the one-year anniversary of his death in NYPD custody.
"I said to mayor, 'Why aren't we emphasizing that we've been a city that's dealt with this policing issue, had big marches but made it clear we're not anti-police?' Where are your advocates putting that out there? You got those that play it safe, who want to be your friends but don't want to be too open about it because they are listening to the noise and the chatter."
Mr. Sharpton noted that he shied away from endorsing Mr. de Blasio's top rival in the 2013 campaign, Bill Thompson, because Mr. Thompson, who is African-American, was not initially committed to curtailing stop-and-frisks. A lingering issue for Mr. de Blasio is that many other politicians and advocates did side with Mr. Thompson, and only lavished support on Mr. de Blasio after he dominated the field in the Democratic primary. Mr. Thompson had a far longer list of elected officials, ministers and even labor unions in his corner—none of it helped the former city comptroller win, but it meant Mr. de Blasio rode into City Hall without a deep pocket of surrogates who always wanted him to be mayor.
Mr. Sharpton advised ignoring gadflies from Mr. Thompson's world.
"When you got people that are critical, that have always been critical, I wouldn't feed into it," he said. "I get calls from reporters when some black ministers are critical of [Mr. de Blasio]. First of all, they supported candidates against him in the first place, so why bother?"
What has quietly chafed some would-be allies has been the de Blasio approach to policy and public relations dilemmas: only ask for help when you have to. This has been a problem in the Democrat-dominated State Assembly, where many members hail from New York City and waited anxiously for a Democratic Moses to lead them out of a wilderness of two Republican mayors. As the Daily News reported in June, several Assembly Democrats thought Mr. de Blasio was "arrogant," espousing his agenda and expecting them to simply follow along.
They likened their treatment to the 12 years they endured under Mr. Bloomberg, who held the State Legislature in low regard while showering Senate Republicans with campaign contributions. "When [Mr. de Blasio's team] first went up to Albany they were like bulls in a china shop and I think they'd admit that now," a Democratic insider recalled.
The Democrat argued that "many of the veteran members were offended by their approach. You can't barge into a member's office who's been up in Albany since Wagner was mayor and start making demands. It just doesn't work like that up there."
Mr. de Blasio may have lost a few Democratic friends, at least temporarily, when he huddled behind the scenes earlier this year with the Real Estate Board of New York, the chief lobbying group for the real estate industry, to develop reforms to a controversial tax break known as 421a. Democrats felt they weren't kept in the loop and didn't feel compelled to fight hard for a plan cultivated with REBNY, a chief backer of the Senate Republican majority.
Mr. de Blasio's erstwhile friend, Mr. Cuomo, has alienated many, if not all, Democrats in Albany at some point. But he has the leverage of being a governor and controlling the state budgeting process. Power can buy friendships, or at least deference. Compared to Mr. de Blasio, the governor always has another card to play.
This has been borne out in their various proxy battles over the future of charter schools, the funding of the Metropolitan Transportation authority's capital plan, the growth of e-hail giant Uber, and how long the mayor should have authority over the city's public schools. In the recent clash over how much the city should contribute to the MTA's once under-funded capital plan, Mr. de Blasio was blasted by the Transport Workers Union, which must negotiate their next contract with the governor, and several buildings trades unions for allegedly short-changing public transit. TWU even took out ads in the Daily News to hammer the point home.
The MTA fight illustrated the strengths and weaknesses of the mayor's coalition building. At a September ribbon cutting for the new no. 7 train station at Hudson Yards, several city elected officials jumped to Mr. de Blasio's defense after Thomas Prendergast, the chairman of the MTA and a Cuomo appointee, without warning criticized the city's contribution to the authority. After the TWU ads ran, several advocates and elected officials (at City Hall's behest) spoke with the Observer about why they believed TWU was in the wrong.
Similarly, after Families for Excellent Schools, a powerful pro-charter schools group, unveiled a new TV ad slamming the mayor for denying educational opportunities to underprivileged minorities, allies were on the phones with reporters to accuse FES of race-baiting and defend Mr. de Blasio's record.
"The mayor is building the coalitions that he feels are necessary to make New York a better place to live," said Councilman Andy King, a Bronx Democrat and early supporter of Mr. de Blasio during his 2013 campaign. "If someone is attacking the Democratic agenda, those of us who are a part of agenda need to speak up in unison in support of that agenda."
There have been other behind-the-scenes missteps. Some allies fret that Mr. de Blasio's skills as a coalition builder and campaigner, while potent enough, have not always been put to the best use, and that he underplays legitimate accomplishments.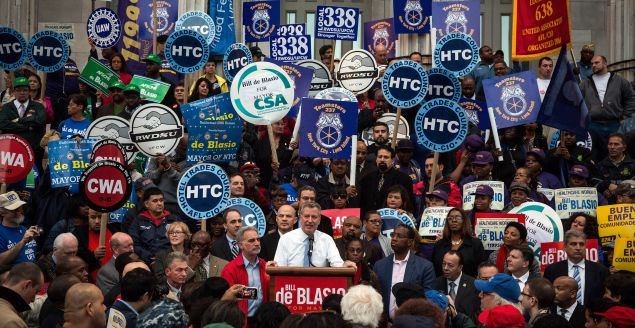 One example cited several times was Mr. de Blasio's proposal for New York City to divest its pension funds from coal, a top priority for environmentalists nationwide. A City Hall press release from September 29 includes plenty of quotes in support of the idea from likes of council members, Brooklyn Borough President Eric Adams and Comptroller Scott Stringer, along with several environmental groups and an administrator with the Environmental Protection Agency. Other progressive advocates, however, wanted to be on board before the announcement and tout it to their own wide circles.
Bill McKibben, the well-known environmentalist and journalist, and his organization 350 had long pushed for divestment and were surprised to learn on September 29 that Mr. de Blasio was going through with it that day. Though 350NYC, a small volunteer-led chapter of 350 without the parent organization's fundraising prowess, was included in the press release, Mr. McKibben was not, nor was the current executive director of 350, May Boeve. Since they were not clued in, they were forced to react from a distance.
One liberal ally of Mr. de Blasio's conceded the presentation of the divestment proposal was a "failure," though of "surrogacy" and not "content." Another source familiar with the situation was more blunt.
"It could've been rolled out way better and they could've made people who really care about the issue feel like they were a part of the team," the source said. "What do you lose? Why the secrecy?"
Democrats close to Mr. de Blasio concede these days that the greatest failure of "surrogacy"—lining up a wall of voices to tout your message to the public—was his clash with Uber over the summer. Uber did what Mr. de Blasio could not: marshal Democratic elected officials across a wide geographic and racial spectrum in defense of a cause. Mr. de Blasio, after an onslaught of TV ads and political pressure from members of Congress and local pols, was forced to temporarily back away from his plan to cap the ride-sharing industry's growth.
Slow reaction time was as much to fault for City Hall's missteps as allies shying away from a tough fight, but the damage was done. Mr. de Blasio has only slipped in the polls since, and it's doubtful that Uber's next blitzkrieg will be met with comparable PR force from the mayor's liberal allies.
Those close to and within City Hall argue Mr. de Blasio is still doing a better job at lining up supporters the old-fashioned way than his predecessors and judging him by the standard of national politics—surrogates freely defending a favored candidate under attack—is unfair. Municipal politics, where virtually everyone belongs to the same party and battle lines are more blurred, is not so easy a game to play.
If a police union leader, like the bombastic Patrick Lynch, lashes out at Mr. de Blasio, what is the obvious reaction? If Uber, which employs David Plouffe, the architect of President Obama's presidential campaigns, does the same, how do you proceed? Liberal politicians who back the mayor still want to be seen as pro-police and pro-tech industry; the playbook in those scenarios is less apparent than when Republicans threaten to defund Planned Parenthood and Democrats rally to denounce anyone who's not pro-choice. The actors have a readily available script.
As 2017 inches closer and Mr. de Blasio prepares to seek re-election, Democrats may emerge to assail anyone who threatens the mayor. Organized labor and progressive organizations—the so-called "institutional left"—have not abandoned Mr. de Blasio. Eva Moskowitz, the charter schools titan and bête noire of the de Blasio administration, recently announced she would not run for mayor—an acknowledgment, perhaps, of how difficult internecine warfare against Mr. de Blasio could be. Progressive activists aligned with the mayor hounded Ms. Moskowitz during a recent press conference at City Hall.
"Two years into his administration, the mayor has accomplished a great deal as a result of building a successful and broad coalition of Democrats who helped him produce free, universal pre-K, more affordable housing, improved community-police relations to reduce crime and increased traffic safety," said Karen Hinton, a spokeswoman for Mr. de Blasio. "He looks forward to expanding the coalition and working with any and all stakeholders on a range of issues."
When prodded by City Hall, local elected officials will still say plenty of nice things about the mayor, and bolster his record with the kinds of words that should, if heard by enough ears, improve Mr. de Blasio's standing. Several Democrats called the Observer to offer a defense after they got wind of this story.
"The mayor's done a lot of good things," said Councilman Daniel Dromm, a Queens Democrat. "Universal pre-K is going to be his legacy. Municipal identification cards—I tried to get that through the previous administration and it really would not have happened without this mayor."
"I think," Mr. Dromm added, "that's been left out of some of the stories."