[youtube https://www.youtube.com/watch?v=uVdV-lxRPFo]
Marvel stuck a big spandex-covered middle finger to DC's Legends of Tomorrow trailer last night by releasing the first extended look at Captain America: Civil War. The preview sets the stage for probably Marvel's biggest — and most crowded — film since the connected MCU became a thing. Civil War, based on the series written by Mark Millar and penciled by Steve McNiven in 2006, finds the government adopting the Superhero Registration Act, and Captain America having a big problem with superheroes becoming registered and moderated (you know…USA, freedom, yada yada yada). Unfortunately Tony Stark, never one to avoid an opportunity to pad his bank account, is totally down with a US-funded Avengers. Lines are drawn, fighting ensues, and we're off to the superhero-on-superhero races.
As you would imagine, this allows room for MCU cameo appearances galore. The majority of the Avengers play a part, minus The Hulk who is too busy flying to space. The trailer has our first look at Chadwick Boseman's Black Panther (kicking Bucky Barnes in the damn face), and Tom Holland's debut as Spider-Man is confirmed. But what about the smaller, darker-tinged corner of the Marvel Universe over here in TV land? What about the Agents of S.H.I.E.L.Ds. the Daredevils or the Jessica Joneses?
Based on deep knowledge of the original comic book series mixed with far too much optimism, here is every character from Marvel's TV slate that could (and should) show up in Captain America: Civil War.
DAREDEVIL 
Just to get this out of the way, the Daredevil in the Civil War comics is Danny Rand, AKA Iron Fist, posing as Matt Murdock. I know. But seeing as how Marvel and Netflix didn't even want to confirm an Iron Fist series until a week ago, we're going to retcon a little here.
When we last left Charlie Cox's Matt Murdock in Netflix's Daredevil he had just sent Wilson Fisk to a white-walled jail cell, debuting his classic red horned costume and superhero name to the public in the process. You can imagine that S.H.I.E.L.D and the US government swooping in just as he decided to give up his low profile would mightily piss him off, and much roundhouse kicking would ensue.
Plus without Daredevil, be it Rand or Murdock, the cinematic Civil War will be missing this epic burn laid on Tony Stark.
WILSON FISK 
Speaking of Wilson Fisk, the above-average sized Kingpin of Hell's Kitchen barely plays a part in Civil War proper, but has a major role in the story as showing in the tie-in Civil War: War Crimes written by Frank Tieri. Tony Stark pays a visit to Fisk, who is incarcerated at Rikers Island, to broker a deal — a list of resistance-member names in exchange for Fisk's freedom. The deal, although it eventually goes sour, results in the capture of Cloak and Dagger mentioned in Civil War #5. It also includes Hammerhead, and Hammerhead is awesome. Note to Marvel Studios, put Hammerhead in Captain America: Civil War.
Conveniently, the last we saw of Vincent D'Onofrio's Wilson Fisk was in a jail cell…who says it wasn't Rikers Island?
THE PUNISHER 
Seeing how Jon Bernthal's Frank Castle, AKA The Punisher, hasn't appeared in anything yet, this is a long-shot. But Marvel announced Bernthal's casting just a month after Civil War began filming, and Frank Castle is a prominent part of the Civil War comic series. Not only does he save Spider-Man's life, but contributes to probably the most violent example of comic relief in all of comic books ("What?").
Plus, it's hard to even fathom a guerilla warfare storyline without including the character whose superpowers are "bigass guns and a willingness to commit murder."
LUKE CAGE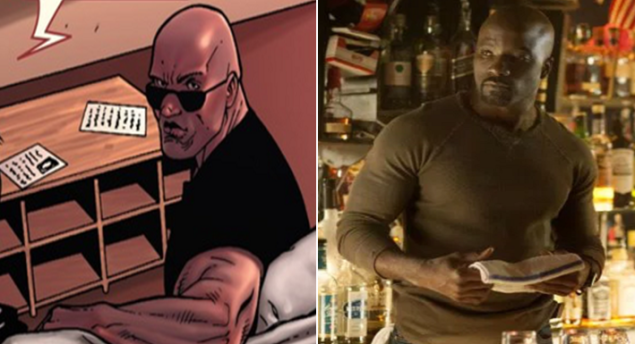 Although he plays a mostly background role in Civil War, he is part of the "Secret Avengers" that Captain America bands together in the aftermath of the Superhero Registration Act. Marvel couldn't really predict a year ago how much of a success Jessica Jones on Netflix would become, nor how strong the reaction would be to Mike Colter's Luke Cage, but you can't rule out a Civil War cameo to build hype for Cage's very own series, which debuts on Netflix in 2016.
Plus, a Cage appearance opens up the door for a Jessica Jones mention or small cameo. In the comics, Jones relocates to Canada to avoid registration. So either bring her into Civil War, or give us the Jessica Jones/Captain Canuck team-up that literally no-one asked for.
S.H.I.E.L.D AGENT PHIL COULSON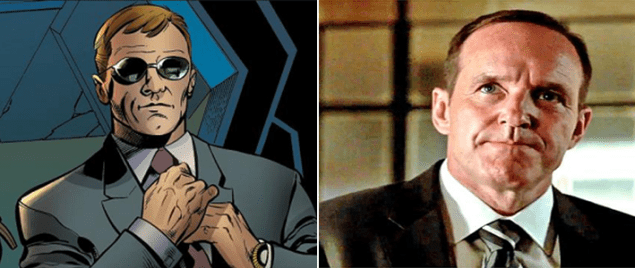 This one is tricky, because Agent Coulson didn't even exist when Civil War was an on-going series. But S.H.I.E.L.D is a major player behind the Superhero Registration Act, so basically anyone from ABC's Agents of S.H.I.E.L.D showing up in Civil War is possible. But who better than the Avenger's old buddy Coulson? The only small wrinkle? According to Avengers 1 and 2 director Joss Whedon, Coulson is still dead in the films.
That's…super confusing, Joss. Not as confusing as the Thor and the mystical cave pool subplot from Age of Ultron, but confusing nonetheless. But maybe now that Marvel movies have driven Joss Whedon insane, the rest of the MCU's filmmakers can reconsider Coulson's fate.
Honestly, I'd settle for a Life-Model Decoy.