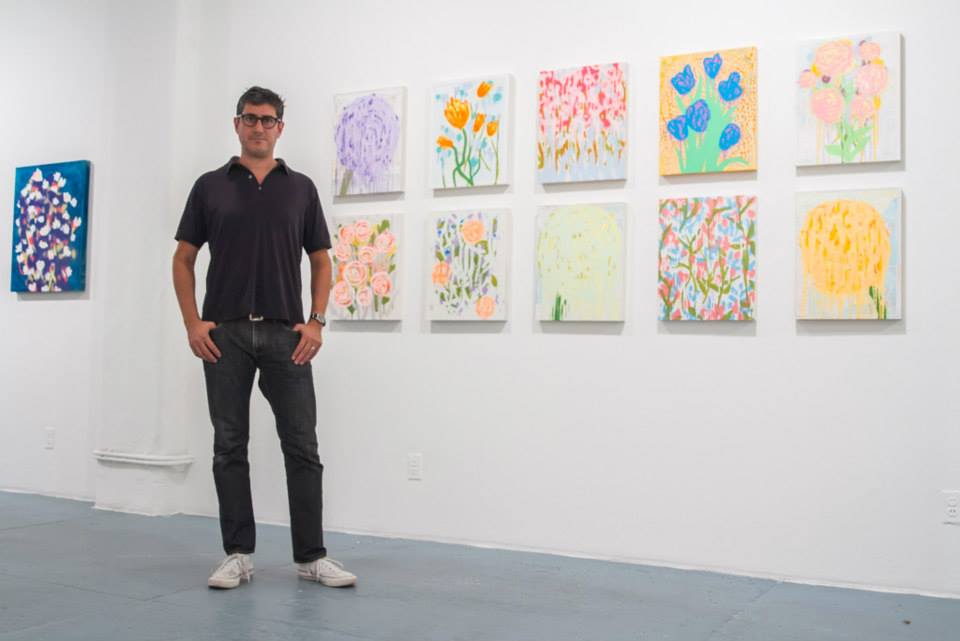 Michael DeFeo is known to most as The Flower Guy thanks to his unique flower calling card that can be spotted in both a high and low culture context throughout Manhattan and beyond. His work sprouts up everywhere from street lamps and fire hydrants to gallery walls at The New Museum in New York and the tony Parisian retailer, Colette. Now the successful artist, whose career blossomed gradually for over 20 years alongside his fellow artist pal Donald Robertson, is taking to a new medium through a shadowy program called Public Access under Jordan Seiler's art activism umbrella, PublicAdCampaign.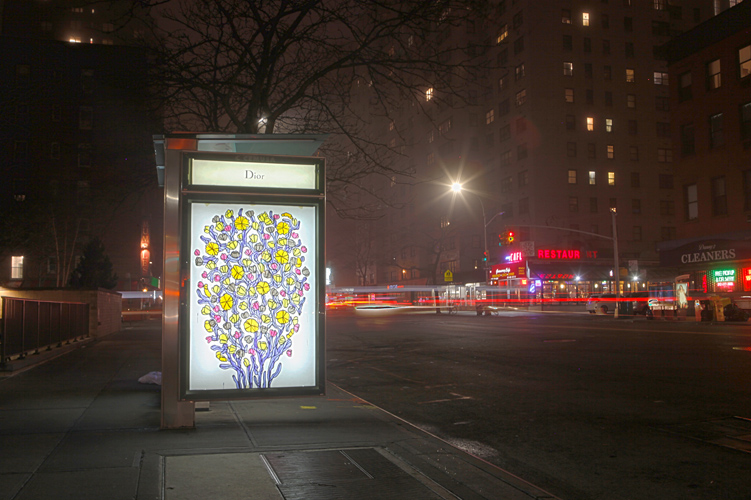 The program aids guerrilla artists in reimagining a city's normally off-limits public spaces by giving them keys to access spots like bus advertisement cases. As one could imagine, this leaves hardworking ad execs in a love/hate relationship with the artist behind the work. "A friend gave me the key as part of Public Access, and with the key I began replacing the ads in the bus shelters with my one-of-a-kind paintings," Mr. DeFeo said slyly over breakfast at Sant Ambroeus, the canteen for the fashion-set in Soho where a porcelain plate emblazoned with flowers painted by him hangs next to the bar. His first bus ad was commandeered last spring, which he removed without any scuffle, and replaced with a signature work of his own. The thick stemmed tulips, which often sell for several thousands of dollars, went mostly unnoticed by pedestrians.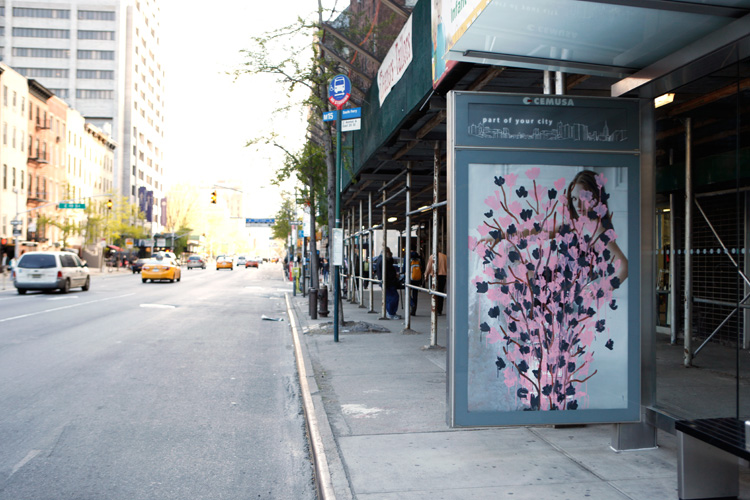 "I ended up having a lot of these adverts accumulating in my studio, so I just decided to begin painting on them, and I liked the result so much that I've now decided to reinstall what I stole back into the kiosks, but modified with my work on it," he said. Thankfully, this has appeased the advertisers. While their expensive space was once being commandeered by Mr. DeFeo and Public Access to be replaced by unbranded art, the ads are instead earning a stamp of approval from Mr. DeFeo, one of New York's most beloved street artists, who can take the banal image and elevate it to art with a few strokes of his paintbrush. To boot, the ads look even more striking when they are backlit at night.  
J.Crew showed their love in the most modern way by sharing an Instagram of their reimagined bus stop ad to over 1.3 million followers. "It's kind of interesting, because I'm clearly vandalizing what they pay good money for," Mr. DeFeo said with a laugh. "But I think I let so much of the ad mix with my work, so it kind of goes unnoticed in a way. People think perhaps when they pass by it that that's how the ad actually looks." 
Painting on the bus shelter adverts led Mr. DeFeo to work on smaller magazine pages in his West Village studio. These smaller iterations, along with his best hits from the bus stops, will be released in a limited edition tome aptly titled The Fashion Pages. Each copy will be numbered and signed by The Flower Guy, and includes a "couple dozen" modern yet undeniably iconic magazine spreads as of late. The cover will use (who else but..) Beyoncé in all her glory from Vogue's September 2015 issue, though much of her torso and bosom will be covered in a shower of pink and yellow petals.
What sets Mr. DeFeo apart from his fellow street artists is that he stands in stark contrast to someone like his friend Banksy. While The Flower Guy loves to ruffle feathers, there is no political agenda behind the work. He is not trying to take down "the man." Instead, his motive is refreshingly simple. "The funny thing is that when I started doing street art over 20 years ago, my parents would tell their friends or family members what I was up to, and they would say 'Oh, what he does isn't graffiti,' and really it's not," he said. "I just think any place in a big city is a good spot for a bit of sunshine." 
Keep up with Michael DeFeo via his Instagram: @TheFlowerGuy.