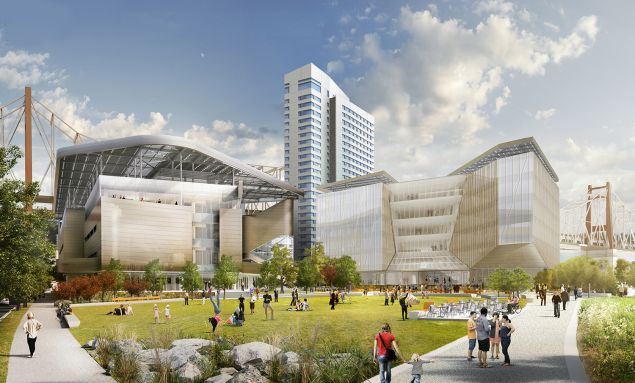 The temporary Chelsea home of Cornell Tech, university of the future, is startup familiar: a large, chaotic space jammed with desks and flanked by glassed-in meeting rooms. "Sitting out in open cubes," Daniel Huttenlocher, dean of Cornell Tech, tells me recently, "that's hard to do if you hire older faculty." At the mention of the youthful nature of their teaching staff, Adam Shwartz, director of the Jacobs Technion-Cornell Institute, cuts in. "I'm the oldest on campus," he quips. Mr. Shwartz is a professor of electrical engineering who looks to be in his late fifties. And so the message has been delivered: out with the old, in with the new. "Consider the mold broken," proclaims the Cornell Tech website, introducing the institution, which will soon move to Roosevelt Island and become the home, as the web intro puts it, to "students, faculty and partners who want to change the world."
Graduating students who want to "change the world" and own the future is now the stated aim of higher education institutions across the country. "Our CEO mastered social networking 2,000 years before Mark Zuckerberg was born," proclaims a billboard marketing Jesuit-founded University of San Francisco. "Chapman University," goes a banner ad, "where innovation and discovery come into focus." And so, at the University of Houston, you can take a Master of Science in Future Studies in Commerce degree. At the University of Southern California "the degree is in disruption" because the new Academy for Arts, Technology and the Business of Innovation, launched in 2014, is "a transformational presence" with a "focus on invention and conceptual thinking." Michigan State University has reconfigured its law school to concentrate on business and technology and encourage students to think of themselves as entrepreneurs. "What we're trying to do is educate lawyers for the future, not the past," says Dean Joan W. Howarth.
There are many who predict that coding will be done by AI-powered computers in 10 or 20 years. That music degree might just come in handy after all.
All this change isn't limited to specialized graduate degrees. Students at Michigan State University can now earn a BA in Digital Humanities, described as "exploring, researching, analyzing, arguing about and critiquing the ways in which digital tools, technologies and spaces have transformed work in the humanities." At Utah's Brigham Young University, the entire humanities program has been rebranded "Humanities+." Humanities+ is courses in history, philosophy etc. plus internships and partnerships with the business school. Meanwhile, at Stanford University, where the computer science major is the most popular on campus, a new double major called CS+X allows budding programmers to pair their app development dreams with an English or Music degree.
You can't blame universities for trying to redirect interest back to the humanities. In a culture dominated by future-first high tech hoopla, humanities are dying. At Stanford, 45 percent of the faculty teaches in the humanities, but only 15 percent of the students are taking their classes. At Harvard, there has been a 20 percent drop in students studying humanities over the last decade.
"There seems to be a perception (however unfounded)," notes William Cohen, chair of a precipitously declining English department at the University of Maryland, "among some students and their families that the employment prospects for humanities majors are not as great as in some other fields." This perception is, in fact, being put forward by the universities themselves as they scramble to create future-oriented degrees as attractive to students as they are to corporate and government funders. "There's an overwhelming push from the administration at most universities to build up the STEM [Science, Technology, Engineering, Math] fields," agrees John Tresch, a historian of science at the University of Pennsylvania.
Schools do their best to make new programs sound visionary and exciting, but it's hard to ignore that the core appeal of these programs is utilitarian. "Pretty much everyone who majors in computer science at Stanford gets a job," notes Jennifer Widom, chair of computer science at Stanford. The message, again, is clear: here is the magic formula that works even at a time when job growth and underpaid part-time labor are synonymous. And that's the reason universities are falling all over themselves to emulate Stanford in their offerings. But Ms. Widom goes on to say something else. Commenting on the launch of those CS+X degrees, she says, "Those [in these new programs] might get more offers, or more interesting offers."
More interesting offers. Not everything is awesome when you work for the team. What starts off as the plan to become the next Mark Zuckerberg may eventually become the reality of techie life: long hours writing code for a mega corporation trying to figure out how to deliver same-day toilet paper via drone. All the while, you are in perpetual danger of being outsourced to a programmer in Pakistan. By definition, we can't ever know the future. For instance, there are many who predict that coding will be done by AI-powered computers in 10 or 20 years. That music degree might just come in handy after all.
Academia has descended into hyper-specialization and obscurity and needs a rethink. So far, that process has amounted to channeling more and more students into programs dominated by "innovation"—some combination of entrepreneurship, creativity and computer programming. Trying to teach people the particular skills they'll need to "change the world" may seem dynamic and even practical, but it doesn't really amount to much.
What young people need, now, more than ever, is a broad-based perspective rooted in community and culture: who are we; how did we become who we are?  The role of the university, especially at the undergraduate level, should be to instill us with a deeper understanding of how the great tides of economic, social and technological change continue to affect us on individual and communal levels. Let's teach our young people the core fundamentals of human life—community, ecology, economy—and then let them decide for themselves whether "changing" the future is what they want to do with the rest of their lives.
***
Hal Niedzviecki's most recent book is Trees On Mars: Our Obsession with the Future (Seven Stories Press).