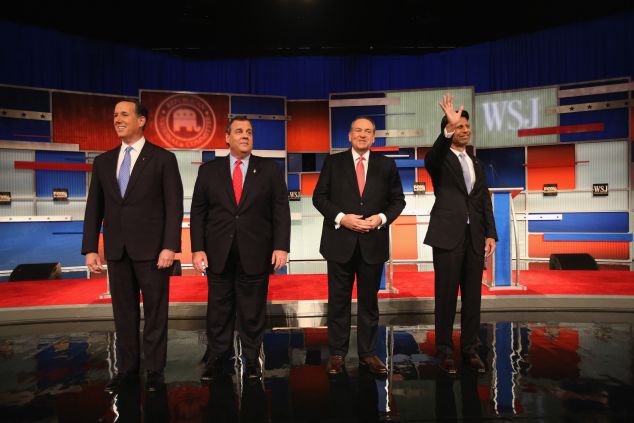 Four Republicans—Gov. Chris Christie of New Jersey, Gov. Bobby Jindal of Louisiana, former Gov. Mike Huckabee of Arkansas and former Pennsylvania Sen. Rick Santorum—clashed in the undercard of the fourth presidential debate of the GOP primary. Former Gov. George Pataki and Sen. Lindsey Graham of South Carolina were dropped altogether, due to anemic polling.
In case you somehow slept through this one, the Observer is here to help with a few takeaways.
1. Chris Christie tried to be the big boy.
Thanks to terrible poll numbers, Mr. Christie was knocked off the main stage tonight. Rather than wallow in the reality that he's further than ever from the White House, Mr. Christie adopted the pose of a front-runner. He chose to ignore his three rivals, even as Mr. Jindal chided him for not being a true conservative in Democratic New Jersey. Instead, Mr. Christie stuck to an easy script: repeatedly warn of the dangers of Hillary Clinton becoming president and carrying out President Barack Obama's third term. Nothing could really knock Mr. Christie off his talking points. He even reached back to his time as U.S. attorney of New Jersey, when he was a feared prosecutor, choosing to speak less about his troubled tenure as governor. Mr. Christie still thinks of himself as a strong general election candidate, a moderate like Mitt Romney without the veneer of a patrician. Deeply unpopular in New Jersey, Mr. Christie may be dead in the water, but he didn't act like it tonight.
2. Bobby Jindal really hopes he takes off as the Washington outsider. 
"I wanna fire everybody in DC, in both parties," Mr. Jindal declared, one of his many broadsides against Washington. Selling himself to evangelicals in Iowa, Mr. Jindal is hoping that as an uncompromising conservative who never served in Congress, he can electrify the GOP base. Mr. Jindal lashed out at Mr. Christie and Mr. Huckabee for not living up to the budget-slashing ideals of a real fiscal conservative. Unlike Mr. Christie, his message to the viewers was that only a hard-line conservative can win the White House, and that's why Republicans have lost presidential elections. It's far from clear if any of his attack lines resonated with voters enough to bump him up from the undercard, where he's been trapped since the debates started.
3. Being a Fox moderator won't save you from candidate attacks.
It wasn't quite CNBC, but all four Republicans were dismissive of a Fox Business Network moderator's question about which Democrat in Congress they most admire. Mr. Jindal said this was the type of question viewers hate most. All of the Republicans took the opportunity to talk about whatever they wanted. The moderators could only look on. It's a shrewd play by any Republican contender because grassroots conservatives are deeply distrustful of the media. This move, though, was a hollow imitation of the media wars of the last GOP debate.