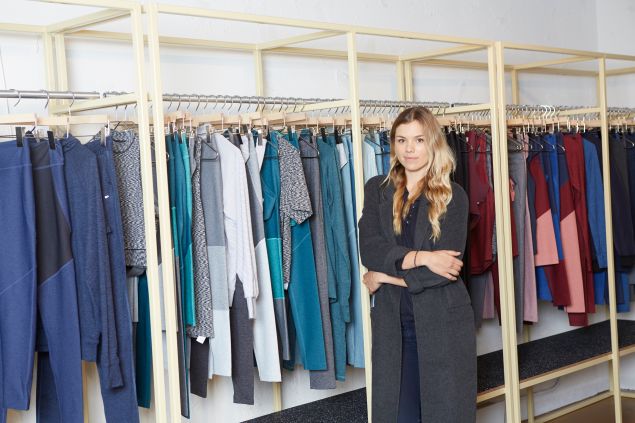 Outdoor Voices has an impressive list of avid fans. At the top of that list is Jenna Lyons, A.P.C.'s Jean Touitou, the ManRepeller's Leandra Medine and Lena Dunham. Which is quite a surprising following for a simple activewear range.
But seeing as this is 2015, they don't simply shill basic black leggings. Rather, they cheekily present grey leggings, in a style where each leg is a different color. You see, founder Tyler Haney has a "thing" for texture, resulting in teal leggings with a leg-lengthening ribbed detail and sports bras in marbled colors and bold shapes.
Which is why active New Yorkers will rejoice upon the news that the brand is opening up a pop-up shop on November 12, which will remain open for the next three months. And even those who aren't so partial to sport will still want to poke around the Ana Kraš-designed Soho space.
"Our location is at Lafayette and Broome, kind of in the center of Equinox, SoulCycle and a bunch of studios. We're really hoping for it to be firstly a hang out spot and secondly a physical representation of a place to touch and feel the products, which we mostly sell online," Ms. Haney told the Observer in a phone interview.
OV really wanted their customers to come and spend some quality time in the space, so they built an actual playground in the center of the shop. In the words of Ms. Haney: "It works as seating, but also references playgrounds you played on when you were younger, with stacks of mats and big shapes that you can bend and stretch your body over." Amping up the social factor of the space, the brand will host hikes and dog walks with BarkBox that will depart from the store. Sky Ting Yoga–the Chinatown studio that has fallen into favor with cool yogis, and the OV team–will offer programming from the shop as well.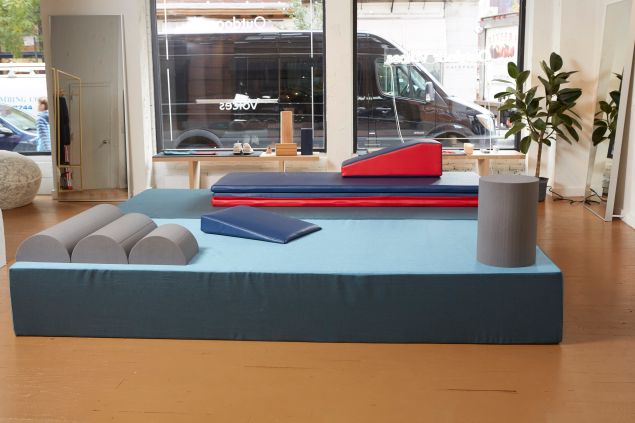 Devotees of the brand will be delighted to find an expanded offering of OV merchandise, including their first merino capsule collection and a slew of outerwear options, which is also new to the brand. Additionally, their OV Kits, which are an economical way to stock up on full workout outfits, will be offered in different variations. Previously the kits included four items, but in-store they will be available in combinations of twos or threes.
Active gear aside, the OV shop will also sell workout accessories, like sneakers, jump ropes and even fitness books. A press release from the brand notes that Jane Fonda's Workout Book will be carried in the shoppable library.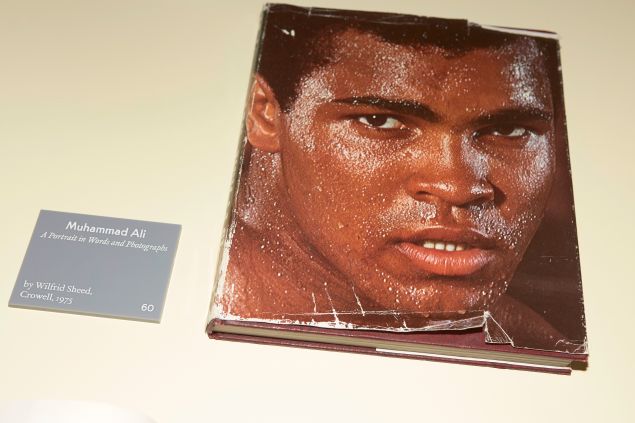 So whether you're itching to be the best dressed person in your next rowing class, or you just want to add some comfy athleisure garb to your wardrobe, OV will be worth a visit.
Even seasoned fashion folk will find something at the space, as even Ms. Haney dons OV pieces when she's not working out with her trainer at S10 or working up a sweat at The Class with Taryn Toomey: "I wear [Outdoor Voices] all the time. But I mix and match it with other brands like APC or Acne Studios or Rag & Bone. It goes nicely with other clothes as well."