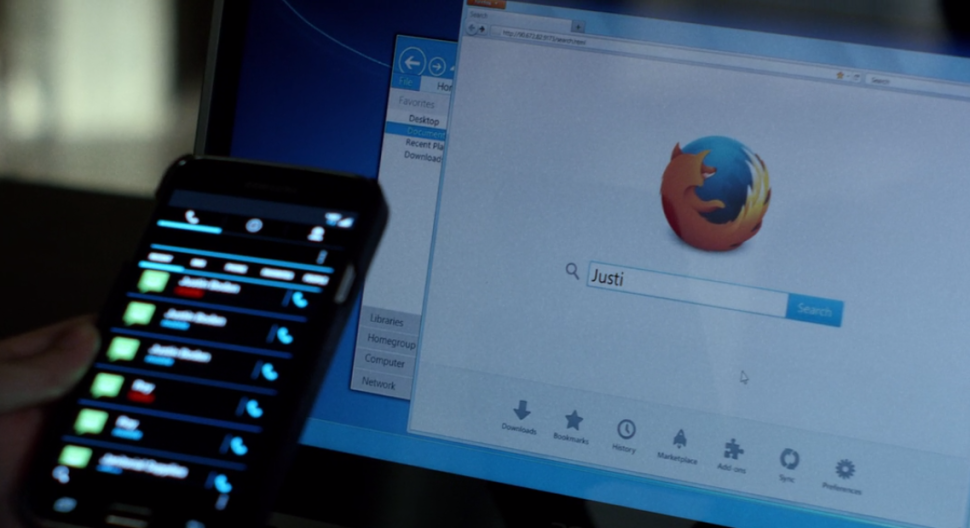 Update: This story has been updated with comment from Mozilla and response from Netflix (NFLX). 11/24/2015 6:38 PM.
Usually, when a computer or cell phone turns to the camera in a movie or TV show, what the viewer sees doesn't look anything like a recognizable computer program. That's not accidental. Hollywood's special effects shops tend to make phony screens that don't look anything like what viewers might see on the same devices in the real world.
This isn't entirely true, however. In latest entry into the Marvel Cinematic Universe that dropped on Netflix on Friday, Jessica Jones, one familiar property from the real virtual world shows up repeatedly. As the Observer binge-watched the show this weekend, we noticed that whenever the eponymous P.I., portrayed on the show by Krysten Ritter (Gilmore Girls, Veronica Mars), wanted to probe the Internet with a question, she entered her search on a Firefox browser, as shown above.
"We're thrilled to see the producers of Jessica Jones made an editorial decision to showcase Firefox in their show," Eric Petitt, from Mozilla's marketing team, emailed the Observer, via a spokesperson. "We support TV and movie producers by clearing use of Mozilla brands to be used in popular TV and movies."
According to StatCounter, US desktop users overwhelmingly prefer Chrome, which has more than twice the market share of Firefox. In fact, Mozilla's browser comes in third, behind Internet Explorer.
So it sounds like it was a creative team decision rather than a placement, like in the third season of Netflix's House of Cards, when an indie mobile game cameo'ed, Ustwo's Monument Valley. The show's writers just liked the game.
Netflix declined to comment for this story. Marvel did not reply to a request for comment.
Perhaps the paranoid Jones prefers the stronger protections in Firefox's updated privacy mode?