A cluster of French club kids slow their chatter when Sam Shepherd's orchestra takes the stage at Music Hall of Williamsburg. Two violins, a viola, cello, bass, flute, trombone and saxophone are largely alien to this groove-ready IDM crowd—they came to dance. When Mr. Shepherd, a.k.a. Floating Points, walks on next, any perceived sophistication from the crowd is thrown out the window; even the classiest audience members turn into "woo" girls. Mr. Shepherd sits at a wraparound configuration of keys, wires and knobs, behind a Rhodes electric piano. The rest of his band walks on next, a bassist, guitarist and drummer. The crowd falls silent.
Mr. Shephard owns the role of conductor from the outset, cueing guitarist David Okumu into step with flutist Renate Sokolovska to fashion a lilting, swelling overture. But while overtures that begin a large orchestral composition typically cycle through sounds and themes to later be explored in the piece, this 10-minute opener was more a showcase of the orchestra's power.
It's no surprise he's a neuroscientist in his other life—Sam Shepherd is truly a maestro of the mind.
Magada Pietraszewksa soon joins in on cello, mirroring the opening riff, before the whole string section follows suit to harmonize a short turn of pure chamber music. Then the horn section locks with Leo Taylor's in-the-pocket drums and a jazz orchestra materializes.
Mr. Shepherd finally comes in last with his celestial, breathy Rhodes keys, less focused on technical skill, more about syncopating his notes with the music as a texture. The Rhodes allows for little moments between key presses when the notes still breathe and linger in the air. Mr. Shepherd, 29, named his project Floating Points in reference to a numeric system where various numbers' decimal points don't stay in one fixed place. But it's not a huge leap of the imagination to hear the breaths between those notes filled in by 10 other voices and consider them floating points of sound.
Whispers from the Rhodes begin Mr. Shepherd's album centerpiece, "Silhouettes (I,II,III)" after that overture, and the crowd cheers between each punctuation because they know what's coming. "Silhouettes" is a masterpiece of structured improvisation and sonic themes—shifting from hard-bop jazz to smooth modal runs with ease. Bassist Alex Reeve really shines on this one, his low end locking in with Mr. Shepherd to match the high wails of orchestral swells. And those swells are soaring, cinematic, powerful—when it's performed live, violinists Phillip Granell and Paloma Deike scrape the sonic stratosphere.
The power coming from the stage is so overwhelming that those French girls start shrieking involuntarily, as if witnessing a miracle. The wailing strings and the shrieking crowd blend together, not in a grating or discomforting way, but in a rich swell of high-frequency epiphany. As if that's not enough, the rippingly unrestrained honks of Shabaka Hutchings' sax bring us right back into to a groove, only the stakes have been upped. Mr. Hutchings commands the room with such gusto that even the other players on stage watch in awe.
Part of the Brooklyn Electronic Music Festival, this was Mr. Shepherd's first and only live date in the U.S.. It also served as something of an album release show—Mr. Shepherd was celebrating his debut Floating Points LP Elaenia, which dropped a day earlier. The LP simultaneously plays like the best electronic, classical and second best jazz record this year (here's looking at you, Kamasi Washington,) and that's no accident. Beneath the smooth, cosmopolitan electro-cool of Mr. Shepherd's extensive singles and 7″s, a composer's mind always peeked through. Striking that balance between headiness and groove, mind and body, Mr. Shepherd quickly earned a borderline-spiritual status in the IDM community on par with established contemporaries Jon Hopkins and Four Tet.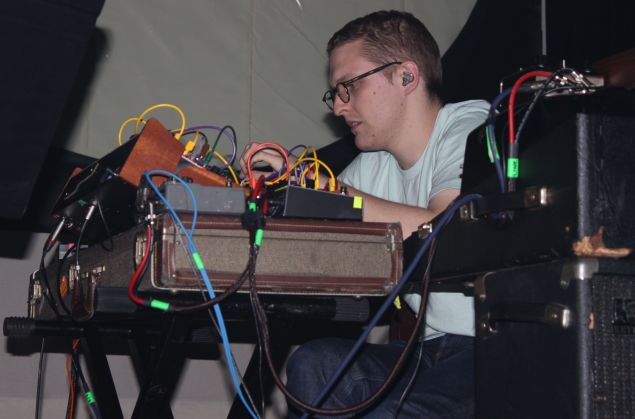 The London-based musician was working on his Ph.D. in neuroscience, which delayed the realization of a proper song cycle such as Elaenia for longer than his fans wanted, but it's finally here. Here and somewhere else, actually—Elaenia is otherworldly. Mr. Shepherd found a seamless, lucid way to meld together the seemingly disparate musical genres he loves, fusing his composer's brain to his DJ's hands. Though Elaenia is a short listen at 43 minutes, it takes its time building textured layers of lush instrumentation over Mr. Shepherd's Rhodes, synths and light mixing. The record unfolds as a miniature morsel of meditation, compact enough to facilitate zoning out on a commute but richly realized enough to induce a state of transcendent bliss.
Mr. Shephard achieves his jazziest moments on Elaenia through modal structuring: instead of a song's progression being built around chords, modal jazz lets scales of notes dictate the direction of a song. The closest sonic reference point is Miles Davis' Kind of Blue, but instrumentation-wise, that Rhodes also conjures up Davis' underrated masterpiece In a Silent Way. On Elaena, synthesized arpeggios take the place of scale runs at times, only to have actual horns, actual drums and actual strings subtly integrated into the mix as things unfold. Live, though, Mr. Shepherd lays everything on the line in this opening. It's breathtaking.
Is Mr. Shepherd changing the game with this live show? Is he changing the game with Elaenia? Of course, but that's besides the point. Point is, dude wasn't just playing that Rhodes and leading the players at Music Hall that night, he was a conducting. Conducting players, sure, but also sound, waves, energy, all that heady stuff. It's really no surprise that he's a neuroscientist in his other life—Mr. Shepherd is truly a maestro of the mind, channeling the ebb and flow between intense moments of sonic heft and the vast planes of textured ease. May he continue to pursue both neuroscience and music, too, allowing each interest to inform the other, then sharing the wisdom with anyone sensible enough to listen.
[soundcloud url="https://api.soundcloud.com/tracks/220899357″ params="auto_play=false&hide_related=false&show_comments=true&show_user=true&show_reposts=false&visual=true" width="100%" height="450″ iframe="true" /]