I live in an apartment with two primary food groups: Thai takeout and kale. The popularity of online food delivery service Seamless is ingrained enough in New York's culture that "Seamlessing" is vernacular for ordering in. Many a think piece has espoused the idea that New Yorkers cook for themselves far less than the rest of the country, and Buzzfeed goes so far as to joke that one of the reasons you know you've lived in New York far too long is that "you've Seamlessed lunch and dinner in the same day and not given a shit." The frantic pace of city life coupled with the value of one's time here makes home delivery services crucial. For young New Yorkers, it's de rigueur to straddle full-time work and creative side projects. I frequently gripe that it's borderline impossible to cook for myself while attending to hobbies such as seeing live music and making time for books or grabbing drinks with friends. Need I mention that apartments here are not exactly known for sizeable kitchens.
To enjoy the surplus of events the city has to offer, something has to give. Yet, New Yorkers aren't keen to compromise on the quality of their food merely because they lack the time to craft nutritious meals. People watch cooking shows as pure entertainment, read Eater obsessively, dine out constantly (NYC has the fourth most restaurants per capita in the U.S.) and are highly health conscious. How far must one walk in Manhattan before spotting a Liquiteria or Juice Press?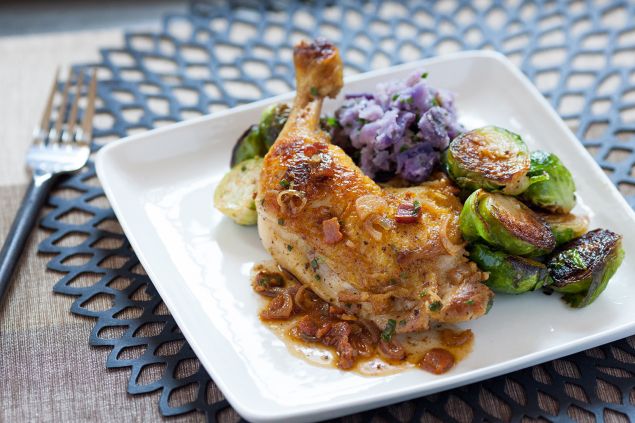 While there may be a limit to New Yorkers' available time to cook, their culinary enthusiasm is boundless. Blue Apron, the popular service that delivers ingredients with detailed recipe cards, is a reaction to this particularly urban woe. Matt Salzberg, CEO and co-founder of Blue Apron (APRN), told us, "Like our customers, me and my co-founder Ilia loved to cook, but we found the process of home-cooking inaccessible." The idea is to avoid the time spent planning and shopping, and as Mr. Salzberg explained, "spend more time in the kitchen learning new recipes and techniques." Like Blue Apron, similar services Plated and Hello Fresh are transparent about having relationships with farmers across the country. These companies emphasize sustainability, positioning themselves both as time savers and alternatives to your CSA, all of which appeals to educated and eco-conscious urbanites.
These services still require a hefty time commitment for cooking and dishes. Sakara Life, Munchery, Indie Fresh and newcomer Homemade marry the convenience of Seamless with the health and culinary consciousness of Blue Apron and its imitators. Indie Fresh founder Shom Chowdhury explained how his company aimed to fill a niche that is "chef-prepared food that cuts gluten and dairy without cutting the flavor." These programs support local chefs and emphasize health and community.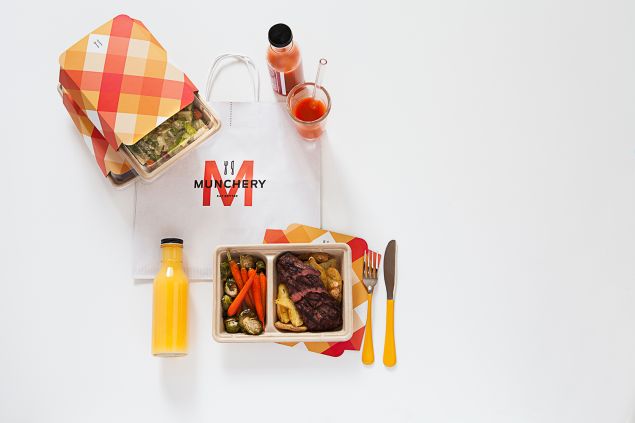 Munchery's primary goal is to provide a healthy alternative to Seamless. Michael Blank, who supervises New York operations, sums it up as making "real food accessible to everyone everywhere and helping to rid the world of bad conveniences." As a native New Yorker, Mr. Blank remembers the craze surrounding the launch of Seamless and quickly came to lament the quality of the food. Munchery employs chefs with pedigrees from the likes of Danielle, Dovetail and other top NYC restaurants. The idea is to bring restaurant food to your door at affordable prices; they're able to bring prices down by dealing in a high volume. I tried a delicious pan-seared salmon bowl ($15.95), butternut squash soup ($6.95) and Blend Your Own Smoothie ($4.95—that's half as much as a smoothie from Liquiteria). Munchery chills food down after its initial prep to preserve the freshness that's normally lost when hot food is delivered (hence why so much Seamless fare is coated in grease—to keep it warm). Homemade is another newer service that connects people to neighbors who are willing to cook and sell food from their homes. Its goal is "creating community through food and helping cooks build a following for the food they love to make."
Perhaps the greatest model of these delivery brands aimed at professional New Yorkers is Sakara Life. Founded by ex-Wall Streeter Whitney Tingle and former model/actress Danielle DuBoise, the service is more than just a brand. Like Indie Fresh, Sakara espouses an "eat clean" philosophy and lifestyle, one that aligns with the high-achieving mindset. "What you put into your body influences not only how you perform and work but it can impact brain clarity, too," the duo explained. "We're really like your personal chef and nutritionist rolled into one." Sakara sources from high-quality ingredients, and the packaging details what superfoods each meal offers. The meal plans are flexible, but a full day includes Superfood Morning and Night water, three meals and two servings of detox tea.
"We believe eating in accordance with the seasons is important for a healthy body and planet. After all, Mother Nature Knows best," reads the packaging on my Day #2 Dinner: Acorn Squash with Healing Mushroom Stuffing + Spiced Mustard Gravy. A skeptical carnivore, I was hesitant to believe the meals would be "enough," but found them satiating and delicious.
***
The Sakara founders believe their service fits seamlessly into New York City's well-established culture of outsourcing services. "Whitney talks a lot about outsourcing. We outsource laundry, and how you structure your calendar, just about everything in fact. Out of anything, why not outsource your wellness and well-being to specialists?" Ms. DuBoise explained. The founders echoed a popularly held sentiment that "people's time is worth more these days, especially in the city. In other parts of the country people have more time and can spend it cooking and enjoy doing it. Here, your hours could be worth a lot of money and it makes more sense to pay somebody else to do it all." The cost of living coupled with the opportunities for work make one's time a hot commodity. Heck, we even outsource dating these days, cutting down on time spent getting to know someone through the initial messaging that takes place on apps like Hinge and Bumble (BMBL).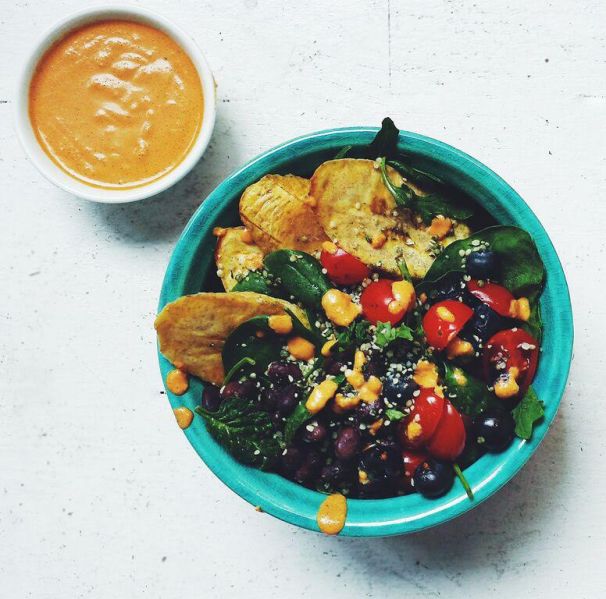 The founders are in tune with the cult of "busy," which their email newsletter messaging addresses. I recently received one titled "5 Ways Sakara Saves You Time," which offered inspiration for ways to "indulge" while they "do the planning and cooking." Suggestions ranged from "make out with your lover," to "get outside with your kids," and perhaps most importantly, "go to happy hour." Which, if there's a pastime New Yorkers love, it's happy hour.
There are many who refuse to give up their love of cooking for a quick fix. Sarah, a 29-year-old account manager at McCann told us, "Though Sakara life has beautiful branding, it is too overpriced, and I prefer to cook."  Nevertheless, all companies featured are growing: they're hiring, expanding to new cities or launching new programs. Yet there is still something undeniably New York about the concept of high-quality, easy-to-assemble or heat food on demand. You gotta eat, right?