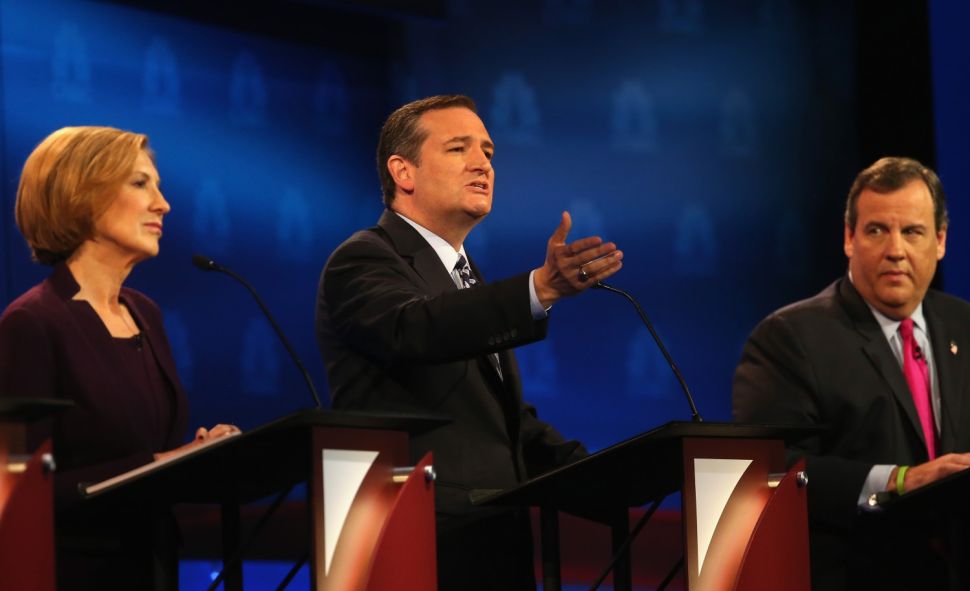 CNBC didn't live stream the last GOP debate for free online, unlike CNN, whose airing of the first Democratic Debate was the highest rated primary debate in that party's in history. 15.3 million viewers turned in, and it had just shy of a million concurrent views online at its peak.
For the next debate, this Tuesday, Fox Business Network is taking a page from the original 24/7 news channel's playbook, however, offering a live stream of the fourth GOP debate at the Fox Business website, a spokesperson for Fox confirmed for the Observer.
Additionally, eight year-old Fox Business will be team up with several other television providers to give temporary free access to its channel. The channel is often included as a "premium" option for many of these partners; however, during the November 10 debate, it will be available to all viewers on DIRECTV, Frontier, Mediacom, Wide Open West, Suddenlink and Cable One, along with many National Cable Television Cooperative companies, according to a release.
"We are grateful that our distribution partners, like us at FOX Business Network, recognize the importance of providing the debate to as many subscribers as possible," Tim Carry, an executive vice-president said in prepared remarks. "The debate falls at a pivotal time in the election cycle and through the help and support of these partners, many more of their customers will have access to it on November 10th."
The Observer has asked Fox for additional metrics on how many more homes these partnerships will reach. Legacy cable channel CNN is generally always included in any basic cable package, as a spokesperson for Turner Broadcasting confirmed.
The last GOP debate turned into a bit of a disaster for CNBC. The debate's moderators—in this reporter's opinion—never succeeded in making the conversation more orderly than a mild cacophony. The Republican Party suspended a debate scheduled on NBC for February. And public sentiment welled up against the channel for its refusal to provide a free live stream of the proceedings online.
It may be less surprising that CNBC would resist free live streaming, as the station is owned by Comcast, according to Wikipedia. The ease with which the Internet makes it possible to unbundle content from cable packages is a threat to America's largest cable provider.
That said, a consensus seems to be forming around providing this kind of open access. CBS News will partner with Twitter for the next Democratic debate on November 14, and the channel will also make sure it's available live for free online, according to Politico.