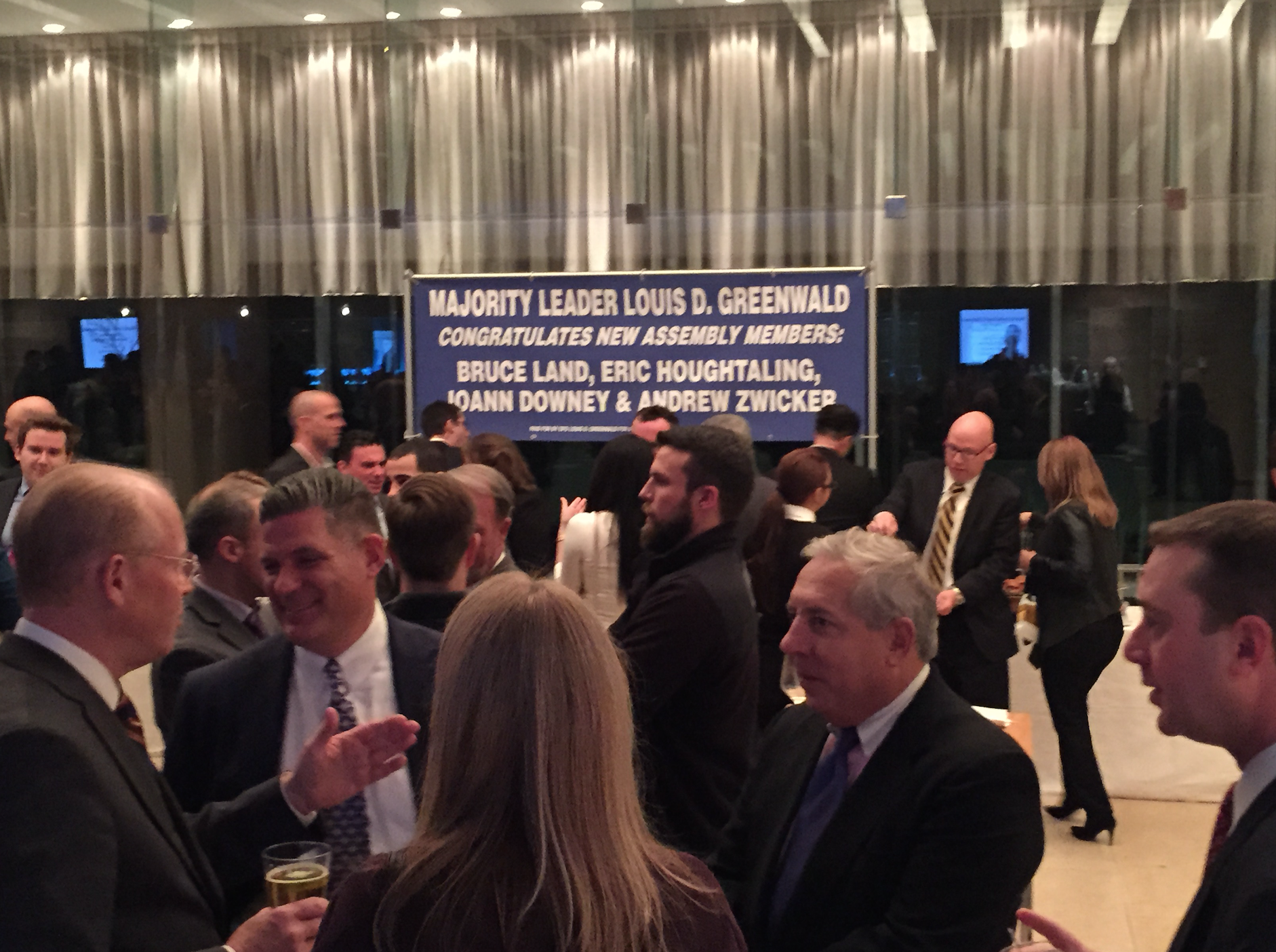 ATLANTIC CITY – At the kick-off for a heavily Democratic 2015 League of Municipalities conference Tuesday night, Assembly Majority Leader Lou Greenwald (D-6) told PolitickerNJ that while he is celebrating the party's big wins in this month's Assembly election, he will not try to ride his party's coattails when 2017's gubernatorial contest comes around.
"I think right now we're watching this play out, obviously," said Greenwald of looming override votes against bills slated for Governor Christie's veto.
Greenwald said that while the entire caucus is elated with its gains this year, he believes Senate President Steve Sweeney will likely remain the frontrunner for the Democrats' nomination.
"Senator Sweeney is running from South Jersey. I think hopefully some day in the future I'll have an opportunity. But for our success, to be successful in the campaign, South Jersey needs to come out unified. And that's the strength of our organization," he said.
Asked whether he thinks Assembly Democrats' narrow victories in the 11th and 16th districts will lead to chaotic tenures in which reelection will be a constant concern, Greenwald said he believes the numbers this cycle show a clear advantage on policy that will be slow to fade.
"I think that's the job, to be honest with you," he said of new Assembly members' reelection bids. "Quite honestly, I think that's why Republicans lost. If you're doing this job well, you're constantly engaged in the community. Call that good government, call that good politics, it really goes hand in hand."
The previous incumbents had disconnected from the community. We picked up four incumbent seats, four percent of their caucus. It sent a very clear message."
PolitickernNJ caught up with one newly minted assemblyman, Bruce Land from this year's competitive first district, and asked what he thinks the new majority will pounce on first.
"You probably think more about that than me," said Land, gesturing to his legislative aide. "We talked about that our whole campaign, bringing down some of these nuisance taxes, bringing down taxes a little bit, because we've had too much of an exodus out of the state."
"We sitll don't have the majority we need to override the governor's vetoes, but it's a good start," Land said of the bills expected to see overrides similar to Sweeney's upstart bun control veto in October.
Assemblyman Vince Mazzeo (D-2) said that following his own tense reelection campaign, the payment in lieu of taxes bill that he co-sponsored is still foremost in his mind.
"We're still on pins and needles with the governor, we don't know because of the conditional veto what direction we're going to go," he said. "It's interesting to see if Republicans are going to stand with Christie on some of these issues that voted for, but that now in override they have to go against to go with the governor."